FYI
A Conversation With ...Derrick Ross
"Derrick Ross is a music man to the core.  We've had a great run together building Slaight Music. He is the perfect person for the gig.  Loves music.  Loves people.
Jun 11, 2020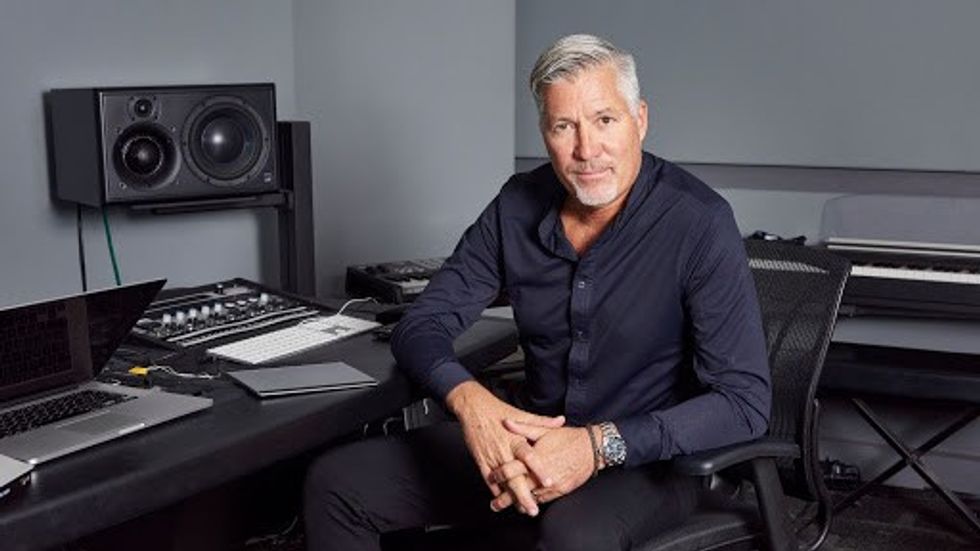 By Bill King
"Derrick Ross is a music man to the core.  We've had a great run together building Slaight Music. He is the perfect person for the gig.  Loves music.  Loves people.  Loves our artists. And likes me, I think. We are lucky to have him. Although he can be a pain in the ass."   — Gary Slaight.
---
If you are a new artist and catch Derrick Ross's attention, then you are in for serious consideration. Having a big passion for young artists is Ross's strength. The past nine-plus years, I've had the privilege of sharing Derrick's world and hearing the new sounds, the grand words of support and the look to the future. Ross has developed an excellent track record as president of Slaight Music and very much a person who sees the big picture.
There are standards to be met, and Ross is there to make sure everything runs as planned, whether it's a charity event, a fund-raising gala or the next step in a young artist's career.
He has been involved in many sectors of the music industry. First as the drummer in the internationally acclaimed band The Spoons, then moving to the record industry side in 1984 when he took the role as General Manager of Enigma Records Canada (Poison, Stryper, Smithereens). In 1989, Derrick struck out on his own, starting DMD Entertainment, an independent radio promotion and marketing company that is reputed as one of Canada's strongest in its field and operating still today. At the same time, he also started FRE Records (with Terry Flood), signing and managing bands such as April Wine, Skydiggers, and Jim Witter.
In 2002, he was appointed Vice President of National Promotions and Media Relations at EMI Music Canada. He then moved to the Feldman Agency, in 2007, as Vice President of Contemporary Music, where he developed successful new strategies in sales, marketing and corporate partnerships for the agency. In 2010, Derrick joined Slaight Music as President of the music incubator started by Gary Slaight. With Derrick, the mandate was simple: to support the Canadian music community through various initiatives, and to develop Canadian talent via strategic partnerships with industry peers.
We talked!
Bill King: You are one of the identical triplets, which in itself poses challenges and possibilities. How did the three of you sort this out?
Derrick Ross: Triplets. The only time I think of myself as a triplet is when I am around one of my brothers. Though most people have a hard time recognizing us, I don't think they look like me at all!! We never dressed in the same clothes, and my parents dealt with us as individuals and allowed each of us to follow our interests. We moved a few times when growing up, and that was a benefit as most were interested in checking out the new kids that look the same. We did things that most would do if you had others that looked like and talked like you, but otherwise, we sorted it out just being ourselves.   
B.K: For some, sports play a crucial role in bonding and competition. Did you participate in similar activities?
D.R: We played soccer together while growing up and were active in sports through public and high school. My brother Warren figure skated while Brent and I played hockey. One day Warren came to our hockey practice in figure skates and kicked everyone's ass; it was quite funny. We played lots of team sports in high school — volleyball, soccer, basketball, wrestling and pretty active. Never much competition between each other mind you. Brent was usually better than us, so……… we let it go.
B.K: What region of Ontario did you grow up in?
D.R: We grew up in three areas: Chatham, where we were born, and then in Bramalea for six years and, from grade ten on in Burlington.
B.K: When did the drum set arrive in the family home?
D.R: Drums came into my life one piece at a time starting when I was about six. First, a paper type drum set, then some practice pads, a real snare drum and then high-hat and cymbal were added. Then in Grade 6, around 11 years of age, my parents purchased my first real drum set for Christmas. I would say that my brothers and sisters may have sacrificed a bit that year for me.
B.K: The teenage years say a lot about upcoming adulthood. Were you always focused on the business?
D.R: I was focused on making money from about grade 10.  I quit all sports in grade 11 and went to work at Dominion; I thought I was going to be a butcher, which was what my grandfather and uncles did, my father did not take on the trade. I was going to school and working 30-40 hours a week at the store and always had some cash. I purchased my first professional kit in grade 12 because of the job and kept working through high school, and even when I was in the band.
B.K: How did you find yourself tilting towards a career in music?
D.R: While in the band, I was always interested in what the promo reps did, and it led me to hang with the promo guys after the shows and I became long-time friends with some.  The rest of the band was social and were doing more interviews and concentrating on the music side of things. The hanging out part of the business suited me pretty well.  I knew that I wanted to be on the business side of the music business while in the band.  I knew being a full-time musician was not going to be a career choice.  I got my first gig as G.M. for Enigma Records six months after leaving the band; I was 23 at that time.
B.K: At 19, you joined The Spoons and toured extensively. The band had several top forty hits. Five years in, you called it quits. What changed your mind?
D.R: We had some success and a shot in the U.S., which is what you needed to make a go of it. We had our chance but there came a time when I needed a change. My heart wasn't in it much anymore, and I was asked to find another job. I always say it was the best decision I never had to make! I started at Enigma six months later and have been on the music side of the business ever since!!  The years in the band provided a lot of experience in how the music business works from an artist's perspective.    
B.K: You attended Sheridan College Business Marketing School. Did you stick around for a degree, and where did you go from there?
D.R: Yes, I stuck it out and got my diploma in business marketing and sales. I did some of the projects while on the road, but attended school as much as I could. I thought it was essential to have that piece of paper when looking for a job after being a musician. I thought I would go into sales of some kind. After completing school, touring became a bit more extensive, and therefore, on the downtimes, I was painting houses, working for my friend, who was a plumber.  Once I was no longer in the band, I completed my resume and started reaching out to record companies for a promo gig. Having that diploma was a benefit.
B.K: What were your responsibilities at Enigma Records? The successes?
D.R: Enigma was a small growing company when I started. I was hired as the general manager handling marketing, promotion, scheduling releases, inventory and everything that goes with running a small independent record company.
The first records I released and worked were by The Smithereens and Stryper. Enigma put out a ton of releases over the six years that I was thee. In the third year, I was able to sign the Skydiggers to the label, and that became more exciting. I started Enigma with about 15K start-up money they had provided and worked from my second bedroom of a small townhouse I was living in and then added staff and moved to larger offices over time. I learned the business from the ground up with some strong support from Bill Hein, Wesley Hein and Jim Martone, who were the owners of Enigma in the US.   
B.K: You worked with a multitude of artists in the years that followed. In 1989, you launched DMD Entertainment, a promotion and marketing company. What were some of your first projects?
D.R: Long story short: Capitol Records purchased 50 % of Enigma, and within about 16 months, they had put Enigma into disallusionment and shut it down!!!  The day that happened, Deane Cameron called and said that he liked what I was doing, along with Mark Smith and Debbie Pauk who were doing with the promotion and marketing of Enigma releases. He said I should start a promotion and publicity company, and he would be our first client and would guarantee a certain amount every month to keep us going. I went to register the company that day ($65) and had to come up with a name, and it was DMD (Debbie, Mark and Derrick). The company is still going today, almost 35 years later, with Adrian Strong, Gareth Jones and Matt Attfield and many other great people in the industry working for it at one time or another - Paul Shaver, Joanne Setterington, Cori Ferguson, Cristina Fernandez, Sarah Turner and others.
We worked a lot with Capitol, at first with Garth Brooks, Tom Cochrane, Murray McLauchlan, The Jitters and other projects they were supporting. We ended up working with Aquarius Records, Sextant Records, Koch, Popular Records and many others. Without Deane Cameron's support, DMD would have never gotten off the ground, and I might have gone back to the family trade of butchering.
B.K: Did you go out of the road with the bands?
D.R: Yes, as a national independent promotion person, and when I became V.P. Promotions and Media Relations with Capitol, I spent a great deal of time on the road. I can't tell you how many times I have been across Canada, both as a musician and an industry person. I have a great memory of doing the Canadian tour with Coldplay. In those days, we did large meet and greets in every city with the band while at the same time the guys were doing promo etc. during the day, and I would use those trips to spend time with programmers discussing future releases and then enjoying a great night of live music and some libations.
B.K: What were some of your signings?
D.R: First signing was the Skydiggers, Jim Witter, Hunter Greer, April Wine. Many through FRE Records (my partner was the legend, Terry Flood).
B.K: You moved to EMI Music Canada, and in what capacity?  What were you leveraged to do?
D.R: At EMI, I was Vice President of Promotions and Media Relations.  All radio promotions, media and TV were under me before there was the internet!
B.K: How did you and Gary Slaight hook-up?
D.R:  Gary and I knew each other for years through our association, my working at Capitol, and him running Standard Radio. We began discussing Slaight Music just after he sold Standard to Astral. Slaight Music has been operating nine years now.
B.K: Slaight Music – you are president. What is your role in mentorships?
D.R: I am the president of Slaight Music, and my role in mentorship is to work with the rest of our great team which includes Gary (aka Santa), Ali Slaight (Talent Development Coordinator/A&R/Social Media), James Campbell (Artists/Publishing Consultant), Parkside Mike (Management/Artist Marketing Consultant) and Barnaby Marshall (Chief Technology Officer), in developing a new artist – being involved in every creative capacity and most importantly with the music.  
Everyone brings their different experiences and strengths to the table:  Songwriting collaboration, performance coaching (singing, instrument proficiency), imaging, social media activity etc. The goal is to develop an artist so that we can solicit other music partners to join us in taking the artists to another level or sign the artist directly if they desire. These are just some of the artists we have worked with: Jillea, Kayla Diamond, Jessica Mitchell, Notifi, Johnny Shay, Washboard Union, Sam Drysdale, Ryan Langdon, Moscow Apartment, Theo Tams, Tomi Swick, and Liam Titcomb, among others. In the beginning, we were making investments into an artist project so they could complete initiatives already in progress. Artists such as Tomi Swick, DVBBS, Crystal Shawanda, Divine Brown, Sean Jones, Theo Tams, among others.
B.K: You also work as a liaison between Slaight Music and the various branches of the music industry from the Junos to Canadian Music Week. How does the partnership work?
D.R: In short: We meet with the partners about initiatives that would benefit emerging talent or about sponsorship that has a humanitarian proposal attached. These meetings usually start with Gary for the concept (what is the support going to accomplish?), and then I come in and begin to move the concept forward. These are some of the initiatives: The Allan Slaight Juno Master Class, The Allan Slaight Humanitarian Spirit Award at CMW, Slaight Music Humanitarian Award at CCMA, Title Sponsor of Ontario Country Music Awards, Title Sponsor of MMF, CSHF Slaight Emerging Songwriting Award, The Slaight Family Heritage Prize at Polaris (along with providing each of the Top 9 nominees and a cheque for $3,000), The Allan Slaight Impact Honour Award, Canada's Walk of Fame and Sponsorship, the Slaight Music Stage at TIFF, Slaight Music Emerging Artist stage at NXNE and East Coast Music Awards, Muskoka Music Festival, Remix Project, Small Hall Festival, Toronto Jazz Festival, Kensington Market Jazz Festival, Bullseye Contest through the Indigenous Music and Film Festival, and others.
B.K: The Polaris Prize and Unison Benevolent Fund, there's always money flowing to an array of interests - from charities, hospitals, to the needs of fellow musicians. How do you determine who's on the receiving end?
D.R: I don't choose, Gary Slaight does. We discuss together, but most of the decisions are based on the mandate that Slaight Music started with. How can we assist in the development of talent and work with other interested music associations in supporting the Canadian music community?    
B.K: With investments in so many young artists, how are expectations tempered to match each stage of development?
D.R: We expect to have the artist reach the highest pinnacle possible. We provide artists with a launchpad that can bring them success in Canada and throughout the world. We want to see them make a full living through their music. This could be as a performer, songwriter, composer etc.      
B.K: Slaight Music is having success with the publishing catalogue owing to the long term support of songwriters like Jessica Mitchell. When a major international artist covers a song, there must be a sense of pride in the long-range nurturing of these artists, the success?
D.R: We have had some success as of late with others covering some of our published songwriters. Great to have Trisha Yearwood cover Working on Whiskey, which we had both Jessica Mitchell and Patricia Conroy participate in with Dave Thomas. Celine Dion cut The Chase, which is a song Jessica joined on, and Lady Antebellum just released Champagne Night to country radio, which Patricia participated in and was a song which won on the TV show Songland.   
B.K: Music is no match for golf. During these days of social distancing and isolation, what does an avid golfer do for a round of golf?
D.R: It's all about practicing. I have a few tools at home that allow me to keep my terrible swing in play and some putting surfaces to ensure my eyesight is still off. Very much looking forward to getting back on the links!!!