FYI
Canada Outpaces US Growth in IFPI's Global Music Report 2023
Mar 22, 2023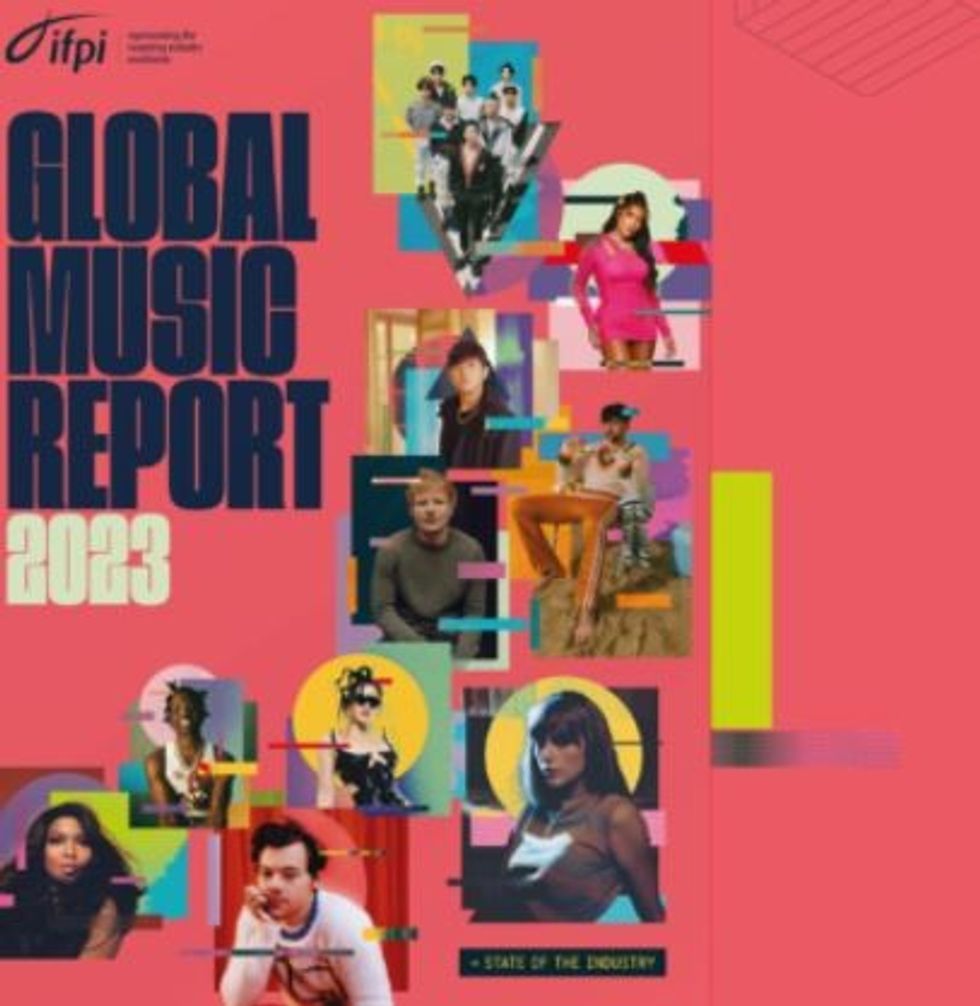 By Nick Krewen
Take that, America.
---
When it comes to comparing music markets, Canada's growth in 2022 almost doubled that of the United States in terms of percentage, according to the International Federation of the Phonographic Industry (IFPI's)  Global Music Report 2023, the organization's annual review of the worldwide music market.
Currently, the eighth largest market in the world, Canada's music market grew in 2022 by 8.12%  to $834.23 million ($608.5 million USD)  compared with the US market growth of 4.8%, although our neighbours south of the border crossed the $13.71 billion ($10 billion USD) value threshold for the first time and retained their stature as the world's largest music market (All prices are in Canadian dollars unless otherwise noted, with $0.73 CAD = $1 USD).
Combined, North America represents 41.6% of the global market, increasing overall revenues by 5% in 2022, a little more normal than the post-pandemic boom of 21.8% in 2021.
And there's even more good news for the domestic music market: streaming drove Canadian growth with a 10.1% increase, benefiting from an 8.4% increase in subscription streaming to a value of  $521.79 million ($380.6 million USD) further bolstered by a 16.1% surge in ad-supported audio streaming and a 16.9% rise in ad-supported video streaming.
As well, vinyl factored into physical formats boosting their revenue by 6.5% to  $92.93 million ($68 million USD) with an overall increase of 19.4% to offset declining CD and music video sales.
In a press release issued by Music Canada, CEO Patrick Rogers credited the growth of the Canadian music market to "the incredible commercial and creative partnerships between artists and labels," stating that the commitment of investment from record companies helped artists "break through and connect with their fans globally."
And Canada wasn't the only territory to register an increase: IFPI CEO Frances Moore said during a press conference held Tuesday at noon GMT that all 62 markets that report to the organization registered revenue spikes ranging from 1.5%  (Denmark) to Sub-Saharan Africa (34.7%.)
Overall, an increase in paid subscription streaming elevated the global recorded music market revenues by 9% in 2022 to  $35.92 billion ($26.2 billion USD) -  the eighth consecutive year of growth enjoyed by the planet's music industry. 
Streaming accounted for 67% of recorded music revenues as paid subscription accounts rose from 523 million users in 2021 to 589 million users a year later. Subscription audio revenues escalated by 10.3% to  $17.41 billion ($12.7 billion USD).  
Also enjoying round-the-world boosts were physical format revenues (4%); performance rights revenues (8.6%) and synchronization income (22.3%).
One highlight was the rapid expansion of several markets, including Sub-Saharan Africa, tops at 34.7% revenue growth from 2021 to 2022, followed by Latin America gains of 25.9% and the Middle East and North Africa at 23.8% and Asia at 22.9% (paced by a 28.4% growth spurt by China over 2021.)
In terms of the most popular artists of 2022, Canada placed two in the top 10: Drake (just behind Taylor Swift and BTS at No. 3, and The Weeknd at No. 5, with Bad Bunny sandwiched between the two Canadians. (The Biebs didn't make the cut this year.)
However, Justin Bieber teamed up with Kid Laroi to be the top Canuck in the singles chart at No.3, as the duo's song Stay registered 1.74 billion equivalent global subscription streams - slipping only one position after 2021's No. 2 showing of Stay with 2.07 billion streams. 
Bieber and Laroi were followed by The Weeknd's Save Your Tears at No. 5 with 1.32 billion ( an impressive showing for Abel Tesfaye, considering the same song was No. 1 in 2021 with 2.15 billion streams.)
The top song of 2022? Harry Styles' As It Was: 2.2 billion streams.
By the way, in 2021, both the Biebs and The Weeknd had multiple Top 10 listings for their respective Justice (Peaches) and After Hours (Blinding Lights) projects.
But this year, Canadians were completely shut out of the Global Top 10 Albums, with Bad Bunny's Un Verano Sin Ti serving as the king of the world (no sales or streaming stats provided.)
In terms of the overall markets, The US and Japan remained No. 1 and No. 2 specifically, but for the first time ever, China penetrated the Top 5, following only the UK and Germany - and bumping down France to No. 6. 
South Korea (7) and Canada (8) maintained their year-to-year positions, while Brazil re-entered the chart at No. 9  and Australia moved down to No. 10. 
Among the trends IFPI noted was one where there was an embracing of local artists and cultures as indicated by the overall double-digit growth around the world.
Another issue that the music industry is pumped about is the emergence of artificial intelligence, which is being viewed both with excitement and a hairy eyeball. 
As Dennis Kooker, Sony Music Entertainment's President of Global Digital Business, explains, there are potential advantages and disadvantages to embracing this new technology.
"We're supportive of uses of AI where it can help us to work smarter, for example, in helping us to support artists in analysing (sic) and understanding fan engagement trends. This is where
AI is already a key component to the business and can play a really positive role," he states in the  IFPI Global Music Report 2023.
"But there are other applications of AI that increasingly seem oppositional to the essential human factor at the core of artistry and originality that makes music so incredibly unique and beautiful.
"In particular, we have serious concerns about the potential for AI-synthesized voice technology to be used at scale to cover songs and attempt to replace artists. This is something that we need to watch very closely.  Ultimately, we are on the side of artists and their music. Our focus is on building their careers and supporting the authentic connections they want to make with their fans."
Guess we'll have to wait and see what happens as  AI further evolves throughout the music industry in the very near future.
The annual IFPI report provides data on revenue and listeners, as well as analysis and insight into the music industry's global trends.