FYI
Ahmad Jamal And Portfolio
How do you know when you've made that perfect recording?
May 03, 2023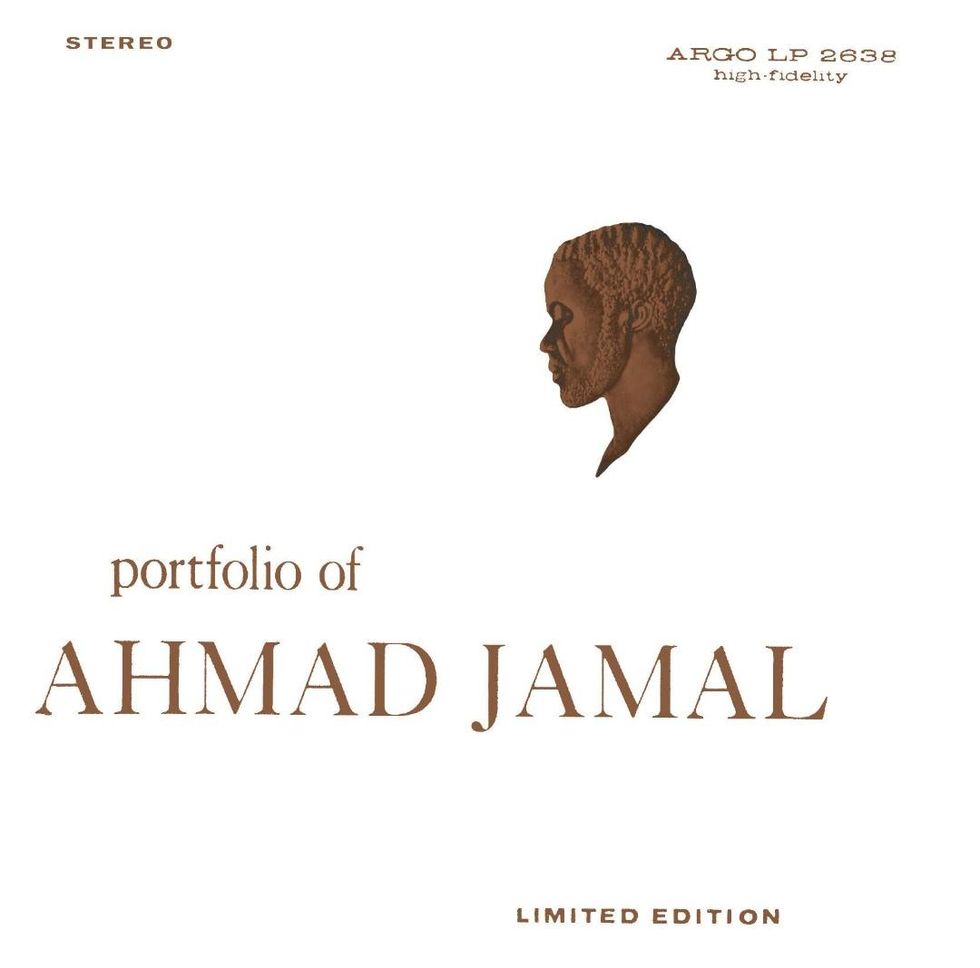 By Bill King
How do you know when you've made that perfect recording? I doubt any musician can answer that or would look at their body of work and be completely content to the point of stamping the result as flawless.
---
There's near perfection all around. I can plunge into Eva Cassidy and swear I can't hear an imperfect moment. Whether notes, delivery, or phrasing. I've tried on several plays and find it impossible. This brings me to Pittsburgh-born pianist Ahmad Jamal and the live album Portfolio, featuring performances recorded live on location at the Spotlight Club in Washington, DC, on September 5-6, 1958.
First up, the sidemen. Bassist Israel Crosby was born in Chicago and played with Jamal from 1954 to 1962, suddenly passing from a heart attack at 43. Drummer Vernel Fournier was born into a Creole family in New Orleans and played with the unit from 1957 to 1962. That association produced the million-selling LP, Live at the Pershing: But Not for Me and the hit Poinciana.
Jamal departed at 92 a few weeks back. Ordinarily, that notice would come with astonishment. And how? As with the recent passing of jazz titan Wayne Shorter at 89, there are no surprises here. Those mysteries are reserved for rock dinosaurs, who check out at 50 after decades of substance and self-abuse. Shorter and Jamal leave behind a universe of discovery.
I often single out three discs that arrived in the mail in my early teens: Don Shirley (Green Book) Plays Gershwin in 1960, Oscar Peterson's West Side Story in 1962, and Ahmad Jamal's Portfolio. These towering three shaped my vision and suggested where my place one day could be behind the piano. The years ahead, Sunday at the Vanguard, Bill Evans, Reaching Fourth, McCoy Tyner.
I interviewed Ahmad several decades past - the expected thrill of asking Jamal about the million-selling Live at the Pershing.
Bill King: When listening to your early sides, especially Live at The Pershing, recorded in 1958, you hear songs like Poinciana, Surrey with A Fringe on Top and But Not for Me, which developed into these perfect pieces of music over several years of playing them. Do you still work on material for long periods before recording?
Ahmad Jamal: "First, compared to my peers, I have very few records. Most of the people who have been out here this long—I started in 1951—like Dave Brubeck—have 150—200 records out. I only have 50. I'm very fussy about recording. I've made mistakes despite being so wary about going into the studio until I'm ready. There are still records I shouldn't have released.
I'm more meticulous now than then. People ask which my favourite record is; I say the next one. There is one record I consider near perfect, and that is Live at the Pershing. That's a rare piece of Music. Out of 43 tracks, we only used eight. Subsequently, the record company realized all the others I had never intended to release. I was convinced it would be a successful musical venture; I didn't care how many would be sold.
I go into the studio with the concept of making a good record. It doesn't matter whether it sells one or 100,000 copies if it's a good record. Instrumentalists don't have hits, anyway; it's singers who get hits.
There are only a few of us who have slipped through. There's been me, Herbie Hancock, Pat Metheny, Miles, Chuck Mangione, Dave Brubeck, maybe George Shearing with Lullaby of Birdland and Joe Zawinul with Birdland. You can almost count them on ten fingers. It's the singers that make the money and get the hits. When one of us slips through, it's a rare occurrence."
BK: There's much said about your use of space and lightness of touch.
AJ: "I think Pittsburghers are stylists. They all have their approach. Whether it's Dodo Marmarosa, whom the world's forgotten about, or Sam Johnson, who the world didn't know about, Erroll Garner or Earl Hines, we all have our approach, and that one is mine. All the Pittsburgh players are different. Mary Lou Williams was a wonderful jewel. Pittsburgh is an unusual place. That's why we have George Benson's, Stanley Turrentine's, Art Blakey's, and Kenny Clarke's, not to mention Ray Brown's. It's very different trying to get that kind of bassist these days. John Clayton comes close—he's a student. John Heard has that sound—he's also from Pittsburgh."
After Jamal's passing, I dug back into my brain for a memory—a moment lost in time and a recording that played endlessly on the family Hi-Fi, Ahmad Jamal's Portfolio. Sometimes I've been out biking and earbuds in place and suddenly get this urge to play Jamal, especially a recording that stuck in my mind for the Music embedded in the grooves and the classic album cover design. This was a touch-sensitive play. By that, I mean a double LP. Fold out with beautiful liner notes, pristine white packaging with a bronzed image of Jamal dead centre. So impressive! Oh, to be a teenage boy with such elegance in his hands.
The Music!
Song by song. This is where three players maximize their potential. Each contributes something distinctive from their backgrounds and viewpoints. Drummer Fournier has a wealth of New Orleans tradition. Baby Dodds, Earl Palmer, Herman Edwards 111, Paul Barbarin, Sammy Penn—that second line of comfort. The easy roll, that sublime pocket. All about a groove that propels and satisfies.
Bassist Crosby—has that Chicago vibe. Big fat notes, urgency, clarity, and selective placement of notes. Bass lines a generation of players would memorize for other purposes.
Jamal! The airiness and dance are the highest registers of the piano. Melodies that rise and fall at the most opportune moment. Blues-tinged; at others, long cascading drops that end a few notes below the mid-register of the piano. The long pauses are no more prevalent than on the rumbling showcase - Autumn Leaves. Half Latin, half New Orleans, open space, a sprinkling of magic. Jamal lets the trio breathe as the rhythm percolates. Oh man, does the groove burn like hot coals on a winter's night? Jamal drops in and out—fingers punctuating fat 6/9 chords. And here is where the secret lies in Jamal's brilliance.
The bass drum strikes simultaneously with the bass throughout the action as if it were a solo instrument. Much to do with that street parade sound we've gotten to know from New Orleans festivals. The bass drum pops with the horns whenever it's time to stress a moment. Not just a steady beat but moments of syncopated interruption. A solo on the rise, a point of emphasis. A scripted juncture in the arrangement.
Jamal fuses the beat of bass and drums into the arrangements. The inventive concept fattens the sound of the three and bumps us from the bottom of the feet to the ears.
Most jazz piano trios play the tune and stop after two times through to allow for improvisation. The best trios from Oscar Peterson, Jamal, Red Garland, Nat Cole, and others thought like big band arrangers. How to bring the weight of an orchestra down to three pieces. Jamal understood the process and showcased the results. Every song from one to fifteen is exquisitely arranged. Those arrangements are no doubt the result of bandstand interplay, a region where the creative process shaped the unit and songs. You start with an infectious groove, a dead centre pocket, and elaborate. All three, interior designers.
Portfolio is indisputably one of the most excellent recordings of jazz.
As for Jamal, he's a favourite of the sampling class. Pete Rock, Earl Sweatshirt, The Game, De La Soul, Nas, Jay-Z. Stake is High—De La Soul, They Say, Kanye West, The Illest Brother, Guru/DJ Premier, Gang Star, Soliloquy of Chaos, Ski Beatz, Feelin It for Jay-Z, Pete Rock—The World is Yours for Nas.
Not to be overlooked, Malcolm Chisholm, chief engineer for Chess Records. Music Mixer, Lacquer Mastering. The audio capture is amongst the finest small group live recordings.
"Music is my mistress," Duke Ellington said. It demands everything, but I don't want to be bothered by you.
Miles did an interview in a magazine, and I laughed until I cried. Miles is Miles; he is his own man. The interview was great. He said, "Music drives me crazy. It's all I'm thinking of all the time."
In any profession, if you want to become a great purveyor of the craft, you'll have to spend a lot of time and make many sacrifices. What we think philosophically is the most important part of our lives. That's paramount.
Prepare yourself to have options. Many of the greats were lost because they didn't have options. If there is one exit door when a fire breaks out, chances are you're going to get trampled to death. You can conduct, perform, teach, arrange, produce, go to an institute of higher learning, get the options, and avoid the one exit door.
Nat "King" Cole is one of the most important in jazz piano history. He succeeded John Kirby in the small, cohesive, well-prepared use of the trio as an instrument. The whole thing was one instrument. He was the model. Oscar Peterson used him. Monty Alexander used him, and so did I. He did many things with Lester Young. Besides his great voice, he was a great pianist. One had to be touched, " Ahmad Jamal!
Perfection!