FYI
Three Alan Thicke Songs Earn Canadian HoF Honours
The famed Canadian sitcom star was also a notable composer. Three hit TV theme songs he co-wrote are now headed to the Canadian Songwriters Hall of Fame, and son Robin Thicke will help mark the occasion.
Aug 06, 2020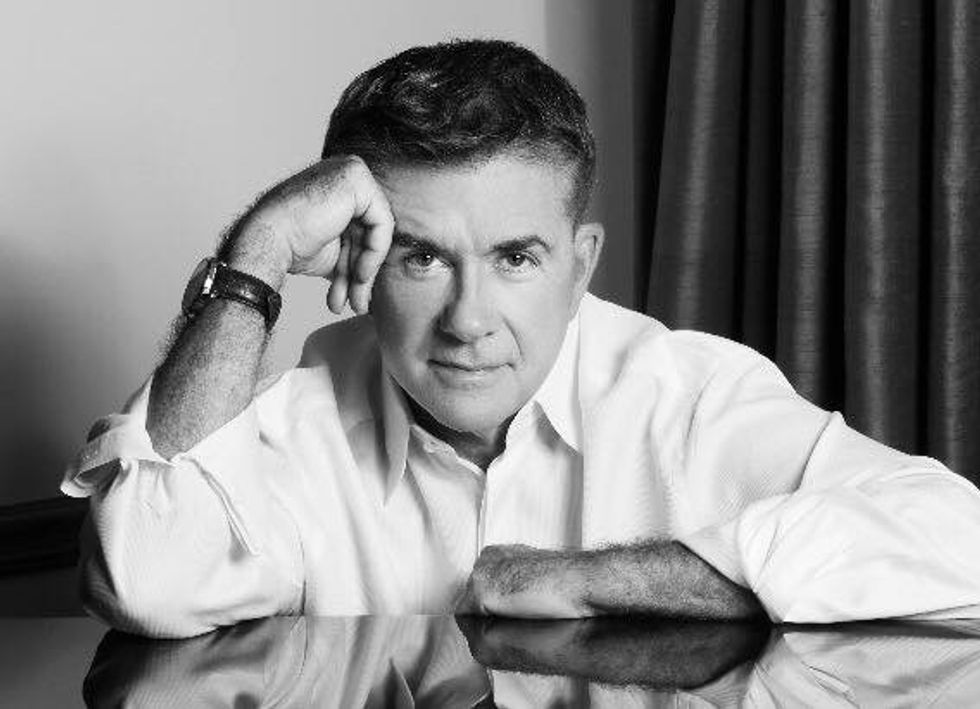 By FYI Staff
Canadian actor, singer, composer and songwriter Alan Thicke is now a Canadian Songwriters Hall of Famer.
---
Today (Aug. 6), the CSHF has announced the induction of three of TVs best-loved theme songs: Facts of Life, Diff'rent Strokes, and Wheel of Fortune, all co-written by Thicke.
The late Canadian actor, songwriter, game and talk show host (and father of Robin Thicke) is best recognized as TV dad Jason Seaver on the hit sitcom Growing Pains; however, his lifelong love of music has shaped a highly successful career behind the scenes penning some of the most memorable television theme songs of all time. 
On August 7, CSHF will celebrate its newest song inductions with a virtual presentation that will air nationally on Global's The Morning Show from 9 am to 10 am EST, co-hosted by Carolyn MacKenzie and Jeff McArthur. Accepting the honour on behalf of his late father will be Robin Thicke, who has forged his own distinctive career both in front of the camera as a multi-platinum selling singer and actor, and behind the scenes as a producer and songwriter.  
In a CSHF press release, Robin Thicke states that "The Thicke Family is honoured to accept this recognition on my father's behalf. My father was a proud Canadian and although he was mostly known for his acting, hosting and philanthropic work, deep down he always wanted to be Gordon Lightfoot or Bruce Springsteen."  He adds, "There is no doubt that Alan would consider having his songs being inducted into the Canadian Songwriters Hall of Fame as one of his life's greatest achievements. We are sure he is playing his catalogue for all his friends in heaven right now. We love and miss you, Alan Thicke."
"These three iconic theme songs that will be inducted to the Canadian Songwriters Hall of Fame harken to the halcyon days of '80s television when family sitcoms and game shows brought multi-generational families together in their living rooms," said Vanessa Thomas, Executive Director of CSHF.  "Alan Thicke had a unique talent to create catchy, memorable and relatable songs that appeal to a mass audience while concisely encapsulating the essence of a show. Each song became as popular and synonymous with its show, as the characters and actors who starred in them."
During the 1970s and 1980s, TV theme songs reigned supreme, with comedies, game shows and dramas providing many well-loved tunes. Among these were the catchy themes to the game show, Wheel of Fortune, and hit sitcoms The Facts of Life and Diff'rent Strokes, all written by Thicke, who had more than 40 television themes to his credit.
Thicke's original theme to the long-running game show Wheel of Fortune introduced the show from 1975 to 1983. Entitled Big Wheel after the game's roulette wheel, Thicke's theme was a jazzy instrumental featuring horns and percussion; and appears on the album The Best of TV Quiz and Game Show Themes
The happy theme song (It Takes) Diff'rent Strokes for the TV sitcom Diff'rent Strokes (1978 to 1986) was written by Thicke with American co-writers Gloria Loring (his first wife) and TV producer Al Burton. The lyrics, for which Thicke sang backing vocals, opens with "Now the world don't move to the beat of just one drum," and features the chorus "It takes different strokes to move the world," to describe the show about a blended family from different socio-economical and racial backgrounds.
Thicke recalled what it was like to compose theme songs during their heyday: "The challenge was, you have 24 seconds to do something catchy and memorable and sum up the entire premise of the show in case somebody had never seen it before. You had to do it with an internal rhyme scheme and a perky little ditty -- so it was an interesting challenge."  Musing about how television theme music has changed, Thicke said, "Back then, theme songs were more important. They were a part of every show…I think that's almost a lost art."
The sitcom Facts of Life was a Diff'rent Strokes spin-off.  Its upbeat, contagious theme song, written by the Thicke-Loring-Burton trio, hooked viewers in until the show became NBC's No. 1 TV comedy, running for nine seasons from 1979 to 1988. The song, performed by Loring, opens with "You take the good, you take the bad, you take 'em both and there you have the facts of life."  Upon Thicke's passing in 2016, Loring told Billboard.com: "Here we are all these years later and Facts of Life is still one of the top theme songs ever. He just had this great facility with words."
Following the televised virtual presentation of Thicke's song inductions on August 7, fans will be able to view the permanent exhibitions honouring CSHF inductees and song inductions at the National Music Centre, located at Studio Bell, in Calgary. The Canadian Songwriters Hall of Fame recently celebrated the induction of the late Ron Hynes, during the virtual presentation of the 2020 East Coast Music Awards on July 11,; and earlier this year announced the 2020 induction of Kim Mitchell who will be honoured at a later date.
The National Music Centre is the physical home of the Songwriters Hall of Fame and will continue to honour and preserve the legacy of new inductees through exhibitions which feature stories, exclusive artifacts, and one-of-a-kind memorabilia.