FYI
Quebecor Acquires Audiogram Imprint in Multimillion Dollar Deal
It's a story about the preservation of Quebec culture and its champions. Pictured l-r: Quebecor CEO Pierre Péladeau, Audiogram GM Philippe Archambault, and Quebecor executive Martin Tremblay.
Feb 11, 2021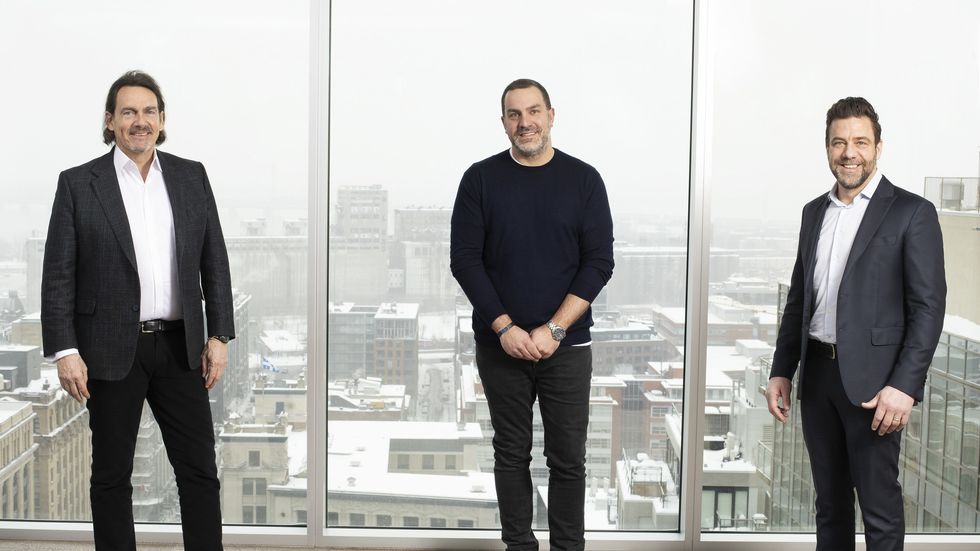 By David Farrell
Montreal-based sports, entertainment and media conglomerate Quebecor announced Wednesday the acquisition of Audiogram, one of the province's best-known French language record labels, and its affiliated Éditorial Avenue, Canada's largest French-language music publisher.
---
Under the leadership of Québec music industry pioneers Michel Bélanger and Rosaire Archambault, Audiogram has played a central part in producing some of Québec's greatest music since it was founded in 1984. Today, the self-generated catalogue includes some 400 albums that include titles by many of the province's homegrown superstars that include Pierre Lapointe, Daniel Bélanger, Michel Rivard, Paul Piché, Richard Séguin, Jean Leloup, Laurence Jalbert, Ariane Moffatt, and Gogh Van Go. One estimate pegs Audiogram's total sales over the years at 10 million albums. No sale price has been disclosed, but insiders peg it in the millions of dollars.
Pitches to acquire the prestigious imprint have been going on for at least 18 months with the major labels included in the list of would-be suitors, but clearly its ownership wanted to keep the cultural assets under the control of a Quebec-based company that could offer continuity and safeguard its roster of current and legacy artists.
"It was important for Rosaire Archambault (his long-time ally in the company) and me to retain Quebec ownership of our musical catalogue," co-owner Bélanger said in a press release.
"We will preserve the artistic personality and creative freedom that have been Audiogram's hallmarks since its inception," said Martin Tremblay, Chief Operating Officer of Quebecor Sports and Entertainment at the time of the announcement. He continued: "We are determined to support our creators and will continue producing diverse musical content and introducing new artists," adding that "at a time when the music industry has undergone a major shift to digital, we want to continue investing in music production in order to keep Québec music alive and well."
Philippe Archambault, who has led the company since 2015 as CEO, will stay on as Audiogram's GM and becomes Vice President Music of Quebecor's Sports and Entertainment Group.
Quebecor Sports and Entertainment already owns Musicor and STE-4, headed by Anne Vivien, Executive Vice President, Music Development of Quebecor, and MP3 Records, headed by Mario Pelchat.
The deal is as much about money as cultural sovereignty, and maintaining the deep ties that connect the dynastic bloodlines that interconnect in the province's commercial history.
The Archambault brand, once a powerful force in Quebec's music scene (selling musical instruments, sheet music and recordings) through a vast array of stores, was sold by the family to Quebecor in 1995.
Founded in 1896 by Edmond Archambault, great grandson Rosaire Archambault Jr. was named president of the Quebecor subsidiary Archambault Group Inc. until his retirement in 2000 when he was replaced by Natalie Larivière who in turn was replaced by Pierre Marchand as president until 2019. Philippe continues the Archambault dynasty that stretches back over a century.
In 2019, Quebecor generated revenue of over $4.29-billion and in its last public filing reported a headcount of 10,000 employees.