FYI
Polaris Music Prize Longlist Announced
In the wake of the covid-19 pandemic, the Polaris Music Prize, honouring Canada's album of the year and one that comes with $50,000 for the winner, enlisted 40 past nominees including Cadence Weapo
Jun 15, 2020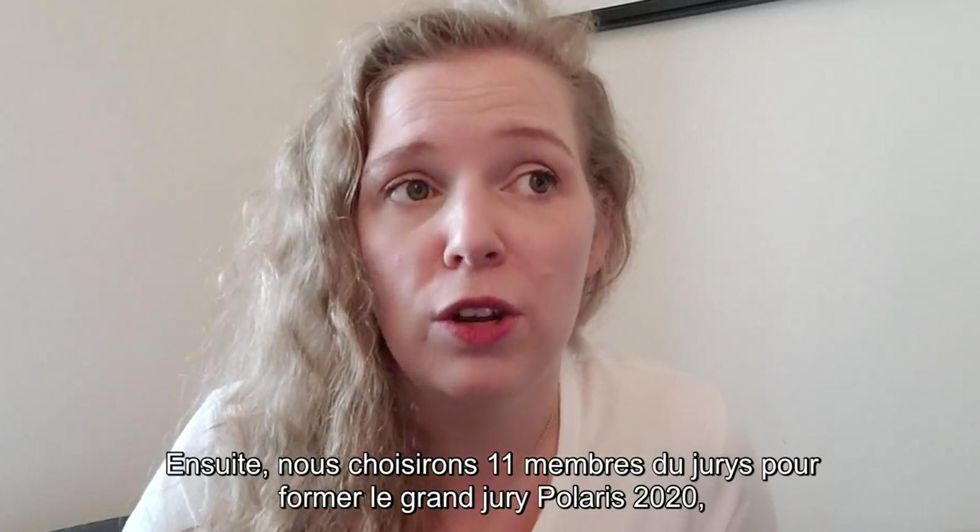 By Karen Bliss
In the wake of the covid-19 pandemic, the Polaris Music Prize, honouring Canada's album of the year and one that comes with $50,000 for the winner, enlisted 40 past nominees including Cadence Weapon, iskwē, Hawksley Workman and Art Bergmann to virtually announce this year's 40-title long-list on Facebook and YouTube.
---
Albums by The Weeknd, Jessie Reyez, Allie X, Daniel Caesar, dvsn and Sarah Harmer will now go head to head with releases by Aquakultre, Chocolat, Marie-Pierre Arthur, Joel Plaskett, Ice Cream,  Witch Prophet, Riit, William Prince, and 26 others, to vie for 10 spots on the short-list.
Previous Polaris winners Owen Pallett, Lido Pimienta, Caribou, and Kaytranada are also in the running with their latest albums. Anachnid, who is also nominated, capped the announcement with an in-studio solo performance.
"Normally we would gather together physically for this reveal," said executive director Claire Dagenais. "However, today we are people coming together virtually from places across Turtle Island, each with a specific history. I am joining you from what is now known as Toronto…In recent years, we've travelled to various cities to reveal the long list; for obvious reasons we couldn't do that this year, so instead we've reached out to a wonderful cast of past Polaris nominees from across the country to help us with the long-list reveal."
Announcing the list were: a l l i e, Art Bergmann, Jean-Michel Blais, Bonjay, Braids, Cadence Weapon, Charlotte Cornfield, Le Couleur, Dilly Dally, Elephant Stone, Elisapie, Eternia, Faith Healer, Great Lake Swimmers, Hannah Georgas, Haviah Mighty, Zaki Ibrahim, iskwē, B.A. Johnston, KEN mode, Kimmortal, LAL, Lisa Leblanc, Greg MacPherson, Milk & Bone, Safia Nolin, Partner, Klô Pelgag, PUP, Radio Radio, Shad, Snotty Nose Rez Kids, White Lung, Wintersleep, Hawskley Workman and YAMANTAKA // SONIC TITAN.
The long list is determined by a jury of selected music media — music journalists, bloggers, broadcasters  (201 voters this year)  -— who submitted their top 5 picks earlier this month from 223 recommended albums. The same jurors will now be asked to pick their top 5 from the 40, which will be calculated to comprise the 10-title shortlist, to be announced on July 15. The winner will be announced "this fall," live on the CBC Gem streaming service and CBCMusic.ca/Polaris during a "special cinematic event," according to the press release. The original Sept. 21 date is "unlikely."
The in-person gala normally takes place at Toronto's Carlu and features performances by most of the nominees, while the 11-member grand jury is debating each album's merits behind closed doors. The winner is announced onstage at the conclusion of the event.
The albums are judged solely on artistic merit, without consideration of genre, record sales or professional affiliation. The official eligibility period for the titles is from May 1, 2019 to May 31, 2020. $50,000 is awarded to the winner and Slaight Music gives $3,000 to each of the nine runners up. 
This is also the first year of the Polaris Music Prize without its founder, Steve Jordan, at the helm. After launching the prize in 2006, he took a job as senior director of CBC Music earlier this year, leaving Dagenais, who started as his first employee in 2010, as its new executive director.
Past winners of the Prize are Haviah Mighty (2019), Jeremy Dutcher (2018), Lido Pimienta (2017), Kaytranada (2016), Buffy Sainte-Marie (2015), Tanya Tagaq (2014), Godspeed You! Black Emperor (2013), Feist (2012), Arcade Fire (2011), Karkwa (2010), Fucked Up (2009), Caribou (2008), Patrick Watson (2007) and Final Fantasy / Owen Pallett (2006).
The 2020 Polaris Music Prize Long List is:
Allie X - Cape God
Anachnid - Dreamweaver
Aquakultre - Legacy
Marie-Pierre Arthur - Des feux pour voir
Backxwash - God Has Nothing To Do With This Leave Him Out Of It
Badge Époque Ensemble - Badge Époque Ensemble
Begonia - Fear
P'tit Belliveau - Greatest Hits Vol. 1
Caribou - Suddenly
Daniel Caesar - Case Study 01
Chocolat - Jazz engagé
Louis-Jean Cormier - Quand la nuit tombe
Corridor - Junior
dvsn - A Muse In Her Feelings
Jacques Greene - Dawn Chorus
Sarah Harmer - Are You Gone
Ice Cream - Fed Up 
Junia-T - Studio Monk
Kaytranada - Bubba
Flore Laurentienne - Volume 1
Cindy Lee - What's Tonight To Eternity?
Men I Trust - Oncle Jazz
nêhiyawak - nipiy
OBUXUM - Re-Birth
Owen Pallett - Island
Pantayo - Pantayo
Lido Pimienta - Miss Colombia
Joel Plaskett - 44
William Prince - Reliever
Jessie Reyez - Before Love Came To Kill Us
Riit - ataataga
Andy Shauf - The Neon Skyline
Super Duty Tough Work - Studies in Grey
U.S. Girls - Heavy Light
Leif Vollebekk - New Ways
Wares - Survival
The Weeknd - After Hours
WHOOP-Szo - Warrior Down
Witch Prophet - DNA Activation
Zen Bamboo - GLU