FYI
MusiCounts Allies With TikTok, Unveils Latest $1M Grant Program
Through its Band Aid program, Canada's music education charity is allocating another $1 million worth of instruments, equipment, and resources to 95 schools across Canada. It is also partnering with TikTok Canada  to support secondary schools.
May 05, 2021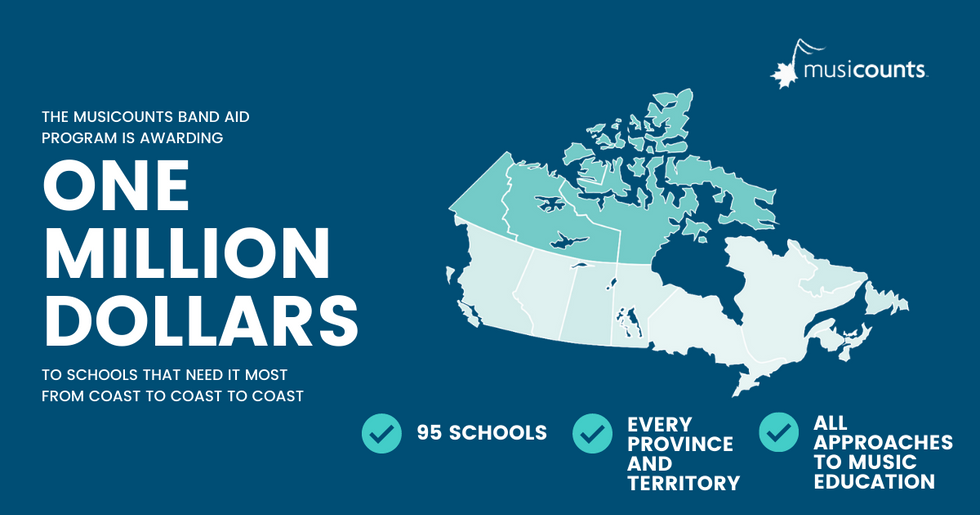 By FYI Staff
MusiCounts, Canada's music education charity, has announced the allocation of $1 million worth of instruments, equipment, and resources to 95 schools across Canada through the MusiCounts Band Aid Program.
---
The program grants up to $15,000 for high-need schools to furnish or refurbish their music programming. Max Kerman of The Arkells made the announcement virtually on MusiCounts' TikTok account.
TikTok Canada has now partnered with MusiCounts to support secondary schools through the Band Aid program and MusiCounts Learn Kanata resource. TikTok will donate a portion of funds to buy instruments for high schools across the country and tips for teaching with TikTok will be integrated into the Kanata resource. The guide, a product of collaboration between several Indigenous educators, advisors and artists, led by Sherryl Sewepagaham, is a free resource for any educator who wishes to bring contemporary Indigenous music into the classroom.
"There are so many things to be excited about regarding the 2021 MusiCounts Band Aid Program grant recipients," says Kristy Fletcher, Executive Director of MusiCounts, in a press release "The $1 million we're awarding will transform what music education looks like at these schools By collaborating with TikTok Canada, who are supporting secondary schools through the MusiCounts Band Aid Program and the Kanata resource, we're committing to evolving with music, technology, and young voices across the country."
"We take great care to foster a safe and supportive environment where our community can express themselves authentically and creatively, and this means empowering diverse voices," said Adam Burchill, Head of Music, TikTok Canada. "Through the MusiCounts Learn Kanata resource and the Band Aid program, we're providing high school students with the education, tools, and resources needed to help foster their creative expression, and amplifying the rich cultural history of Indigenous art and voices in Canada."
The $1 million investment will support 95 schools from coast to coast, including unprecedented investments in the territories ($173,000 to 16 schools) and the Atlantic provinces ($218,500 to 18 schools). The MusiCounts Band Aid Program operates through an equity-based lens, and prioritizes schools that support BIPOC youth with culturally-specific programming. Of the recipient schools, nearly 40% identified as supporting large populations of BIPOC youth.
MusiCounts is proud to support the incredible work of teachers and educators from across Canada, particularly during the Covid-19 pandemic, when delivering quality music education has been a unique challenge. 
MusiCounts is only able to support approximately 25% of in-need schools that seek support from the MusiCounts Band Aid Program. To learn more about how to support the Band Aid Program, click here. For the full list of the 2021 MusiCounts Band Aid Program recipient schools, click here.