FYI
Music News Digest, Sept. 9, 2021
Keonté Beals (pictured) leads the Music Nova Scotia Awards nominees, Tenille Townes announces a headlining Canadian tour, and Festival (506) launches next month. Also in the news are Fall BeerFest T.O., MNS Artist in Residence, Hopscotch Festival, The Chris Buck Band, World of Jazz Festival, The Ontario Creates Film Fund, Tricky Woo, Ronley Teper, Virtual Voices Series, Music PEI, CIMA, Lorraine Leckie, June Garber, Christine Petrowska Quilico, and farewell Bennie Pete.
Sep 09, 2021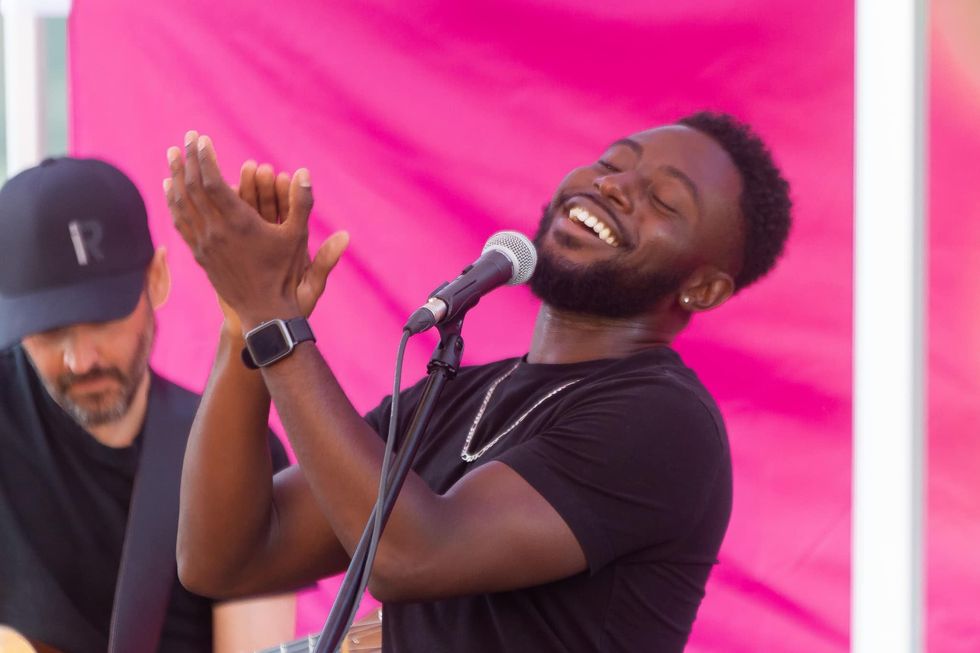 By Kerry Doole
Keonté Beals leads the list of Music Nova Scotia Award nominations, with eight, followed by Aquakultre, Dave Sampson, Hillsburn, Kim Harris, and Neon Dreams, all with five nominations each. The Music Nova Scotia Industry and Music Awards will be presented on Nov. 7 in Truro as part of Nova Scotia Music Week (NSMW). All MNS members in good standing can vote for this year's Music and Industry Awards, via the Music Nova Scotia website. Voting closes Sept. 24. See the full nominations list here.
---
– Critically acclaimed Juno-winning country singer-songwriter Tenille Townes has announced her first-ever headlining Canadian tour. Entitled The Girl Who Didn't Care tour, the eight-city trek starts in London on Dec. 2, closing out in Winnipeg on Dec. 12. Visit here for tickets (on sale Sept. 10) and itinerary info. Now Nashville-based, Townes won her first Juno, for the Country Album of the Year (The Lemonade Stand), back in June. Of note: Townes is the newest Country Music Association Foundation Artist Ambassador. 
– Festival (506), Music·Musique NB's annual music industry festival, will take place Oct. 21-23 and Nov. 18-20, with a mix of in person and online activities, for both the public and members of the music industry. The public component comprises 27 NB artists performing at four venues in Fredericton, Miramichi and Moncton, on Oct. 22 and 23. Also serving as industry showcases, these performances will be recorded for later use during the Conference (506) industry component in Nov. 
– DJ Jazzy Jeff and Skratch Bastid will perform at Fall BeerFest T.O., at Bandshell Park in Toronto, on Sept. 24. Shaggy is also on the bill that night.
– The top five acts vying for the Music Nova Scotia (MNS) Artist in Residence program are The Bombadils, Kids Losing Sleep, Kong Wooz, LXVNDR, and Pillow Fite, all performing for the grand prize at the Grand Oasis Stage in Halifax, Sept. 17. On the line is financial and professional support as well as performance opportunities, with a value of $20K in cash and prizes. The event includes a performance by 2019 Artist in Residence Maje.
– Halifax's hip-hop accented Hopscotch Festival 2021 presents free outdoor shows Sep 23-26. The high-calibre lineup includes Dijah SB,The Halluci Nation, Kye Clayton and the LDN Crew, Lxvndr, and Aquasocks (the collabo of Aquakultre and Ghettosocks).
– Released as a single by The Chris Buck Band back in 2017 (via Royalty Records), That's When You Know (which also features Kira Isabella) has officially crossed the Gold Single threshold, reaching over 5M streams and 7.3K track downloads in Canada.
– The 5th Annual World of Jazz Festival runs Sept. 11-12, featuring both live community and restaurant performances and virtual components. The live shows run all day in Downtown Brampton on Sept. 11, and the next day the fest live-streams its virtual concert from Koerner Hall in Toronto, 1 pm - 7:30 pm. Acts include Kirk MacDonald & Pat LaBarbera, Big Butter & Egg Men, Saint "O", Samantha Martin & Delta Sugar, Son D'Aqui: A Tribute to the Fania Label, and Rob Tardik. 
– The BC provincial government is accepting applications to support BC events through its new Fairs, Festivals, and Events Recovery Fund. Up to $12.9M will be made available in one-time grants to eligible event organizers to help them resume safely. Grant amounts will be up to 20 percent of the total event budget, for sport, arts and culture events, community celebrations, agricultural fairs, rodeos, and exhibitions. The deadline is Oct. 1 for eligible events that take place between July 1, 2021, to Sept. 30, 2022. More info here
– The Ontario Creates Film Fund – Production streams (Drama and Documentary) is accepting applications, with a deadline of Nov. 17. The Fund supports a range of projects across genres with both industrial and cultural benefits. More info here.
– Blow The Fuse has announced the vinyl release of Montreal cult rock outfit Tricky Woo's first three albums, due out Oct. 8. This is a first for two albums out of the trilogy, only released on CD until now. The reissues are available for pre-order as a 3-LP bundle here. 
– Adventurous singer/songwriter/multi-media artist Ronley Teper is readying the Oct. 4 release of a new album, Everyone Loves a Good Story. On Sept. 11, she and her group The Lipliners (a 7-piece for this show) are part of a strong bill at the Something Else/Watch it Burn! fest in Hamilton's Bayfront Park on Sept. 11. Also appearing are noted avant-folk artist Iva Bittova, Antonion Fajt, and Nimal Agalawatte, with dinner and a movie also featured. Teper tells FYI she is"stoked to be on the same bill as one of my favourite improvisers, Iva Bitova. And it'll be the first time The Lipliners have played or even seen each other really in almost a year and a half." More info and tix here.
– The latest instalment in CMW's Virtual Voices Series is entitled EU Copyright Reform – What Can Canada Learn? This virtual panel will provide Canadian music stakeholders with an overview of the history and current status of the EU Copyright Directive, with a focus on Article 17. The webinar runs on Sept. 14 (2 pm) and is brought to you by Music Publishers Canada and RBC Emerging Artist Project. Free registration here
– Music PEI is partnering with M For Montreal to present 3 eligible PEI artists at this year's conference and festival, running Nov. 16-20. Deadline to apply here is Sept. 24. Music PEI will also present 2 eligible artists from the province at this year's Mundial Montreal, conference and festival, Nov. 16-19. Apply here by Sept. 24.
– CIMA has announced that due to Covid-19 restrictions, the AGM and Election of its Board will be hosted virtually on Oct. 28. Members can nominate themselves to be elected for a three-year term as an officer of the Board of Directors. More info here 
– Long based in New York City, former Torontonian Lorraine Leckie has made a mark on the NYC scene with her group & Her Demons. The pandemic prevented a proper launch of their  CD Razor Wing Butterfly in June 2020, but she's excited to rock out once more on Sept. 12 at Mercury Lounge in a show for the vaccinated only.
– A reminder that jazz chanteuse June Garber launches her fourth album, Off the Carousel (out via Vesuvius Music) with a Sept. 16 performance at Toronto's Paradise Theatre venue. Info and tix here. The album is out Sept. 17.
– Pianist Christina Petrowska Quilico is one of 2021's new Fellows just announced by the Royal Society of Canada "for their outstanding scholarly, scientific and artistic achievement." In Nov. 2020, she was appointed to the Order of Canada "for her celebrated career as a classical and contemporary pianist and for championing Canadian music."  Navona Records is issuing three new solo piano CDs recorded by Petrowska Quilico. The first, Sound Visionaries, is already out, the second, Retro Americana, comes out this month; the third, Vintage Americana, releases in Nov.
RIP
Bennie Pete, co-founder and sousaphone player for the celebrated New Orleans outfit the Hot 8 Brass Band, died on Sept. 6, from complications from sarcoidosis and Covid-19. He was 45.
Pete co-founded the Hot 8 Brass Band in 1996 when he brought together two student groups at Fortier High School in New Orleans.  The group drew on contemporary brass band traditions, although expanded their sound with elements of funk, R&B, rap, and the New Orleans hip-hop style bounce. Pete's sousaphone played a crucial role in the group's music, serving as both rhythmic and melodic core.
The Hot 8 Brass Band were a New Orleans live staple, frequently performing in second line parades and other community functions. The group has also collaborated with artists like Lauryn Hill, Yasiin Bey (Mos Def), and the Blind Boys of Alabama.
Their album, The Life & Times of… the Hot 8 Brass Band, earned a Grammy nomination for Best Regional Roots Music Album in 2013.
The Hot 8 Brass Band also established a GoFundMe page in honour of Pete. All donations will help support Pete's family. Sources: NOLA.com, Rolling Stone