FYI
Music News Digest, Sept. 5, 2018
Alessia Cara (pictured) will honour Shania at this year's Canadian Country Music Awards show that takes place in Hamilton this coming Sunday.
Sep 05, 2018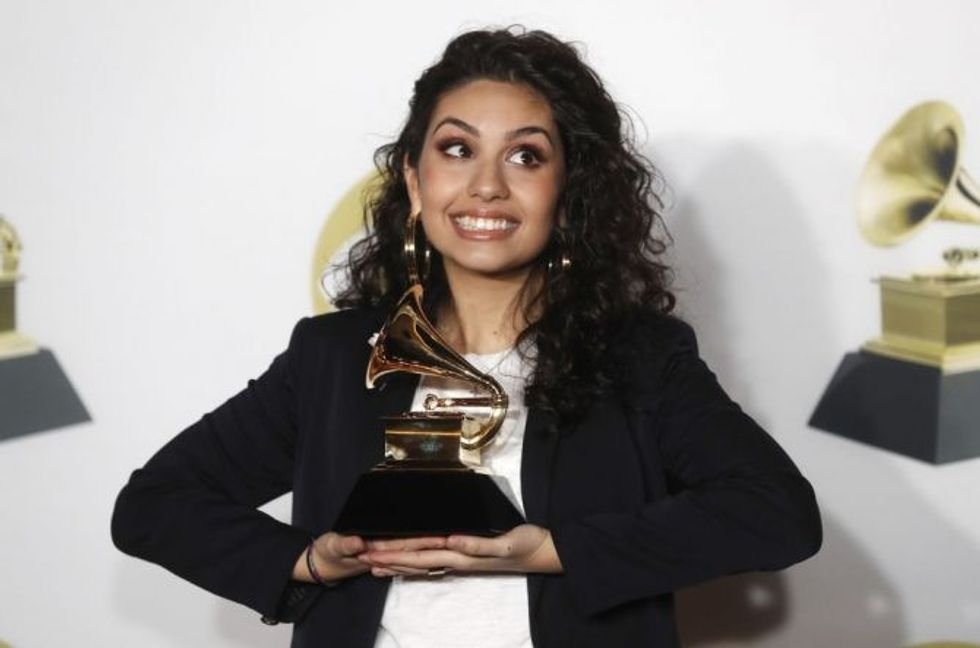 By Kerry Doole
In the latest round of CCMA announcements, Alessia Cara has been named as presenter of the CCMA Generation Award to fellow Grammy-winner Shania Twain. This will take place on the broadcast of the Awards show in Hamilton on Sunday night. Also announced yesterday, Paul Brandt and Hunter Brothers will join previously confirmed Jess Moskaluke and High Valley on stage at the Awards for a collaborative performance.
---
 – Submissions are now open for the 2019 Music PEI Awards, which will be handed out during Credit Union Music PEI Week from Jan. 23-27, 2019. Over 30 awards celebrate various genres, styles, solos, groups, industry professionals and community leaders. Check the submission guidelines here. Music PEI members are eligible to submit to showcase during Credit Union Music PEI Week. Deadline is Oct. 19.
 – Toronto's hip-hop themed Unity Festival runs Sept. 13-15, and features musicians, poets, dancers, and visual artists. The strong musical lineup includes The Zaki Ibrahim Trio, The Sorority, Witch Prophet, Just John, Adria Kain, Liza, Obuxum, Future Primitive, Garcons, Jazzy Monika, Michael Morales, Wavgods, and renowned Chicago-based producer Monte Booker
 – Veteran rockers the Headstones mark the 25th anniversary of their breakthrough platinum-selling debut album Picture of Health with a reissue and a fall tour. The reissued/remastered album comes out Oct. 26 via Cadence Recordings and features four bonus tracks. The Picture of Health Tour begins in Hamilton on Nov. 1 at FirstOntario Concert Hall, Closing out on Dec. 22 at Toronto's Danforth Music Hall. In between are 16 other Canadian dates plus a Buffalo show. Full itinerary here
 – The fast career ascent of soulful singer-songwriter Jessie Reyez gets another lift via her presence on two tracks on Eminem's just-released surprise new album Kamikaze. Reyez is featured on "Nice Guy" and "Good Guy."
 –The Board of Directors of the Canadian Music Therapy Trust Fund (CMTTF) recently announced the creation of the George Stroumboulopoulos Scholarship. This scholarship is being offered to Canadian music therapy students to help them complete their studies and internship hours, and the funds have been supported by Stroumboulopoulos. Applications open this month.
– Two Canadian Foo Fighters shows set for this week have been postponed after lead singer Dave Grohl lost his voice during a performance Saturday in Seattle. The band's cancelled Tuesday date at Edmonton's Rogers Place has been moved to Oct. 22, while the planned Sept. 6 show at Calgary's Scotiabank Saddledome will now be on Oct. 23. Referencing Bono's recent similar predicament, Grohl joked "that's the last time I make out with him."
– Platinum-selling Canadian country star Dallas Smith is returning to his hard rock roots by reuniting with his comrades in his earlier band Default. That group will tour Canada this fall alongside Stone Temple Pilots and Seether, beginning Oct. 23 in Penticton, BC, and closing Nov 16 in Moncton, NB.
– George Scott Cushnie is known to many on the Toronto music scene as Professor Piano, long a popular fixture in local clubs. He played alongside Robbie Robertson in The Suedes and an early version of The Hawks. Now 80, he is currently missing, and Toronto police are asking anyone who has information about Cushnie's whereabouts to contact 51 Division at 416-808-5100. Cushnie is legally blind and is described as 6 feet tall, with short grey hair and a medium build. He typically wears dark glasses and was last seen wearing a yellow jacket and beige pants. He was last seen on Aug. 7 in the area of River Street and King Street East, but was only reported missing on Aug. 29 after a friend couldn't reach him.
 – Versatile singer/songwriter Damhnait Doyle (Shaye, The Heartbroken) has worked rock, folk, and country terrain in her career. Expect a focus on the latter in her two appearances at Country Music Week in Hamilton. She is part of the Paquin showcase at This Ain't Hollywood on Sept. 7 and of the CCMA Songwriters Series afternoon concert at First Ontario Concert Hall on Sept. 8.
 – For the past 12 years, the annual Patsy Cline Birthday Show has been a Toronto club favourite. The 13th takes place tomorrow (Sept. 6) at Lula Lounge, and Heather Morgan has again corralled an all-star cast of singers to pay homage to the late country great. That list includes  Kathryn Rose, Danny Marks, Barbra Lica, Paul Reddick, Ginger St James, Blair Packham, Laura Hubert, Julie Michels, Caitlin Hanford, Hotcha!, Michael Brennan and more, all backed by an A-list band headed by Steve Briggs. The evening is a fundraiser for Artscan Circle. Tix here
– Rocker Danko Jones checks into This Ain't Hollywood in Hamilton tonight (Sept. 5) to launch his book "I've Got Something To Say." There'll be a Q&A with music scribe Stuart Berman.
 – Toronto independent music organisation Wavelength has reinstated Jonathan Bunce (aka Jonny Dovercourt) as its artistic director. Earlier this year, an ex-employee accused Bunce of abuse, and he was forced to step aside pending an investigation. Toronto-based Bicknell Mediation then conducted a third-party investigation, and it was concluded that no evidence supporting those allegations were found. Source: NOW
– There is no shortage of Leonard Cohen tributes around, but a new collaborative project by the free-spirited Friendly Rich and The Lollipop People and Dave Clark and The Woodshed Orchestra promises the unconventional. The Leonard Cohen Sweet comprises five original songs about the bard brought to life by a combined big band of Canadian weirdos. It comes out digitally on Sept. 10, to be followed by a vinyl release and five Ontario shows in October. All proceeds of the vinyl sales ($15/ea) will be donated to Regent Park School of Music.
– Speaking of Cohen, the internationally-renowned Montreal-based dance company BJM – Les Ballets Jazz de Montréal presents its multi-disciplinary piece Leonard Cohen's Dance Me at Toronto's Sony Centre on March 1. Tix go on sale this Friday.
 – Blues-rock veteran Rita Chiarelli will perform in Italian at a concert in her hometown of Hamilton on Sept. 28. It will be at Liuna Station as part of the Sicilia Canta 2018 festival.
R.I.P
Conway Savage, the keyboardist in Nick Cave's Bad Seeds, died Sept. 2 of a brain tumour, age 58.
Nick Cave paid tribute in an FB post, noting that "a member of Bad Seeds for nearly thirty years, Conway was the anarchic thread that ran through the band's live performances. He was much loved by everyone, band members and fans alike."
Savage joined Nick Cave & the Bad Seeds in 1990 for The Good Son, and recorded seven albums with the group. He released multiple collaborative and solo albums throughout his career.  In 2000, he released his full-length solo debut Nothing Broken on his label, Beheaded Communications. His last release was 2010's Pussy's Bow EP with Amanda Fox and Robert Tickner. Sources: Noise11.com, Pitchfork
Randy (Randolph Edward) Weston, jazz and world music pianist, composer, and bandleader, died on Sept. 1, age 92.
Weston's piano style owed much to Duke Ellington and Thelonious Monk. Beginning in the 1950s, he worked often with trombonist and arranger Melba Liston.
He has been described as "America's African Musical Ambassador," for his music was often heavily inspired by African styles, as on the acclaimed Uhuru Afrika (1960) and Highlife (1963). Weston lived in Tangier, Morocco, from 1967 to 1972, and frequently performed on the continent. In 1972 he released Blue Moses on CTI Records, and it was his best-selling record. 
Weston celebrated his 90th birthday in 2016 with a concert at Carnegie Hall, and he continued to tour and speak internationally. His final album was 2017's An African Nubian Suite, a recording of a sold-out 2012 concert at the Institute of African American Affairs of New York University.
Weston earned Grammy nominations in 1973 for his album Tanjah (for best jazz performance by a big band), and in 1995 for The Splendid Master Gnawa Musicians of Morocco (in the best world music album category.
In 2001, the National Endowment for the Arts gave him its Jazz Masters award, the highest accolade available to a jazz artist in the US. He was voted into DownBeat magazine's hall of fame in 2016.
During his long career, he recorded for such labels as Riverside, Antilles, Verve, CTI, and Motéma. Sources: Wikipedia, New York Times