FYI
Music News Digest, Sept. 16, 2019
Les Hôtesses d'Hilaire, Matt Boudreau (pictured)  and Tomato/Tomato lead the MNB Awards noms, Harmonium to enter the CSHF, and Ellis shines at Supercrawl. Others in the news include HMV, Shawn Mendes, ZipDJ, Dundurn Press, Rod Stewart, Esthero, Indie Week, Miloš, Grimes, Music PEI, Jean-Paul De Roover, and farewell to Ric Ocasek, Hossam Ramzy, and Eddie Money.
Sep 16, 2019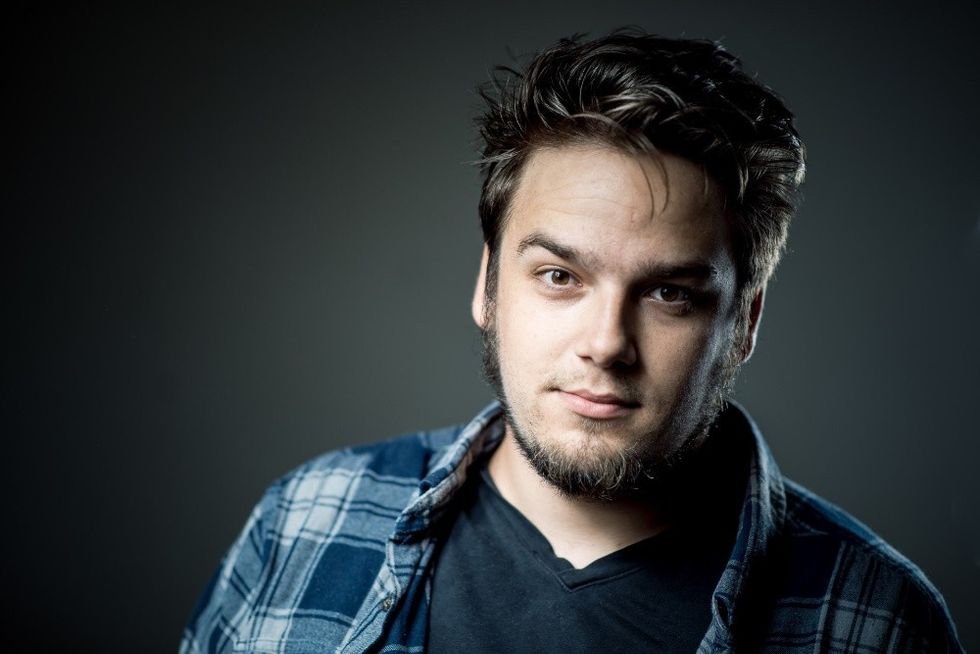 By Kerry Doole
Les Hôtesses d'Hilaire, Matt Boudreau and Tomato/Tomato are leading the nominations for the 2019 Prix MNB (Music New Brunswick) Awards. Each earned noms in five categories, six counting the Fans' Choice/Choix du public, determined 100% by the public vote. Adyn Townes and Motherhood have four nominations each. Twenty awards will be presented to artists and industry professionals who have made their mark on the New Brunswick music scene in the past year, during the 10th édition of the Prix MNB Awards, taking place in Moncton, on Oct. 24.
---
The Award Show kicks off Festival (506), a four-day migrating event which showcases homegrown New Brunswick music. A limited number of tickets for the MNB Awards Show are available online. All categories are open for public and member voting. Voting ends on Oct. 11. Full list of nominees here.
– The Canadian Songwriters Hall of Fame (CSHF) will induct four members of the famed Québec prog-rock group Harmonium – Serge Fiori, Michel Normandeau, Serge Locat, and Louis Valois – during the 30th Anniversary edition of the SOCAN Awards Gala in Montréal, slated for the TOHU theatre, Sept. 22. The group's L'heptade album reached quadruple platinum sales, Harmonium double platinum, and Les cinq saisons platinum. The band has received several SOCAN Classic awards, and an honorary Félix Award and their songs have been covered by top Canadian acts, including Les Respectables, Sylvain Cossette, Eleanor McCain, Boom Desjardins, Jorane, and Lawrence Gowan.
– HMV, the music and entertainment chain, rescued from administration by Sunrise Records owner Doug Putman earlier this year, will open what it says is Europe's largest entertainment store at Dale End, close to Birmingham city centre, in mid-October. The move will buck the trend in recent years for smaller, more specialist record shops. The store does not have a London flagship store to replace its legendary former Oxford Street location, which was not taken on as part of the Sunrise deal. The new shop will occupy over 25,000 square feet of retail space and stock a huge range of products, giving full rein to HMV's recent vinyl-led revamp, Source: BBC
– The numbers are in for the 2019 North American leg of Shawn Mendes' current world tour, and they confirm it's a smash hit The 49-date trek finished Sept. 6 with a hometown show at Toronto's Rogers Center, Mendes' first headline stadium concert. According to figures reported to Billboard Boxscore, the show grossed US $3.4 million and sold 50,772 tickets. Shawn Mendes: The Tour has earned $69.5 million so far, including $46.9 million from the North American leg. It is already the biggest trek of Mendes' career, topping the reported $35 million from 2017's Illuminate World Tour. The 2019 tour has played more shows, sold more tickets, and grossed more dollars than any previous Mendes tour, averaging $914,000 and 12,863 tickets each night.
– ZipDJ, Kevin Unger's successful Canadian subscription-based digital music pool, which distributes promotional releases to a global client list of professional club, commercial radio, online radio, and campus/college radio DJs, is offering a limited-time offer 60% discount to new subscribers. Details on the offer on the company website
– Next month, Dundurn Press is publishing The Flyer Vault: 150 Years of Toronto Concert History. Co-authored by Daniel Tate and Grammy-winning musicologist Rob Bowman. Tate's extensive flyer collection was first archived on his Flyer Vault Instagram account, 
– Over the weekend, legendary '70s English rock band The Faces, featuring Rod Stewart, Ronnie Wood and Kenney Jones, reunited to play a benefit show in Surrey, England, to raise money for Prostate Cancer research. There, Stewart dropped a bombshell by announcing that for the past three years he has been secretly undergoing treatment for prostate cancer. "I'm in the clear, now, simply because I caught it early," he stated. Source: Noise11
– Toronto pop singer Esthero has been making headlines with her new single, Gimme Some Time, and its message of protest directed at Spotify. Ninety seconds into the track, the music dips, and Esthero explains the full version of the song will only be available on her website. The money Spotify generates is "really not a liveable income," she explains. "I hope you enjoy my music enough to go and support and buy the song from me." Speaking to BBC 5 Live, Esthero stated the protest "came from a general sense of frustration and powerlessness," at the payments offered by services like Spotify, Apple Music and Tidal, which can be as little as $0.003 per stream.
– IndieWeek presents Student Sessions 5 at The Paddock in Toronto on Sept. 19. A partnership with Durham College, it features a Sync and Licensing component, followed by Q&A sessions and some industry speed dating. More info here 
– Perfect weather on Saturday resulted in a huge crowd on Hamilton's James Street North for its popular annual Supercrawl music, arts and food fest. Early afternoon, indigenous singer/songwriter Lacey Hill, from nearby Six Nations, showcased heartfelt songs, a soulful voice and a charming personality. Our evening festivities began with Jennifer Castle, who impressed once more with her pure vocals and the musicianship of her band. We left that early to catch a rare performance by Dunnville, ON, band Don Vail. Led by indie rock veteran Mitch Bowden (Chore), they delivered tuneful indie rock that has elicited Guided By Voices comparisons.
The real find of the evening was Ellis. A buzz has quickly spread internationally around the Hamilton-based band led by singer/guitarist Linnea Siggelkow. ts sound ranges from dream-pop to harder fare, while a timely cover of Neil Young's Harvest Moon was a sweet treat. A very large crowd flocked to the Exclaim! stage for headliners Stars, and the enthusiastic response to a superb set had singer Torq Campbell gushing genuinely about the event and the audience. He remains the most eloquent and charming frontman around, and his interaction with co-vocalist Amy Millan is at the core of Stars. A quite triumphant set.
– A shooting at a Mississauga, ON,  apartment complex that left a 17-year-old dead and five others injured on Saturday night is linked to music videos filmed at the property, Peel Regional Police has stated. "This was an ambush-type attack. The intended targets appeared to be a group preparing to film a rap video. The rap video that was shot at this location on an earlier date … has motivated this attack," Chief Chris McCord told reporters Sunday afternoon. "There is information within that rap video that is challenging other people within the community and that's what's upset them." Source: Global News
– Noted classical guitarist Miloš has returned after a crippling hand injury to record and release a new album, Sound Of Silence, featuring classical guitar pieces and covers of Paul Simon, Leonard Cohen, and Portishead. In May, Miloš played a commissioned piece by Canadian composer Howard Shore with the National Arts Centre Orchestra in Ottawa. "They are the world's most underrated orchestra. They play like god," he said in a recent interview. Source: Ludwig Van
 Electro-pop singer-songwriter Grimes is reportedly completing her first album in four years, entitled Miss Anthropocene (release date TBA), and has released a second single, Violence. An accompanying video (below) has quickly earned 1.35M YouTube views. Source: Eastern Echo
– Music PEI is presenting a workshop entitled  How Your Music Makes Money, conducted by Tim Hardy. He is the co-owner of Sound of Pop, an ECMA award-winning music publishing & master/sync representation company, and operates an independent rights management/music consulting company based in Halifax.  The 3-hour workshop takes place in the Music PEI Boardroom (115 Richmond in Charlottetown) at 6 pm on Sept. 18. To sign up up for this workshop, complete the form here
– Thunder Bay-based singer-songwriter Jean-Paul De Roover has released a new video for the song I Can't Sleep, from his sixth album, Love. The clip features his wife Shannon Lepere and was recorded live at the Ferguson Place, a shared family cabin.
RIP
Ric Ocasek, the lead singer of new wave band The Cars, was found dead in his Manhattan apartment on Sept. 15, age 75. No cause of death reported.
He also produced albums for Weezer, Bad Brains, Guided By Voices, No Doubt, the Cribs, Bad Religion, and more.
Ocasek and friend Benjamin Orr formed the Cars in 1976. They released their self-titled debut album in 1978, which featured the hit singles Good Times Roll, My Best Friend's Girl, and Just What I Needed. The group broke up in the late 1980s. 
In 2011, Ocasek and the reunited Cars released a new album called Move Like This. The Cars were inducted into the Rock & Roll Hall of Fame in 2018.
Starting with 1982's Beatitude and ending with 2005's Nexterday, Ocasek released a series of solo albums. He also produced albums for Weezer, Bad Brains, Guided By Voices, No Doubt, the Cribs, Bad Religion, and more. For further details, check out features at Ultimate Classic Rock, Variety, and Rolling Stone.
Hossam Ramzy, an Egyptian percussionist and composer, died Sept. 10, age 65. He was undergoing treatment for a heart condition in Brazil.
Ramzy worked with Western artists like Jimmy Page and Robert Plant as well as such Arabic music artists as Rachid Taha and Khaled. In 1989 he worked with Peter Gabriel on the soundtrack to Martin Scorsese's The Last Temptation of Christ.
In 1994 he returned to his roots and formed a ten-piece Egyptian ensemble that performed on the album No Quarter: Jimmy Page and Robert Plant Unledded. Ramzy and his ensemble also gained exposure by touring with Plant and Page throughout 1995 in support of their album. His last album, Rock the Tabla, was released in 2011. Further background here
Eddie Money (Edward Joseph Mahoney), the prolific singer and songwriter whose songs Baby Hold On, Two Tickets to Paradise, Shakin' and Take Me Home Tonight helped soundtrack popular music in the 1980s, died Sept. 13, of esophageal cancer, age 70.
Money was born in Brooklyn, the son of a police officer, and he attended the NY Police Academy before dropping out to pursue music. He made his home in the Bay Area where he performed at the city's clubs regularly. A star of MTV's formative years, during which he starred in a series of comedic music videos, he saw chart success with such songs as Baby Hold On, Two Tickets to Paradise and Take Me Home Tonight, a duet with Ronnie Spector. He was signed to Columbia Records and released 11 albums throughout his career.