FYI
Music News Digest, Sept. 13, 2021
Justin Bieber (pictured) scores at the VMAs, Oscar Peterson is honoured by the RCM, and Donovan Woods launches a new label. Also in the news are Cassidy Mann, Neil Peart, Dear Rouge, the Polaris Prize, Luminato, OKAN, Music NL, Mustafa, Dayna Manning, CMRRA, VIFF, and farewell Michael Chapman.
Sep 13, 2021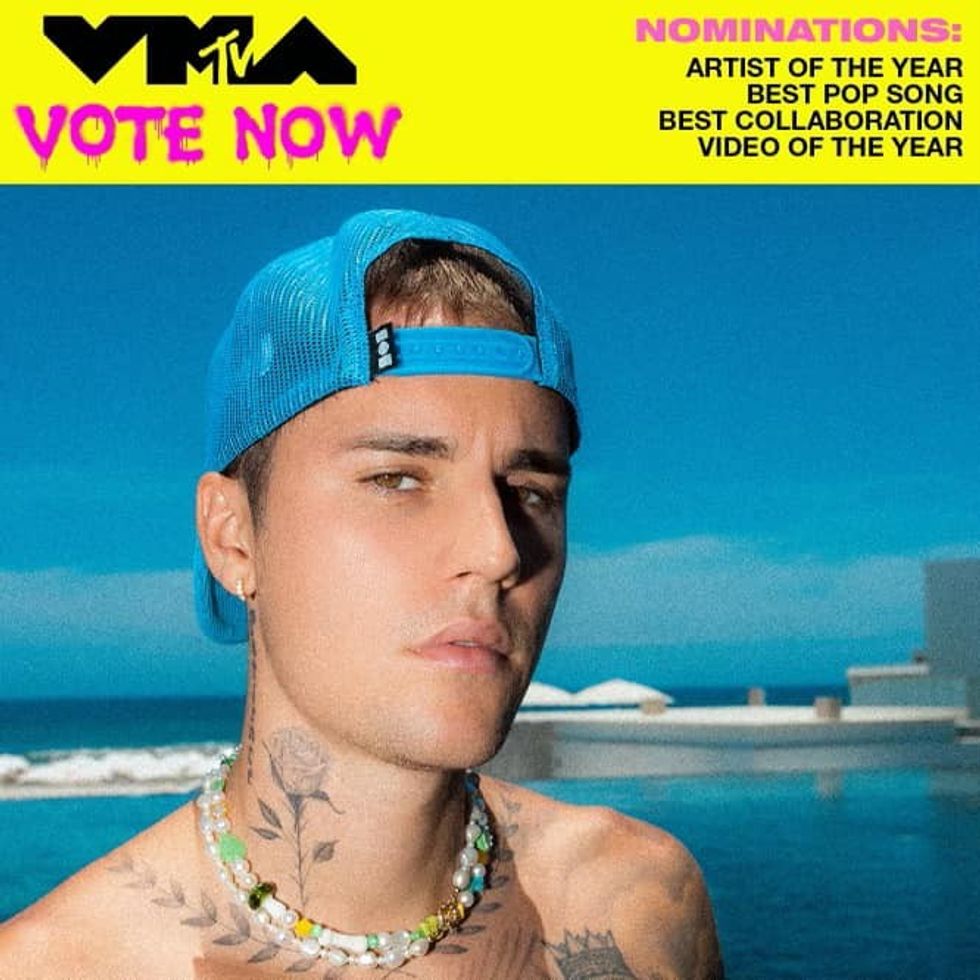 By Kerry Doole
Justin Bieber fared well at The MTV Video Music Awards last night (Sept. 12), taking home trophies for Artist of the Year and Best Pop, for his song Peaches, featuring Daniel Caesar and Giveon. Lil Nas X topped the winners list with three, with other victors including Olivia Rodrigo, BTS, and Billie Eilish. Bieber and Shawn Mendes were amongst the performers at the event, held at Brooklyn's Barclays Center with Doja Cat hosting. See the full winners list here.
---
– The late piano great Oscar Peterson is being honoured by The Royal Conservatory of Music, which announced last week that it is renaming its community school after the late alumnus. The Royal Conservatory School is now known as the Oscar Peterson School of Music. The RCM will also launch the Oscar Peterson Program, a scholarship offering free music instruction to underserved youth, in the fall of 2022. Peterson, a Canadian Music Hall of Fame member, started his music training with the RCM certificate program. Source: CP
– Much-decorated Toronto singer/songwriter Donovan Woods and his long-time manager Michelle Szeto have just announced the launch of their brand new label, End X Music (End Times Music). The imprint will be based in both Nashville and Toronto, and its first signing, Cassidy Mann, has just released her first single for the label. Mann is a Manitoban singer/songwriter who has been nominated for Aboriginal Recording of the Year at the Western Canadian Music Awards.
– Just days before what would have marked Rush drummer Neil Peart's 69th birthday (Sept. 12), the City of St. Catharines announced the launch of the fundraising campaign to support the Neil Peart Memorial at Lakeside Park. Coinciding with the launch is the announcement of the seven artists who have been shortlisted for the project. A global fundraising platform to erect a public work of art in Peart's honour in Lakeside Park, alongside the recently named Neil Peart Pavilion, is now open for donations here.
– Cadence Recordings have added Vancouver alt-rock duo Dear Rouge to the roster. The band has just delivered a new track, Fake Fame, its first since 2018 LP Phases.
– The 2021 Polaris Music Prize awards ceremony will again be held as a virtual event. Details have yet to be announced, but Sept. 27 (8 pm ET) is the date.
– Presented by the Luminato Festival, Guided by Starlight -- Exploring Toronto's Musical Galaxy is a free five-part concert series, set to run in different parts of the city from Oct. 13-17. Prominent names in the lineup include SATE, OKAN, TiKA, and Zaki Ibrahim, alongside newcomers Säye Skye, Hex, and Kristi Lane Sinclair. More info here. You can donate to Luminato here
– Music NL has named the three winners of its NewFound Talent Contest. Summer Bennett, Jayne Batstone, and Mackenzie Critch take first, second and third place, respectively. The contest aims to discover, develop, encourage, and showcase young entertainers and  offers professional development prizes valued at over $6K. 
– Toronto singer/songwriter/poet Mustafa will play his biggest hometown show yet at Massey Hall on Dec. 1. It is presented by RAPSEASON & Manifesto and tickets go on sale today (Sept. 13) here  
– Luke Jackson's Catweazle Club performance series features celebrated Stratford folk artist Dayna Manning on Sept. 18 (7.30 pm). The pwyc show takes place on the grass outside the Roncesvalles Library in Toronto. 
–  The CMRRA has launched its Next Generation Scholarship Award, created to support CMRRA's commitment to foster foundational change within the music sector and support CMRRA's Diversity, Inclusion and Equity mandate.  CMRRA partnered with Humber College's Music Business Program on the scholarship to support the full tuition and a paid internship for a student whose unique perspective broadens diversity and representation in the music industry. The inaugural recipient is Tracey Soman.
–  The Vancouver International Film Festival (VIFF) has announced the complete 2021 lineup for VIFF Immersed, a showcase of the power of XR technology as a vehicle for storytelling. The schedule comprises the Immersed International Competition and Exhibition, Oct. 1–11, Immersed XR Market, Oct. 4–5, and VIFF AMP, an exploration of the essential role of music in film, Oct. 8–10. VIFF AMP will offer a hybrid of online and in-person events. Supported by Creative BC, FACTOR Canada, and Music BC, it will be launched by a  keynote session featuring hit songwriter Linda Perry. Five-time Emmy-winning composer Laura Karpman will close the weekend with herkeynote event. More info here
– Cowork at the Cotton Factory and MusicOntario present an in-person educational seminar at Hamilton's Cotton Factory on Sept. 24, 5-8 pm. It is entitled Royalties, Sync, & Making Music Work for You, and features local industry experts Alysha Main, Brad Machry, Sherry Sinclaire, and DeShaun Jones. The event includes a performance by singer/songwriter/dancer Amanda De Freitas. Tickets here
RIP
Michael Chapman, an English singer-songwriter, and virtuosic guitar player, died on Sept. 10, age 80.
Chapman originally began playing guitar with jazz bands, mainly in his home town of Leeds. He became well known in the folk clubs of the late 1960s, as well as on the 'progressive' music scene, and released over 50 albums. Accompanists early in his career included  Mick Ronson, Rick Kemp and Keef Hartley.
In 2016, Chapman celebrated fifty years as a professional musician. Towards the end of his life he still played and regularly toured in the UK, Europe and US.
He was cited as an influence by many peers. A compilation tribute album, Oh Michael, Look What You've Done, saw his work covered by artists including Lucinda Williams, Meg Baird, Hiss Golden Messenger, Bridget St John and William Tyler. Sources: Wikipedia, The Guardian