FYI
Music News Digest, Oct. 31, 2018
Folly & The Hunter (pictured) share their creative process, Netflix is producing a Prince documentary, Music Canada Cares boosts music in schools, and Kiss faces the end of the road. Also in the news are Manitoba Music, SOCAN, the IMAs, Lisa Dodd, Rick White, Songwriter Sessions, Furniture Bank, and farewells to Todd Youth, Herb Remington, and Freddie Hart. Videos added for your enjoyment.
Oct 31, 2018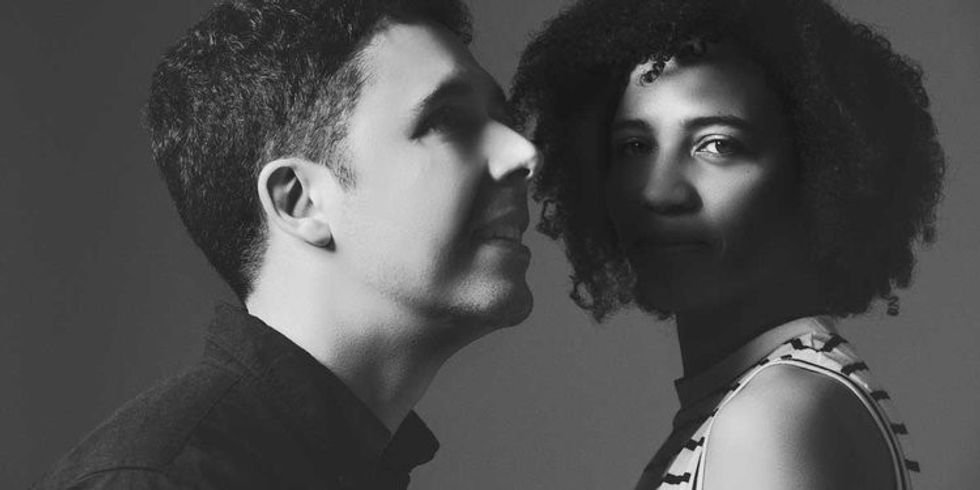 By Kerry Doole
Montreal duo Folly & The Hunter released new album Remains last week, via Outside Music, and are now sharing a behind-the-scenes mini-documentary of the making of the record. The album was recorded over two weeks at the Tragically Hip's Bathouse Studios,  with the goal of having the band sequestered in a studio without outside distractions, living and breathing the creating of this album. Check out the process here.
---
–  Good news for Prince fans is the report in Variety that Oscar-nominated producer/director Ava DuVernay (Selma, Queen Sugar) is teaming with Netflix for a documentary on the Purple One. She has been at work on the project for several months, and it has the full cooperation of the late artist's estate, which is providing interviews, archival footage, photos and archive access. The multiple-part documentary will cover the artist's entire life.
– Music Canada Cares, an affiliate of Music Canada, recently launched The Three Rs Music Program in Ontario. The program Rescues instruments, Restores them, then Reunites them with students. The public is invited to donate musical instruments at drop-off locations in the Greater Toronto and Hamilton Area. These instruments are then refurbished and given to publicly funded schools with students and music programs in need.The Three Rs Program also has $2.5K grants that public schools can apply for to repair their existing instruments until Nov. 18. More info here
– Kiss has announced the first 44 dates of its farewell End of the Road tour, one expected to run for three years. This trek begins in Vancouver's Rogers Arena on Jan. 31, 2019, closing out on April 13 in Birmingham, Ala. Other Canadian arena dates are at Montreal's Bell Centre (March 19), Toronto's Scotiabank Arena (March 20), Quebec City's Videotron Centre (April 2) and Ottawa's Canadian Tire Centre (April 3).
– Manitoba Music's Indigenous Music Development Program is producing a video series called Talking Stick, featuring live performances of original new music by First Nation, Metis, or Inuit artists along with short on-camera interviews. The first artists to be showcased are new age rock band Eternal Now, singer/songwriter JC Campbell, blues/rock artist Mitchell Mozdzen, and grunge rock outfit The Bloodshots. Production is set to begin next month with Kejic Productions' Erica Marie Daniels at Urban Shaman in Winnipeg's Exchange District.
– The SOCAN Vancouver team is moving its office to a new space in Gastown. The crew will be fully relocated by the end of the year, but the current office closed as of Oct. 26. Contact the Membership team at 1-877-307-6226 for assistance until the new office opens.
– SOCAN also informs that members can take advantage of one free song submission when they apply for the 17th annual Independent Music Awards (IMAs). Submission deadline is Dec. 7. Nominees are to be announced in March 2019, and winners on June 22 in NYC. This year's music judges include: Tom Waits, Robert Smith (The Cure), Martha Wash, Ben Lovett (Mumford & Sons), Lee Ann Womack, and Paquito D'Rivera. Artists who received recent IMA recognition include JD McPherson, Valerie June, Darrell Scott, Nik West, Pokey LaFarge, Lionel Loueke, Macy Gray, …And You Will Know Us By The Trail Of Dead, and Meghan Trainor.
– Monreal-born, Alberta-based singer/bassist Lisa Dodd's current main gig is as bassist/backing singer for Gord Bamford. She has won CCMA Awards as Bass Player of the Year in 2012 and 2015, a first for a female bassist. Dodd is now also attracting attention as a singer in US-based jazz/pop combo Vinyl Hampdin, an all-star ensemble comprising several Grammy nominees that is earning kudos for debut album RED.
– The new Songwriter Sessions series at Toronto venue Hugh's Room Live features a strong foursome of roots artists on Nov. 13, comprising Rob Lutes, Dayna Manning, Soozie Schlanger (Swamperella), and Wendell Ferguson.
– Via such projects as Eric's Trip and Elevator, New Brunswick rocker Rick White has long been a potent force on the indie scene. He makes a welcome return after a long absence with a new single, "Tomorrow," his first new music in six years. It features his trademark trippy sound. Source: Grid City Magazine
– Toronto-based non-profit Furniture Bank celebrates its 20th anniversary with Chair Affair, a lavish fundraising gala set for Friday (Nov. 2) at the Casalife showroom in Etobicoke. It features dinner, a silent auction, and a performance by Juno-winning singer Matt Dusk. The charity provides furniture for needy families. Tix here
RIP
Todd Schofield (aka Todd Youth), US hardcore guitarist, died on Oct. 27, at age 47. No cause of death given.
Schofield was best known for his work in Danzig, Murphy's Law, and Warzone. After stints in Warzone and Murphy's Law, he was with NYC punk band D Generation from 1996 to 1998, then joined Danzig and Samhain in 1999.
Since 2004, he led Los Angeles rockers The Chelsea Smiles, and in 2010 he toured in the bands of Ace Frehley and Jesse Malin. In 2017, Schofield played his first show with his new hardcore band Fireburn, and he also recorded and with hardcore punk supergroup Bloodclot. Sources: Loudwire, Wikipedia
Herb Remington, steel guitarist with Bob Wills and the Texas Playboys, has died, at age 92.
After spending two years in the US Army, Remington joined the Texas Playboys in the late 1940s. "Herby was the kid in the band when they hired him, but they hired an original," says Ray Benson, frontman of the western swing institution Asleep at the Wheel. "His tunings were unique, they were his own. He told me it's because he didn't want to sound like somebody else. And it worked."
Remington left Wills' employ in 1949. He continued to tour and play on albums, and can be heard on recordings by Merle Haggard, Floyd Tillman, George Jones, Merle Travis, Willie Nelson, and many more. He scaled back his touring and focused more on building and selling non-pedal steel guitars in 1978, work that carried him into the 21st century.
His legacy includes a number of ageless compositions and a distinctive approach to an instrument crucial to the sound of western swing. He also left behind instruments he designed that bore his name: Remington Steel Guitars. Source: Houston Chronicle
Freddie Hart, a World War II veteran who had a run of No. 1 country hits in the early 1970s and won CMA, ACM and Grammy awards for his smash "Easy Loving," died Oct. 27 at age 91.
Hart's career encompassed several eras of country music, as he began his recording career as a California honky-tonker in the early 1950s but didn't break through until 1971, when he had adopted the slicker "Nashville sound" of "Easy Loving," which made him a star in his mid-40s.
"Easy Loving" was popular enough that it achieved the rare honor of winning the Country Music Association Award for best song two years in a row, in 1971 and 1972.
The liner notes for one of the Bear Family label's reissues of Hart material noted, "Freddie had one of the longest and most arduous climbs to the top of any country music star in history, having begun his recording career almost twenty years earlier. Dozens of fine and deserving hillbilly, rockabilly and stone country singles and albums were issued before Freddie would have a major hit."
Hart was inducted into the Nashville Songwriters Hall of Fame in 2004, not just for his own hits but for the songs he had recorded by Patsy Cline, Loretta Lynn, Buck Owens, George Jones, Waylon Jennings, Bobby "Blue" Bland, Porter Wagoner, Eddy Arnold, Carl Smith, Charlie Rich, Billy Walker, the Louvin Brothers and dozens of others. Source: Variety