FYI
Music News Digest, May 3, 2019
The soundtrack album for Elton John's Rocketman (pictured) comes out soon, Drake triumphs at the 2019 Billboard Music Awards, and Canada House showcases at The Great Escape. Also in the news: So You Think You Can Rap Canada, Palestine comes to CMW, Music-Musique NB,  M.E.A.T., Terry Christenson, André Mathieu, L'Atelier Grigorian, Tanya Tagaq, Music NL, Music BC and farewell Jah Stitch.
May 03, 2019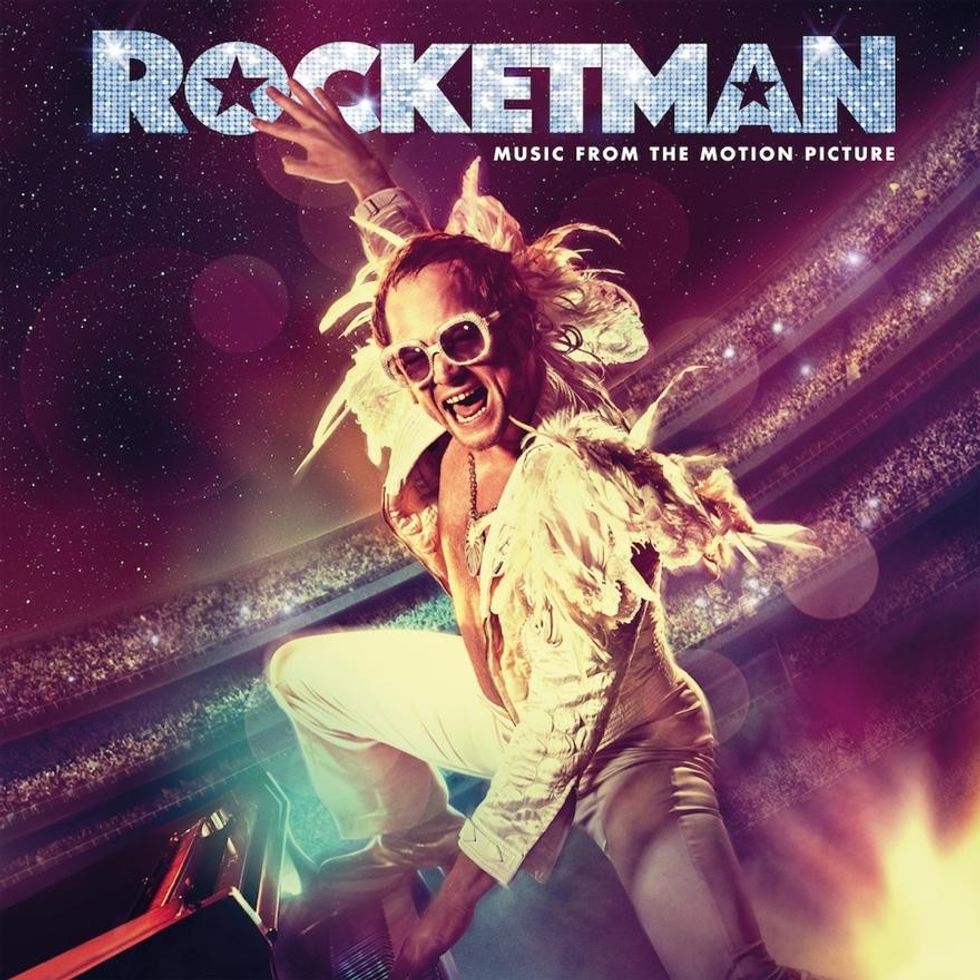 By Kerry Doole
The soundtrack album for Elton John's epic musical fantasy Rocketman comes out on May 24 through UMC, with the film released via Paramount Pictures on May 31. The soundtrack sees celebrated producer and composer Giles Martin re-interpreting and re-imagining Elton's hits, tailoring the music specifically to support the narrative of the film, with vocal performances from lead actor Taron Egerton. Here's the official soundtrack music video for the title track. 
---
–There is at least one big music awards show Drake will attend, it seems. He was on hand at the 2019 Billboard Music Awards in Las Vegas on Wednesday night, leaving with 12 more trophies for his collection. That brings his tally of these awards to 27, besting Taylor Swift for the most ever. His new victories included the Top Artist award, over Cardi B, Ariana Grande, Post Malone and Travis Scott. Source: AP 
– Canada House (formerly known as the Canadian Blast) returns to the Great Escape festival in Brighton this month, via three nights of showcases, May 9-11, at the Green Door Store venue. The 19 Canada House artists performing this year include such notable names as Bad Animal, Bad Child, Haviah Mighty, Miesha & The Spanks, Mother Mother, Rich Aucoin, Snotty Nose Rez Kids, T.T Thomason, and Yes We Mystic. 
– So You Think You Can Rap Canada returns for another year, with submissions now open until June 6. Produced by recording artist Tone Kelly and Theo Bentley, the Canadian rap competition is judged by notable media types. It will be held at Toronto music venue Smiling Buddha over four nights, beginning June 29. The winner earns $5K plus studio time. More info here
– CMW in Toronto next week will be enlivened by the presence of two Palestinian acts. Bashar Murad is a singer, songwriter, and video artist living in East Jerusalem, producing pop music in English and Arabic with a Palestinian spirit and a social conscience. Kallemi is a collaborative women's musical project involving Swiss, Dominican, and Palestinian musicians. Its diverse sound covers a world of Arabic, English and Latino hip-hop styles. Their shows are on May 10 at Amsterdam BrewHouse and May 11 at Small World Music Centre.
– Music-Musique NB (MNB) will present EXPORT NB during the 2019 Congrès Mondial Acadien (CMA) in Moncton, NB. MNB will host international delegates from Europe, the UK, and US, and delegates will have the opportunity to participate in the CMA's programming and networking opportunities. An international showcase with New Brunswick artists will be presented at the Bernard-Leblanc Hall on August 17. Deadline for applications is May 8. More info here
– The first issue of Canadian metal mag M.E.A.T. came out exactly 30 years ago, launched with a party at the Diamond Club (now the Phoenix Concert Theatre) in Toronto featuring the bands Succsexx, Sacrifice, and Winter Rose (fronted by James LaBrie, later of Dream Theatre). It had an initial circulation of 30,000 copies, then growing to 100K, with national distribution. Founder/editor Drew Masters has announced, via the M.E.A.T Facebook Group, that there will be a year-long unfolding of insider stories/memories posted to the group, plus first-hand information on forthcoming M.E.A.T & Drew Masters projects (podcast, YouTube channel, song/album production, and more). Stay tuned.
– Earlier this week, Burnaby BC RCMP arrested  71-year-old singer-songwriter Terry Christenson for his protest action in occupying a tree in a demonstration against the Trans Mountain pipeline. He had previously been arrested for a similar protest in Burnaby in March 2018. Christenson received a Juno nomination for country male vocalist of the year in 1987. Source: Georgia Straight
– A piano concerto written in the 1940s by an 18-year-old Canadian composer described as a genius by Sergei Rachmaninoff is about to receive its Ontario premiere more than 70 years later.  Pianist Christina Petrowska Quilico joins the Kindred Spirits Orchestraand conductor Kristian Alexander in the performance of the Piano Concerto No. 4 by André Mathieu (1929-68), May 11, 3 pm at the Richmond Hill Centre for the Performing Arts. Tix here
– L'Atelier Grigorian will be shuttering its last retail store in Toronto's Yorkville in mid-June of 2019, the company announced on FB. It is believed to be the last classical music CD store in Canada. Source: ludwig-van.com
– Polaris-Prize winning Indigenous artist Tanya Tagaq is profiled on 60 Minutes on CBS on Sunday, May 5 at 7:00 p.m., ET/PT.
– Music NL is hiring for a JCP Program position based in Corner Brook, NL. Under the direct supervision of MusicNL staff, the Volunteer, Events, Showcases, Stages Logistics and Local Administration Coordinator is responsible for the smooth operation of all aspects of the event. Deadline to apply is May 17. More info here
– Music BC has partnered with KEXP to present BC artists at Concerts at the Mural in Seattle on Aug. 2. Application deadline: May 9.
RIP
Jah Stitch (born Melbourne James), Jamaican reggae vocalist, died in Kingston on April 28, aged 69, following a brief illness
 Although not necessarily a household name abroad, the "original raggamuffin" was a sound system toaster and DJ who scored significant hits in the 70s, later working as an actor and appearing in an ad campaign for Clark's shoes.
In his teens, James began selecting records on a new sound system called Fingertone, initially a small community sound system. Later, the sound was renamed Tippertone and became one of the most popular sound systems in Jamaica.
Tippertone had a reputation for exclusive dubplates, especially from the Studio One catalogue, and Stitch was renowned as a selector of great skill, with exquisite sequencing and timing.
In the early 70s, Tippertone launched the careers of fellow toasters Big Youth and Doctor Alimantado, and Stitch and Big Youth began toasting together on the sound and elsewhere, both employing an understated delivery and Rastafarian focus, with Stitch's rhymes delivered in a gruff baritone.
He began his recording career in 1975 with a bang, voicing two hit songs on the same day, "Danger Zone" and "The Killer."
His 1976 debut album, No Dread Can't Dead, celebrated his survival from a shooting and elevated his profile in Britain, followed by two more acclaimed albums.
UK label Blood and Fire's retrospective album Original Raggamuffin introduced Jah Stitch's work to a new audience in 1996. A year later, he appeared in Don Letts' and Rick Elgood's film Dancehall Queen. Source: The Guardian