FYI
Music News Digest, March 7, 2022
The Weeknd will launch his stadium world tour in Toronto, Leonard Cohen (pictured) sells his catalogue to Hipgnosis, and the 2022 Canadian Folk Music Awards are coming soon. Also in the news are Justin Bieber and Omah Lay, Jane Bunnett and Maqueque, Balaklava Blues, Music Nova Scotia, Corin Raymond and the Sundowners, Bravo Niagara Festival of the Arts, By Divine Right, and farewell Iwan Edwards, Maud Hudson, and Denroy Morgan.
Mar 07, 2022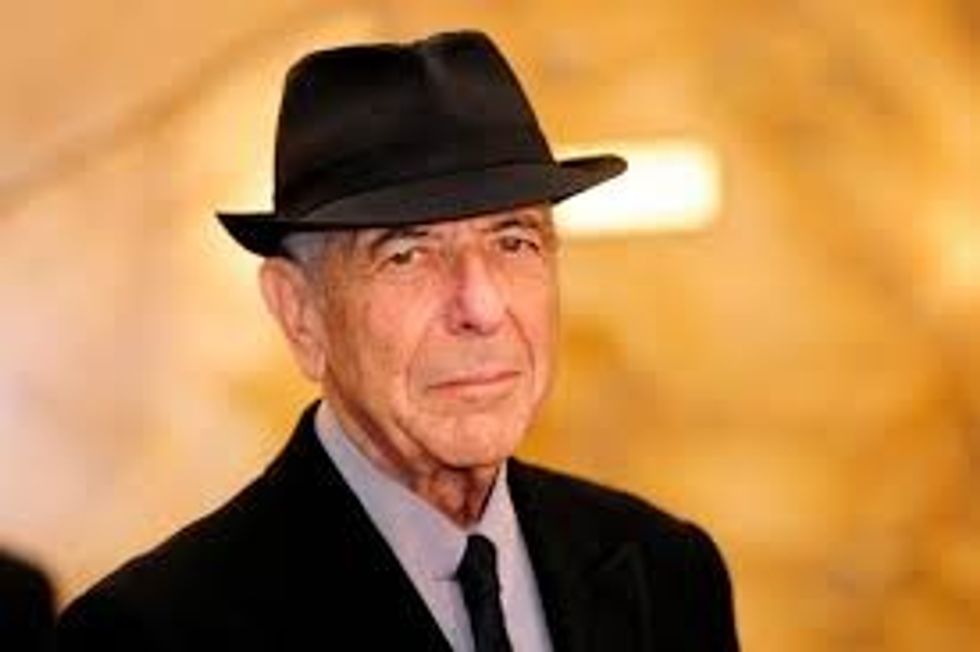 By Kerry Doole
The previously delayed and much-anticipated After Hours Til Dawn stadium tour by The Weeknd has now announced its dates. With Doja Cat in support, it launches with a hometown Toronto show at Rogers Centre on July 8, followed by stops at major US stadiums including Metlife in New York City, Soldier Field in Chicago, Hard Rock Stadium in Miami, Allegiant Stadium in Las Vegas, and more, before wrapping Sept. 2 at SoFi Stadium in Los Angeles, California. The tour is produced by Live Nation, and this is the first leg of The Weeknd's massive world trek, with additional dates in Mexico, South America, Asia, Australia, New Zealand, Europe, Africa & the Middle East to be announced soon. Tickets for the North American dates go on sale on March 10 at 10 am local time here and here. The Weeknd also announced the launch of the XO Humanitarian Fund for the United Nations World Food Programme, with $1 from each ticket sold benefiting the fund, along with a combined $1.5M donation.
---
– The orgy of blockbuster purchases of major artist/songwriter catalogues continues with news on the weekend that Hipgnosis Song Management has acquired a career-spanning catalogue created by  Leonard Cohen. MBW reports that "the acquisition marks a landmark deal for the private, Blackstone-backed Hipgnosis Songs Capital ICAV fund, a separate entity to the UK-listed Hipgnosis Songs Fund."
Hipgnosis has acquired an interest in all 278 songs and derivatives written by Leonard Cohen. Within those 278 compositions, 127 songs are from his Stranger Music catalogue, for which Hipgnosis has acquired the writer's share of royalties. This includes Hallelujah, which has been covered more than 300 times, sold almost 10M records, and been streamed over 5B times across all services. Hipgnosis has also acquired the ownership of 100% of the copyrights – including publisher's share and writer's share – of royalties in the Old Ideas catalogue, which consists of 67 songs plus derivative works written by Cohen from 2001 until his death in 2016.
In a statement, Merck Mercuriadis, Canadian founder and CEO of Hipgnosis Song Management, says "To now be the custodians and managers of Leonard Cohen's incomparable songs is a wonderful yet very serious responsibility that we approach with excitement and fully understand the importance of."
– Justin Bieber has another hit on his hands, via a collaboration with Nigerian Afro-fusion star Omah Lay on the track Attention. Check out the attention-grabbing video here.
– After a two-year absence of live performance, the upcoming 2022 Canadian Folk Music Awards (CFMAs) in Charlottetown, PEI, will return to an in-person format, as well as an online component. Hosted by Chelsey June (Twin Flames) and Benoit Bourque, the bi-lingual CFMA concerts will hand out 20 awards, including the Slaight Music Unsung Hero Award, over the course of two nights, April 1 and 2. There are also two Spotlight Showcases, March 31 and April 2. The events will also stream on the CFMA website, folkawards.ca (EN) and prixfolk.ca (FR) on Facebook and CFMA's Youtube channel. More info here.
– The Juno-nominated jazz meets Cuban music ensemble Jane Bunnett and Maqueque is currently touring the US, through to March 19, including a 5 night run at prestigious NYC venue Birdland. After a May 15 show in Victoria, BC, the group has six more dates on the US west coast. Itinerary here.
– Toronto-based Ukrainian-Canadian duo Balaklava Blues has released a timely new single, Shelter Our Sky. BB has also announced a collaborative NFT project designed to raise funds in support of Ukrainian NGO Come Back Alive, which assists the Ukrainian military, volunteers, and their families through crowdfunding. Balaklava Blues is currently in the UK, assisting the Belarus Free Theatre to score its play The Dogs of Europe, which premieres on March 10 at London's Barbican Theatre.
– Music Nova Scotia is presenting the final instalments of its performance series, Curated, featuring new and emerging talent hand-selected by a local artist. Curated: Breagh Isabel will be held at the Alexander Keith's Brewery in Halifax as a free open house on March 19 from 1-3 pm., with performances by Eric Stephen Martin, Jade Bennett, Eriana Willis and blue.
– Renowned Toronto live music club the Cameron House is reopening this week, with club favourite Corin Raymond and the Sundowners leading the relaunch on March 10, in their old 6-8 pm slot, one set to continue indefinitely. As eloquent troubadour Raymond declares, "Long may the Red Velvet Twilight glow!" Check here for other club listings.
– The Bravo Niagara Festival of the Arts presents top classical and jazz artists in concert in the region this spring and summer. The lineup includes Charles Richard-Hamelin (April 8), Jan Lisiecki (April 26), members of the Oscar Peterson Quartet (April 30), Jon Kimura Parker (May 29), and Brubeck Brothers Quartet (June 22). More info here.
– The  Indie Weekly session tomorrow (March 8) discusses how music can be used as a therapeutic tool, empowering marginalized communities.  It features Make Music Matter's Founder & CEO Darcy Ataman and the org's newly-minted Director of Business Development & Industry Affairs Steve Kane. The session starts at 4 pm EST, with free registration here.
– The brainchild of Zula Presents, the Something Else! Series brings cutting-edge jazz and new music to Hamilton. Its first two events of 2022 are at The Casbah, on March 16 and 27. The first concert features Samuel Blaser & Russ Lossing, and Ladyfinger, with the second show presenting Michael Formanek's Drome Trio. More info here 
– Labelmates on Fortune Stellar Records, By Divine Right and HotKid are teaming up for six shows in Ontario and Quebec this month, beginning with a March 10 show at Bridgeworks in Hamilton and closing out at Toronto's Baby G on March 20. Indie rock heroes BDR will release a ninth album in Sept., and you can expect a preview at these recommended gigs. More info here.
– The Juno-nominated and internationally-acclaimed Toronto Tabla Ensemble has released its eighth album,  For The Love Of Tabla. Exploring the theme of love, it features guest artists from Canada and around the world. Here's a collaboration with famed rocker Bif Naked.
RIP
Iwan Edwards,  an acclaimed Montreal choral conductor and teacher, died on March 4, at 84.
Edwards was best known as chorus master of the Montreal Symphony Orchestra, preparing the chorus for 21 seasons of concerts, tours and recording sessions. He received Grammy and Juno Awards for their recording of Berlioz's Les Troyens, among many distinctions.
CBC reports that "his choristers were charmed by his lilting Welsh accent, warm sense of humour and rigour during the rehearsal process."
Born in Wales, Edwards moved to Montreal in 1965 and soon became an important figure in the city's music scene. He established the St. Lawrence Choir, which he would helm for four decades. He then taught at downtown Montreal's F.A.C.E. School, and he also ran the choral music program at next-door McGill University, eventually serving as chair of the performance department.
An early 1990s recording of Alcides Lanza's electroacoustic work Un Mundo Imaginario with the McGill Concert Choir illustrated Edwards' daring as a musician and teacher. The National Youth Choir of Canada welcomed Edwards as its guest conductor in 1998 and 1999. After his retirement from teaching, Edwards established the Canadian Chamber Choir and Concerto Della Donna, an all-women chamber choir.
Edwards was a member of the Order of Canada and received the Queen's Golden Jubilee Medal in 2002. In 2014, Edwards was the subject of a crowdfunding campaign for a documentary film called Once & for All, looking back at his remarkable career. The film is currently in post-production and will be out later this year. Source: CBC, Montreal Gazette 
International
– Maud Marie Hudson (nee Kegel), an American singer and wife of The Band's Garth Hudson, died on Feb. 21, age 71. No cause of death has been reported.
She grew up in California and later moved to New York State with her husband of over 43 years. Hudson sang and played guitar, and frequently performed with Garth Hudson. Among those she has performed and recorded with are The Band, Norah Jones, Albert Collins, Paul Butterfield, Dr. John, Cyndi Lauper, Geoff Muldaur, Eric Andersen, Kevin Hearn, Gavin Friday, Mary Margaret O'Hara, and The Sadies. 
A funeral was held on March 4. Condolences may be sent to the family at olpinmortuary.com
– Denroy Morgan, a noted reggae singer and manager, has died, age 76. No cause of death has been reported.
His career in music began in the late '60s, playing reggae and rocksteady with a band called the Mad Creators after migrating to New York. By 1974, Morgan had co-founded the Black Eagles Band, whose original line-up released a handful of singles and the album Warning, in 1978. 
Morgan's breakthrough came in 1981 with the dancefloor smash I'll Do Anything for You, an early fusion of R&B, rap, and reggae styles, which earned him a two album deal with RCA Records. A reggae version of the hit was later released as the lead single to his 1998 VP Records album Salvation. Theocracy Reign (2009), and Link Up To Ethiopia (2011) continued the association with the label.
Morgan' fathered 30 children, some of whom featured in two sibling musical groups, LMS and the very popular Morgan Heritage, whom he managed and performed with for many years. More recently he established his own Abrahamic Covenant Family Ministry, in association with Hilltop Tabernacle in Port Morant, St Thomas. 
A new album, Denroy Morgan and The Black Eagles' Divine Destiny, is scheduled for release through VPAL Music distribution on April 22. Source: VP Records,