FYI
Music News Digest, March 15, 2019
Michael Buble (pictured) releases his TV special on audio, Rock Hall of Fame announces an impressive lineup, and a Juno power scare in London. Also in the news are Roxodus Music Fest, FACTOR programs, Rolling Stones, Thymeless, Christina Martin, Stephen Stohn,  Grimes, grandson, Taste Of The 6ix, Radio-Canada, Music BC, Soleil Sound, Red Hot Chili Peppers, and farewell Danny Kustow and JoAnn Brooks. Videos provided for your enjoyment.
Mar 15, 2019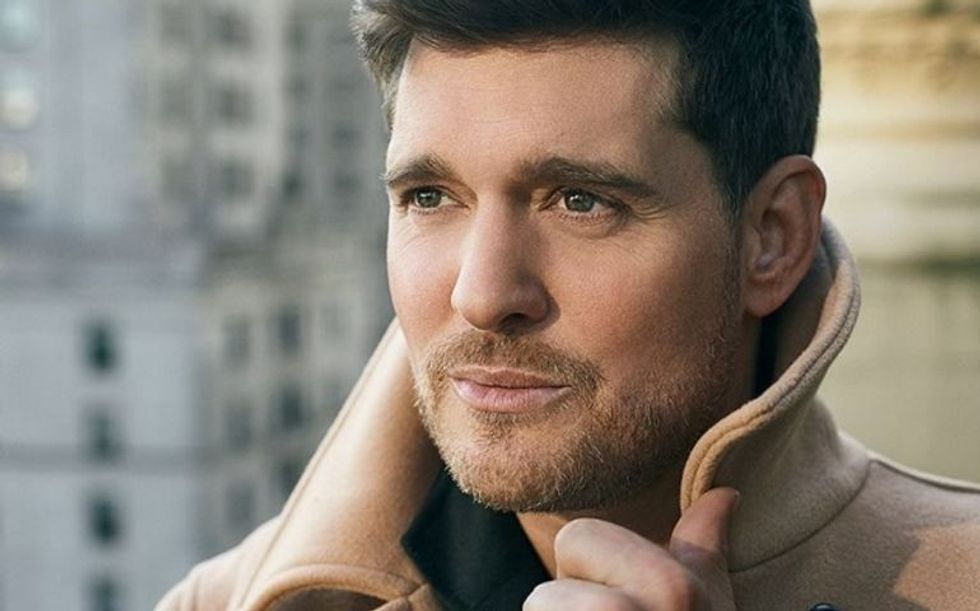 By Kerry Doole
Cleveland's Rock Hall of Fame has announced special guests at this year's sold-out Rock & Roll Hall of Fame Induction Ceremony. The list includes Harry Styles presenting for Stevie Nicks; Brian May for Def Leppard; Janelle Monáe for Janet Jackson; Trent Reznor for The Cure; David Byrne for Radiohead; John Taylor & Simon LeBon for Roxy Music; Susanna Hoffs (The Bangles) for The Zombies. The ceremony is on March 29 at Barclays Center in Brooklyn.
---
– Roxodus Music Fest, in partnership with ReverbNation, is now accepting online submissions for up-and-coming artists to perform during the inaugural fest, set for July 11-13 at the Edenvale Airport, ON. Deadline is April 22. Guidelines and application here
– Organisers of this week's Juno festivities and awards in London, ON, likely felt a mite anxious on Wednesday morning after a power failure in the city plunged 25,000 homes and business into darkness. The outage temporarily disrupted part of the Wednesday morning broadcast of CBC Radio One's London Morning, which went silent just as host Rebecca Zandbergen was introducing CARAS president Allan Reid during an on-location remote at Fanshawe College's downtown campus. 
The power failure began when the feed from the provincial utility, Hydro One, to the city's power utility, London Hydro, was unexpectedly interrupted. Officials expressed confidence that there will be no similar disruption in the days ahead. Source: CBC
– Michael Bublé releases an audio-only digital version of bublé!, his seventh highly-anticipated NBC TV special, on March 21, via Reprise /Warner Bros. Records. The special includes classics "My Funny Valentine," "When You're Smiling" and "Fly Me To The Moon" along with Bublé penned radio hits "Home" and "Everything." The current leg of his North American tour concludes on April 19  at  Winnipeg's Bell MTS Place then resumes on July 9 at LA's Staples Center, closing on Aug. 3 at Le Centre Videotron in Quebec City. Dates here
– FACTOR has announced that the Songwriter's Workshop program is discontinued as of April 1, 2019. The org says "Stay tuned for a mid-summer announcement for the introduction of two new songwriter and publisher focused programs. Through these new programs, applicants will be able to apply for a higher amount of funding than was previously available in the Songwriter's Workshop program. Those looking for funding as a songwriter between April 1 and the start of the new programs can apply through the Artist Development program. 

– In other FACTOR news, as of April 1, 2019, application deadlines for its two juried programs, Artist Development (AD) and Juried Sound Recording (JSR) will be reduced from three to two per year starting in 2019-2020. For the upcoming year, the deadlines are May 16, 2019, and Oct. 17, 2019. The amount of funding disbursed through the two programs will be increasing by a total of $1 million, a 20% increase.
– The Rolling Stones are set to release another new Best Of compilation album. Honk ships April 19 via Polydor/Interscope. The collection features the biggest hits and classic cuts from every Rolling Stones studio album from 1971 to 2016's Blue & Lonesome. The 3 CD, 4 LP and digital equivalent collect 36 essential Stones' tracks that include "Brown Sugar," "Tumbling Dice," "Angie," "It's Only Rock'n'Roll (But I Like It)," "Fool To Cry," "Miss You," "Emotional Rescue" and "Start Me Up." Also available will be a 1 CD and 2 LP edition featuring 20 Stones' hits.
– One of Toronto's last venues for reggae and heavy drum 'n' bass sets is calling it quits after nearly 20 years.  Located on the edge of Kensington Market, dive bar Thymeless  has announced it will be closing at the end of the month, reportedly to make room for a condo. Thymeless will be holding two closing Run DnB parties for the next two Thursdays until it closes officially on March 30. Source: BlogTO
– Award-winning Nova Scotia singer/songwriter Christina Martin is heading out on a 20+ date tour spanning Nova Scotia, Prince Edward Island, New Brunswick, Ontario, and Quebec, beginning with a March 24 Halifax show. She has partnered with The Centre for Addiction and Mental Health (CAMH) to promote the work of Canada's largest mental health and addiction teaching hospital, and to increase engagement and awareness on the topic of addiction and mental illness. Tour info here 
– Stephen Stohn is the new chancellor of Trent University in Peterborough, ON. Stohn is the president of Skystone Media and has been the executive producer of Degrassi, Instant Star, Open Heart and more. As a student at Trent, he was a founder of the Arthur newspaper and Trent Radio. He graduated in 1969 with a BA in philosophy and economics. Source: Peterborough Examiner
– Fans waiting for Grimes' much-anticipated, much-delayed fifth album, will be pleased to hear the singer will release new 'unofficial' material in demo form via YouTube over the next few months. First up is the song "Pretty Dark," one she terms a "sad fairy song."  Source: Dazed
– Toronto musician grandson recently performed his biggest hometown show to date at The Opera House as the wrap-up of the Canadian leg of his 2019 "No Apologies" North American tour. Before his show, Warner Music Canada surprised the 2019 Juno Breakthrough Artist of the Year nominee with a Gold Single Award for his breakout hit "Blood//Water," featured on his debut 2018 EP a modern tragedy vol. 1. Source: Music Canada
– Taste Of The 6ix, an Urban Music Showcase, is on tonight (March 15) at Orchid Nightclub (82 Peter St., Toronto) from 7-10:30 pm. It features local artists in a range of genres, showcasing for music biz types.
– Radio-Canada in Montreal is giving music fans one more chance to take a browse through all the surplus records (and CDs) they need to ditch before moving to a new building next year. Here are some top-line numbers. Total number of records: Approx 108,000 -  LPs: 49,000 45s: 19,000 78s: 40,000 There are also about 57,000 CDs. Details here Source: A Journal of Musical Things. 
– Music BC's fourth Let's Hear It Concert is on March 21 at The Fox Cabaret in Vancouver. The bill comprises Land Line, N0V3L, and Rare Americans. Tix just $5 in advance, $10 at the door.
– Soleil Sound, a music recording space on King Street East in Toronto, is under threat of eviction, as the building has been sold and the new owner plans to redevelop the property, CBC reports. Since starting in 1997, the studio has hosted such Juno-nominated recording artists as Royal Wood, Jazz Cartier and Zaki Ibrahim.
– On March 15, Red Hot Chili Peppers join the short list of musical acts to perform in the shadows of the ancient Pyramids in Giza, Egypt. The band has announced it will stream the live performance free of charge. The live stream begins at 2 p.m. EST/11 a.m. PST on Friday. Source: Liveforlivemusic
RIP
Danny Kustow, an English rock guitarist from the late 1970s-1980s, known for his dynamic performance style and work with the Tom Robinson Band, died March 11, age 63, from pneumonia and a liver infection.
Kustow grew up in Willesden, North London, the son of a physician. He met Tom Robinson at the therapeutic community called Finchden Manor, where he began playing the guitar.
Kustow commenced his professional career in 1977 as the lead guitarist with the Tom Robinson Band. After an initial number 5 hit in the charts with the single release "2-4-6-8 Motorway" in October 1977, the band recorded its debut long-player Power in the Darkness (1978). After the release of their second album, entitled TRB Two (1979) the band broke up in October 1979.
At the beginning of the 1980s, Kustow played with The Spectres and The Planets. He subsequently worked as a guitar for hire, recording with Gen X on its album Kiss Me Deadly (1981).
In the mid-1980s he worked with Robinson again on songs such as "War Baby", and also performed with the band Time UK, with Rick Buckler of The Jam. In the late '80s Kustow performed live with a temporarily reformed Tom Robinson Band, and played on its album Winter of '89 (1992).
He guested on the track "2-4-6-8 Motorway" at the 100 Club in October 2017 on Tom Robinson's Power in the Darkness Tour where the album was played in full.
Robinson paid tribute to Kustow, noting that "Danny's unique, fiery guitar playing was at the very heart of the TRB sound, and during the 70s and 80s he played on every record of mine that ever troubled the Top 40." Source: Wikipedia, Louder
JoAnn Brooks, Toronto singer and actor, died on March 7 of health complications, at age 64. The news was confirmed to FYI by Brooks' daughter, Lindsay Bell.
JoAnn Brooks was the daughter of noted Toronto R&B singer Dianne Brooks. Her career began at age 7, with her first professional gig being at famed Toronto club the Bluenote with her mother. She went on to do children's shows including Time of Your Life and Razzle Dazzle. JoAnn was also the first child of colour to appear on CBC.  
 Her performance credits include touring with Rough Trade and Anne Murray. Her musical theatre credits include Godspell, Gypsy, Evita, and many more.
"She embodied the Brooks Legacy until her last," says Bell. "I am doing my best to make them proud with my writing, and I am also a blues and funk singer."
Contacted by FYI, Rough Trade singer Carole Pope recalls JoAnn Brooks as "such a life force. She was there for some fun things like performing at The Chimney, playing at Trudy Hellers in New York, and working with Divine in Restless Underwear, our crazy extravaganza at Massey Hall."
On Facebook, the Downtown Yonge BIA posted that "We are deeply saddened to hear of the passing of the incredibly talented JoAnn Brooks, daughter of Dianne Brooks who is featured on our #YongeMural on the North side. Our deepest condolences to the whole family. Learn more about JoAnn and Dianne at the Friar's Music Museum, including a special tribute to JoAnn featuring a performance she did alongside other Yonge Street greats last year at our #HTplaque unveiling. #YongeLove
Lindsay Bell explains that "I'm planning a celebration of life for the third week in April. Endeavouring to hold it at The Rex in Toronto, the place we had Dianne's wake." Sources: Lindsay Bell, Carole Pope, Nicholas Jennings,  Downtown Yonge BIA.