FYI
Music News Digest, Jan. 6, 2022
The Weeknd (pictured) releases his new album tomorrow, omicron forces the Grammys to postpone, and ArtHaus serenades air travellers. Also in the news are the Maple Blues Awards, Claude Cloutier, Terry Parsons, Jacob Hoggard, Duane 'D.O' Gibson, Black 365, Markham Jazz Festival, Screen X Screen, Music Nova Scotia, Bernie Senensky, and farewell Sandra Jaffe.
Jan 06, 2022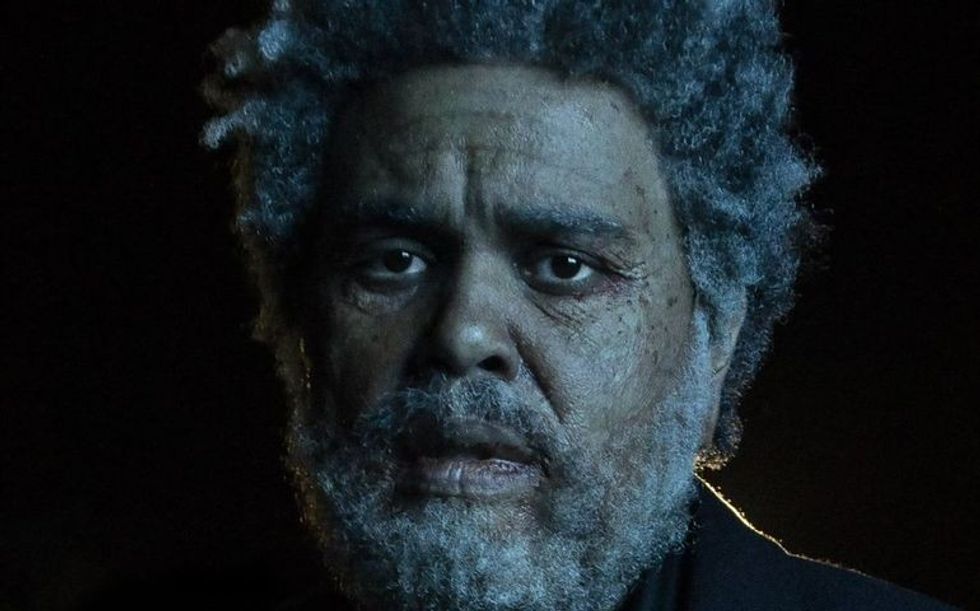 By Kerry Doole
After teasing the imminent release of a new album over the holiday period, The Weeknd has revealed new details this week. Entitled Dawn FM, the album comes out tomorrow (Jan. 7). An intriguingly diverse of contributors includes Tyler, the Creator, Lil Wayne, Quincy Jones, Oneohtrix Point Never, and Jim Carrey, and the cover art features a photo of Abel Tesfaye as a much older man. Check out the track listing in this Billboard report. Dawn FM is the follow-up to The Weeknd's fourth album, After Hours, which debuted atop the Billboard 200 in March 2020. We can safely predict this will be the first blockbuster album of 2022.
---
– To nobody's surprise, The Grammy Awards announced yesterday (Jan. 5) its postponement of the show planned for Jan. 31. The Recording Academy statement explains that "After careful consideration and analysis with city and state officials, health and safety experts, the artist community and our many partners, the Recording Academy and CBS have postponed the 64th Annual Grammy Awards Show. The health and safety of those in our music community, the live audience, and the hundreds of people who work tirelessly to produce our show remains our top priority. Given the uncertainty surrounding the Omicron variant, holding the show on Jan. 31 simply contains too many risks. We look forward to celebrating Music's Biggest Night on a future date, which will be announced soon."
– Over the holiday period, Toronto's ArtHaus hosted a pop-up coffee and concert series at Billy Bishop Airport for essential travellers. The ArtHaus Cafe initiative helps with musician mental health programs by selling "Art of Darkness" Propeller coffee beans as well as giving them an opportunity to perform in a safe setting. Artists featured included Morgan Melbourne, M1RZA, Meagan De Lima, Adria Kain, Joanna Majoko, Fethi Nadjem, Cole Allen, and Aysanabee. Art of Darkness beans can still be purchased online here. 
– For the first time in Maple Blues Awards history, the Toronto Blues Society has announced a tie for the Blues Booster of the Year Award. The coveted award will be presented to both Claude Cloutier and Terry Parsons at the Maple Blues Awards in June 2022. The Blues Booster of the Year honour goes to outstanding contribution to the Canadian blues music industry.
Based in Kitchener-Waterloo, Claude Cloutier organized the annual fundraiser Blues on the East Side in Cambridge from 1999 to 2006. He is also a founding member of the Grand River Blues Society who then joined the Kitchener Blues Festival in 2007, where he performs the duties of VP and Artistic Director.  Conception Bay Newfoundland broadcaster Terry Parsons began his radio career in 1977 at CHMR as an on-air news reader. He has hosted theBlind Lemon Blues radio show since 2002, and promotes live events in Newfoundland.
– Hedley frontman Jacob Hoggard's sex assault trial has been postponed again due to Covid-19, the CPreports. Hoggard was initially set to stand trial in Jan. 2021, but it was pushed back to April of that year, and then again to this month. Now, as jury trials are again put on hold due to the pandemic, his case has been delayed once more. Hoggard pleaded not guilty at his preliminary hearing to sexual assault causing bodily harm and sexual interference. The singer was arrested and charged in 2018 in alleged incidents involving a woman and a teenager.
– Canadian hip-hop artist, author, Guinness World Record holder (longest freestyle rap), and motivational speaker Duane 'D.O' Gibson announces the 20-year anniversary launch of his motivational school tour titled Black Canadian 365: Still Driven. The tour kicked off virtually on Jan. 4 at St. Francis Xavier Catholic Elementary School in Markham, ON, inspiring youth in a celebration of Black Canadian excellence. Gibson will launch the inaugural and virtual Black 365 conference on Feb. 8 in support of Black History Month. The conference is expected to draw an audience of over 20K students from school classrooms across Canada, where Gibson will rap, motivate, and speak to the contributions of Black Canadians throughout history.
– The Markham Jazz Festival Annual General Meeting will take place via Zoom on Jan. 9, at 1 pm. The event will include a presentation of the 2021 financial statements, the election of 2022 Directors, and Year in Review highlights of the 2021 Virtual Festival. More info here. 
– Super Earlybird Prices for the upcoming Screen X Screen virtual conference end today (Jan. 6), Running from Feb. 8-10, SxS is a music + tech conference featuring 70+ speakers, 20+ sessions, keynotes, B2Bs, and more. Info/passes here. 
– Music Nova Scotia has created the Basic Training program to help artists and aspiring music industry professionals develop their skills and knowledge. Applicants to MNS's investment programs are required to complete Basic Training sessions in order to be eligible to apply for its investment programs. As well it is mandatory for all first-time NSMW showcasing artists to attend the Conference & Showcasing session prior to NSMW. Register here
– Veteran Toronto-based jazz pianist Bernie Senensky releases a new album, Don't Look Back, on Jan. 14, via Cellar Live, and it features fellow luminaries Bob Mover and Sam Noto. Senensky has been a stalwart member of the Canadian and international jazz scenes for over 50 years, leading his own ensembles over the years, and accompanying such artists as Chet Baker, Moe Koffman, Elvin Jones, and Pharoah Sanders.
RIP
Sandra Jaffe, a club owner who helped preserve jazz at Preservation Hall in New Orleans, died on Jan. 3, age 83.
With her husband, Allan Jaffe, she opened the club in New Orleans in 1961 to showcase traditional jazz. Defying changes in musical fashion, it has been open ever since.
Preservation Hall — which serves no alcohol, seats 50 or so on six benches and had no air-conditioning until 2019 — has celebrated jazz for 60 years in a city widely regarded as its birthplace. It defied segregation laws in the early 1960s. It survived Mr. Jaffe's death in 1987, and it survived Hurricane Katrina. The coronavirus pandemic shut it down, but it reopened triumphantly in June.
The Preservation Hall Jazz Band received the National Medal of Arts from President George W. Bush in 2006. The ensemble was cited for "displaying the unbreakable spirit of New Orleans and sharing the joy of New Orleans jazz with us all." Mrs. Jaffe, who accepted the award with her son Ben, remained involved in the Hall until recently, although she no longer had a hands-on role.
"There is no question that Preservation Hall saved New Orleans jazz," George Wein, the impresario who produced the Newport Jazz Festival and the New Orleans Jazz & Heritage Festival, told Vanity Fair in 2011. Learn more in this New York Timesobituary.