FYI
Music News Digest, Jan. 14, 2019
An all-star in-concert Joni Mitchell tribute hits cinemas next month. But tickets will go faster than a Backstreet Boys reunion as the show date is only one date, on Feb. 7.
Jan 14, 2019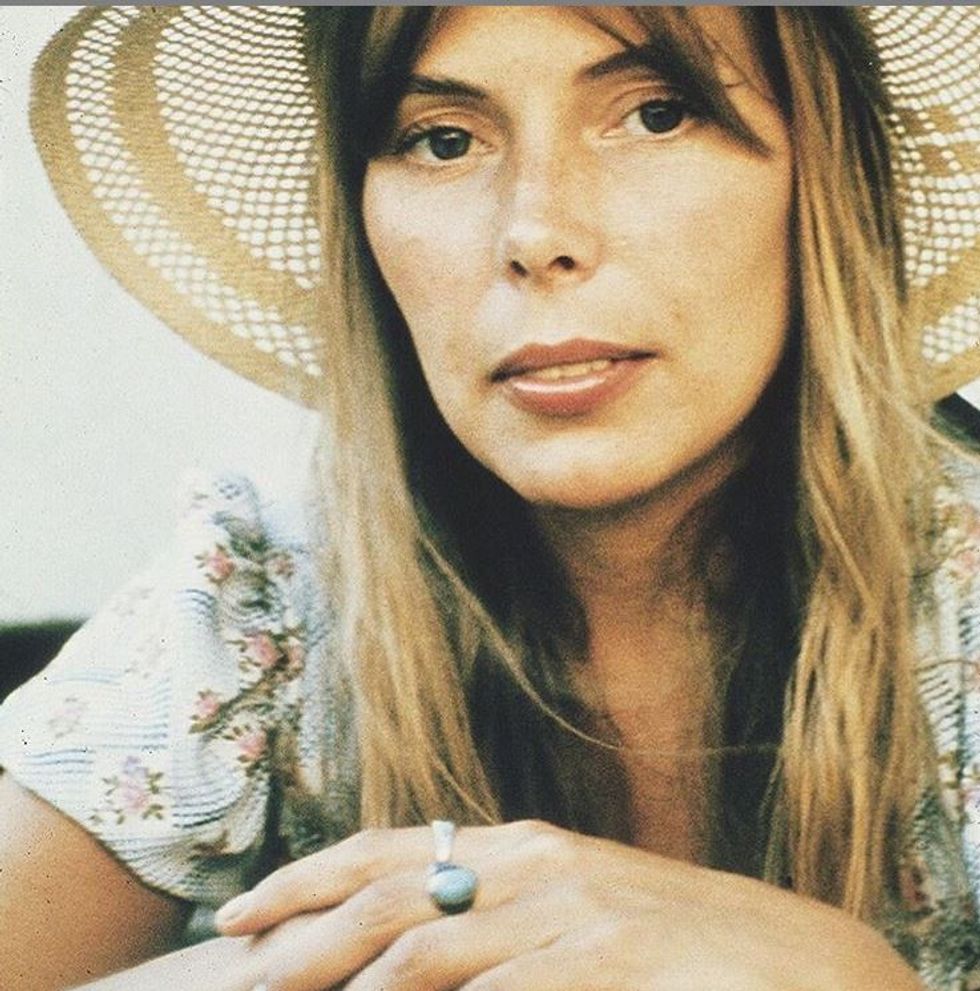 By Kerry Doole
Showcase festival FOCUS Wales has announced a collaboration with BreakOut West in which seven Western Canada-based acts will participate in FOCUS Wales. They are Bad Animal (Alberta), FRANKIIE (British Columbia), Yes We Mystic (Manitoba), Gunner & Smith (Saskatchewan), Miesha & The Spanks (Alberta), Trash Hawks (Saskatchewan), and Malcolm-Jay (Manitoba). The fest runs May 16-18 in venues in Wrexham, Wales.
---
– Honouring Joni Mitchell on her 75th birthday, The Music Center Presents Joni 75: A Birthday Celebration, in cinemas across North America for one-night-only, on Feb. 7.  Artists featured in a concert, recorded at the Dorothy Chandler Pavilion, include Emmylou Harris, Diana Krall, Kris Kristofferson, Chaka Khan, Norah Jones, Graham Nash, Brandi Carlile,Los Lobos, James Taylor, Seal and Rufus Wainwright. Tix at Joni75.com
– Gesaffelstein and The Weeknd have released their new collaboration, the single "Lost In The Fire," via Columbia Records. Gesaffelstein (Mike Levy) is a French techno artist and DJ who will soon release a second album, Hyperion, that will feature the track. The video (below) grabbed over 1M views in the first day.
– The Early Bird $10 Pricing deadline for artist applications to play Indie Week in Toronto in Nov. is tomorrow (Jan. 15), after which the entry price is $35. Apply here
– Toronto's Tapestry Opera, in partnership with Theatre Passe Muraille, presents the world premiere of Hook Up on Jan. 29, running to Feb. 9, at Mainspace, 16 Ryerson Ave. The sing-song is described as "a blend of opera and musical theatre that's starkly resonant with the #metoo movement, exploring issues of consent, privacy and cyberbullying in a darkly humorous way." Sounds like a hoot, eh! The cast includes Alicia Ault from The Ault Sisters. Tickets here
– Bob Dylan fans will be thrilled to learn that later this year Netflix plans to release a documentary about his famed, star-studded "Rolling Thunder Revue" tour of 1975-76. Variety reports it is directed by Martin Scorsese, and bears the title Rolling Thunder Revue: A Bob Dylan Story by Martin Scorsese. No firm release date has been announced. Scorsese's previous Dylan film, 2005's No Direction Home: Bob Dylan, was a major critical success.
–The Toronto Alzheimer's Society Music Project benefit concert 2019, The Spirit of John, comes to the Phoenix Concert Theatre in Toronto on Jan. 31. The annual event, inspired by Spirit Of The West frontman John Mann, afflicted with Early Onset Alzheimer's, always draws a stellar grouping of Mann's musical comrades, plus SOTW. Full lineup details TBA. Tix here
– London, Ontario'sForked River Brewing Company has just released a new beer, The Pursuit of Hoppiness, a tribute to Canrock faves TPOH. A session IPA, it came out in time for the band's show at London Music Hall on Jan. 11. We're guessing you have to be an adult now to purchase it.
– Last February, we profiledMidnight Shine's refreshed cover of the Neil Young classic, "Heart of Gold." In October, the indigenous rock band filmed a video for the song in the isolated Cree community of Attawapiskat in Northern Ontario, the home of group leader Adrian Sutherland, and it has now been released. Check it out here.
– SOCAN members receive a major discount on regular registration rates ($99 instead of $399, CAD) to attend the fifth annual Digital Media at the Crossroads (DM@X) conference, hosted at the University of Toronto on Jan. 25-26. Register here
– A popular fixture in a wide range of Toronto venues, singer/songwriter (and former Grievous Angel) Michelle Rumball will launch her third solo album, Years Behind, with two shows at The Monarch Tavern on Jan. 18. Tix here 
St. Catharines rapper Sayzee has released a new track, "Gone Super Bad." He first made noise with a self-titled 2017 debut album.
RIP
Clydie King, whose earthy, gospel-rooted voice was heard on dozens of rock classics, including the Rolling Stones' "Tumbling Dice" and Lynyrd Skynyrd's "Sweet Home Alabama," died Jan. 7 at 75. A cause of death was not immediately available.
Along with Merry Clayton, Venetta Fields and Shirley Matthews, King was one of the most in-demand backup and session singers of her time. In a 1971 interview, she estimated she'd sung on 300 records by then.
In addition to several tracks on Exile on Main St., the list included hits like Linda Ronstadt's "You're No Good," Arlo Guthrie's "City of New Orleans," Graham Nash's "Chicago," and Elton John's "The Bitch Is Back."
King also sang on albums by Steely Dan, Humble Pie, Joe Walsh, Phil Ochs, Carly Simon, Neil Diamond and Ringo Starr, as well as the soundtrack to Barbra Streisand's A Star, Is Born remake. 
She recorded with both Ray Charles and Bob Dylan, the latter during his born-again years. "She was my ultimate singing partner," Dylan tells Rolling Stone. "No one ever came close. We were two soulmates."
Born in Dallas, King started her recording career in LA. For three years, starting in 1966, she and her longtime friend Clayton were in the Raelettes, Ray Charles' backing singers, before becoming in-demand session singers. Source:Rolling Stone
Joseph Jarman, jazz musician and composer, died Jan. 9, age 81.
He was an early member of the Association for the Advancement of Creative Musicians (AACM) and the Art Ensemble of Chicago
Jarman began playing music as a high schooler in Chicago, learning to play the drums. During his stint in the army, he took up saxophone and clarinet, joining Muhal Richard Abrams' Experimental Band in the years following his discharge from the armed services. One of the first members of Chicago's Association for the Advancement of Creative Musicians, Jarman was also an early member of the Art Ensemble of Chicago, a group with whom he'd continue to play until his 1993 retirement.
A student of Buddhism, Joseph Jarman founded the Jikishinkan Aikido Dojo in Brooklyn in 1985. In the 1990s, Jarman largely retired from music to focus on his passion for Buddhism, though he would return to performing and composing by the end of the decade. Sources: Pitchfork, NY Times