FYI
Music News Digest, Feb. 28, 2022
Nuela Charles (pictured) and Caveboy win at the Her Music Awards, CIMA is set to launch its Breaking Down Racial Barriers Report, and Bonnie Raitt covers The Bros. Landreth. Others in the news include Sean Jones and Storry, Ken Tizzard, Golden Feather, Dan Hill and Jully Black, BreakOut West, Tome, Music BC, Isabel & The Uncommons, and farewell Nicky Tesco.
Feb 27, 2022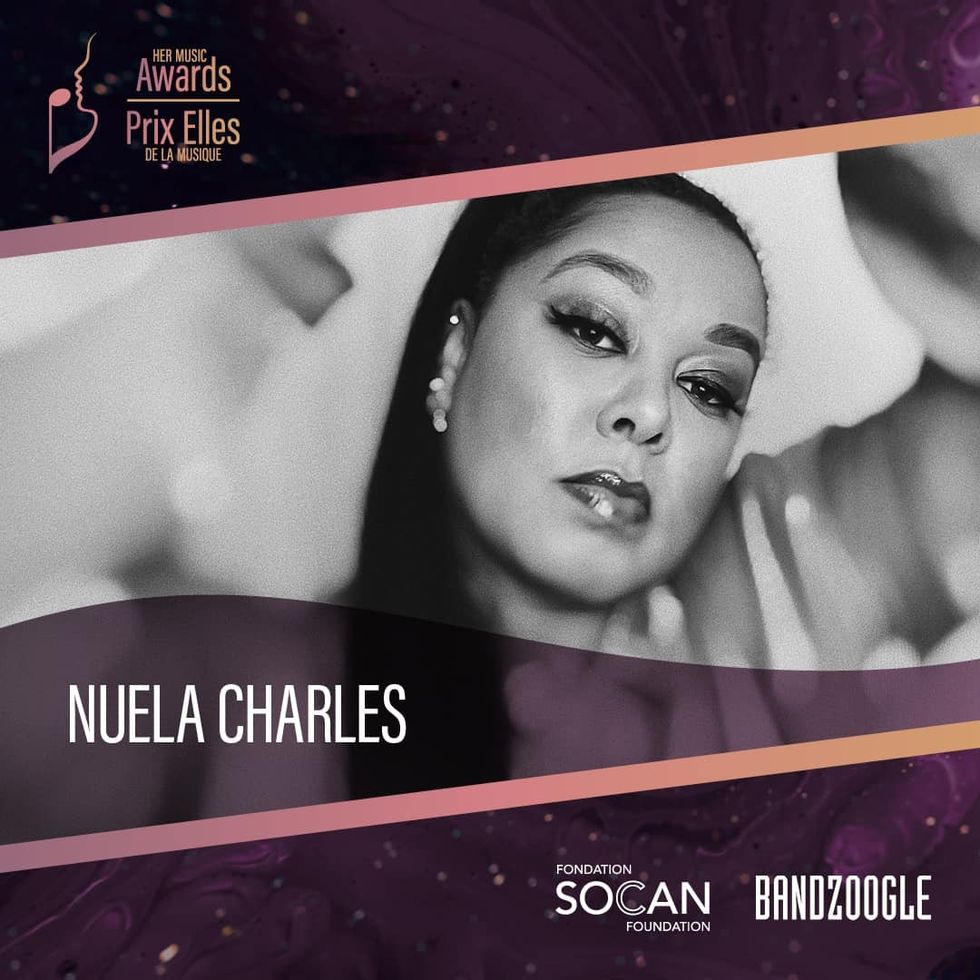 By Kerry Doole
On Friday, the SOCAN Foundation, in partnership with Bandzoogle, named Nuela Charles and Caveboy the winners of the second annual Her Music Awards. They each received a grand prize of $5K during the virtual event. "The Her Music Awards are designed to celebrate and support female-identifying artists building momentum, as music creators on the verge of taking their careers to the next level," said Charlie Wall-Andrews, ED of SOCAN Foundation. 
---
New to this year are five Her Music Award honourable mentions awarded to: Belle Grand Fille, Liza, Robyn Jacob, Stéphanie Hamelin Tomala, and Terez. Each of these recipients receives a $1K prize. The First HMA winners were Leela Gilday and Haviah Mighty. Learn more about the Awards here.
– Via a Zoom session today (Feb. 28, 12.30 pm ET), CIMA invites the Canadian music industry to the release of the Breaking Down Racial Barriers Report (Volume 1) to review its key findings, explore CIMA's Diversity, Equity, and Inclusion objectives and resources, and to learn about Next Steps, a free upcoming workshop series. Stakeholders from every corner of Canada's music industry came together last to sign the Breaking Down Racial Barriers Declaration, calling upon individuals, organizations, small businesses, corporations, and all levels of government to play a role in eradicating anti-Black racism within our collective spheres of influence.
In addition to unveiling the Report, CIMA will discuss its Diversity, Equity, and Inclusion statement, which has evolved over the last 18 months through consultations with CIMA's Equity Committee, led by Vice-Chair David "Click" Cox and DEI consultant Tenniel Brown. Register for the session here.
– 2022 is shaping up well for roots-rockers The Bros. Landreth. The group recently announced a new album, Come Morning, coming out on May 13, and released a lead single/video, Stay. This was quickly followed by news that Bonnie Raitt has just released a cover of BL song Made Up Mind (it'll appear on Raitt's forthcoming album Just Like That). That tune first surfaced on The Bros. Landreth's Juno-winning debut album Let It Lie, and Raitt and the group met when they both played the Winnipeg Folk Festival in 2014. The Bros. Landreth has also announced a 2022 tour with 25+ dates across the U.S., Canada, the UK, Germany, Denmark, and the Netherlands,  kicking off on June 3 at Mills Hardware in Hamilton. Itinerary and tix here
– Two of Toronto's best R&B voices, Sean Jones and the Juno-nominated Storry, have joined forces on a new single, All Fall Down. This is the first time Jones has been featured on a duet.
– The most buzzed-about rock band in Hamilton these days is Golden Feather, a new group featuring such local luminaries as Monster Truck drummer Steve Kiely and Brad Germain (Marble Index, the Dinner Belles). On Friday night, they played a show at Hamilton Winterfest, atop the Mountain at Auchmar. They played inside a geodesic dome, while a sizeable group of attendees shivered in the minus 15C cold. The music justified the discomfort, as the very tight band let loose on long and spiralling jams with an undeniable Grateful Dead meets Allman Brothers feel. Fine twin guitar work and vocal harmonies especially stood out on the new single Woman. A condensed version of this 11-minute epic would have real commercial potential, but Golden Feather has loftier aims. You'll hear more of this group.
– Music BC is supporting three BC artists, Teon Gibbs, Haley Blais, and Jon Bryant, at the THING 2022 fest, taking place at Port Townsend, WA, Aug. 26-28.
– Watchmen bassist Ken Tizzard has been using his long-running weekly live-stream series, The Whiskey Wednesday Show, to promote his now extensive catalogue as a rootsy singer/songwriter. That series is now getting a boost via a new partnership with Traynor Amps and Yorkville Sound (Tizzard is a longtime Traynor endorsed artist). He pledges that "the show will stay the same with songs and stories, and a relaxed good time." More info here.
– BreakOut West will present Western Canadian artists The Garrys, Begonia, JayWood, Meltt and The Velveteins in an SXSW showcase in Austin on March 15, at Swan Dive.
– Showing you can't keep a good song down, Canadian stars Dan Hill and Jully Black have just released a collaborative track written and recorded two decades ago. Something More (out via Anthem) has a positive and profound message. Check it out here.
– French-Canadian Nigerian songstress Tome made a major splash last year by winning a Juno Award for Best Reggae Recording, for I Pray (feat. Sean Kingston), and her material has amassed over 5M streams. Last Friday, she released a follow-up, LÖV, one fusing R&B and Afropop fusion, along with this lead video for the album.
– The next ADVANCE x Juno Talks event, entitled The Culture, The Blueprint: LGBTQ2S+ Voices in Black Music, takes place today (Feb. 28, 2 pm ET), via Zoom. Hosted by Nzingha Millar, it features panellists Billy Newton-Davis, Desiire, and Witch Prophet. Register here.

–  Toronto band Isabel & The Uncommons have released a new single and video, Distance. Written and sung by bandleader Isabel Fryszberg, the beguiling tango-inflected number was produced by Mitch Girio and features A-list local players Steve Briggs, Rebecca Hennessy, Gary Craig, and Rebecca Campbell. 
RIP
Nicky Tesco (born Nick Lightowlers), former frontman of English punk band The Members, died on Feb. 25, at age 66. No cause of death has been reported, but he had long been in ill health.
News of his passing was confirmed on his Facebook page and by a post from an original Members bandmate, JC Carroll.
Formed in Camberley, Surrey, the first incarnation of The Members was active from 1976 to 1983, when Tesco left the group. The band reunited in 2007, minus Tesco, and remains active.
In the UK, The Members are best known for their single The Sound of the Suburbs, reaching No. 12 in 1979, and in Australia, for Radio, which reached No. 5 in 1982.
The group's first single, Solitary Confinement, mixed reggae and punk and came out on Stiff Records. The Tesco-fronted lineup released three albums on Virgin Records, At the Chelsea Nightclub (1978), The Choice Is Yours (1980), and Uprhythm, Downbeat (1982).
In 1989, Tesco appeared in Leningrad Cowboys Go America, written and directed by Aki Kaurismäki, a film about a fictional Russian rock band touring the US. This fictional band then toured as an actual band and recorded the Tesco song Thru the Wire. In later years, he worked a music journalist for the magazine Music Week, and as a commentator on new releases for BBC 6 Music's Roundtable.
In his lengthy FB tribute, JC Carroll recalled that "Nick had charisma and drive that was something very very special. Our sound was a really special mix of reggae, rap, and rock. And it had a very special story that was different from all the other groups. Our story was the story of bedsits and the escape from the suburbs. It wasn't the nihilism of squat rock, it wasn't the artiness of [art school] Saint Martin's, it was the sound of the suburbs." Sources: Wikipedia, LouderThanWar, JC Carroll.