FYI
Music News Digest, Feb. 21, 2018
Indigenous roots artist William Prince signs to Glassnote and SOCAN member Eric Radford wins Olympic gold. Others in the news today include Dallas Smith, Radiohead, Elton John, Grand Analog, Ludacris, Winterfolk, Bomargo, Drake, Catherine MacLellan, Laura Hubert, and farewells to Didier Lockwood, Stormin, and Alexander Sevastian. Videos included for your enjoyment.
Feb 21, 2018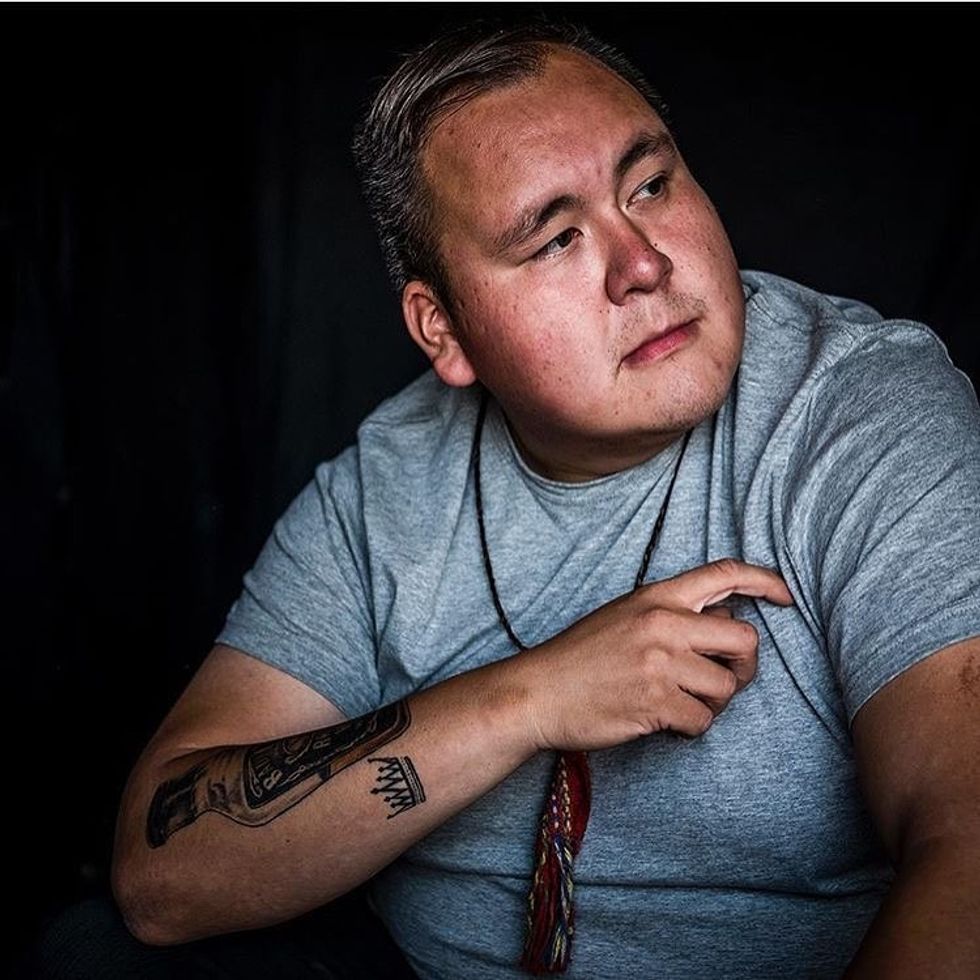 By FYI Staff
Manitoban roots singer/songwriter William Prince has made significant recent career inroads in Canada, winning the 2017 Juno for Contemporary Roots Album of the Year for his debut, Earthly Days. He is now poised to make a real splash internationally, given yesterday's announcement he has signed to go-getting US indie label Glassnote Records, joining fellow Canucks Strumbellas and Half Moon Run on the roster.
---
On FB, Prince posted that "I am beyond excited to announce that I've signed with the wonderful folks at Glassnote Records. We've been getting to know each other since the Junos last year, and I am positive these are the people I'm meant to make music with. I get to approach music as both an artist and a songwriter with this team." The next step for Prince is recording a new album in April with one of the hottest producers around, Dave Cobb (Sturgill Simpson, Jason Isbell, Chris Stapleton).
– It is a pretty safe bet that Eric Radford is the only SOCAN member who is also an Olympic gold medallist. The Montréal-based, Winnipeg-born, figure skater made headlines last week by winning gold as part of the Canadian figure skating team (alongside Meagan Duhamel) at the 2018 Pyeongchang Olympic winter games.
A lesser-known fact is that Radford is also a composer. In 2014, he joined SOCAN just days after skating at the Sochi Winter Olympics, to the music of "Tribute" – a composition he wrote in memory of his coach Paul Wirtz. More recently, Radford wrote and scored "A Journey," for piano and strings, in support of his friend and fellow world-champion figure skater Patrick Chan, who performed to the music at Skate Canada in 2016.
–  Canadian country chart-topper Dallas Smith has announced the digital-only March 2 release of a new EP, Acoustic Sessions Vol. 1 via 604 Records. The EP features six stripped back tracks from Smith's various chart-topping releases including four of his #1 hits.
Smith recently celebrated his fifth career #1 and fourth consecutive chart-topper with the hit "Sleepin' Around" topping both the Nielsen BDS and Mediabase Country radio charts. He is the first Canadian country artist in the Nielsen BDS era to have four consecutive #1 singles from the same album, 2016's Side Effects, topping the three from Shania Twain's Come On Over. Last week, Smith released a new video for the romantic single "50/50."
– Radiohead has confirmed a summer 2018 North American tour. Canadian shows announced (so far) are Montreal Bell Centre–July 16/17 and Toronto ACC on the 19th and 20th.
– Elton John is retiring from the road after his upcoming three-year global tour, capping nearly 50 years on stages around the world, and says he's hoping to go out "with a bang." "I've had a good run, I think you'd admit that," John said Wednesday. He added that he wanted to "leave people thinking, 'I saw the last tour and it was fantastic."'
The 70-year-old singer, pianist and composer announced the Farewell Yellow Brick Road tour at an event in New York, saying he wants to spend more time with his family.
– Toronto hip-hop heroes Grand Analog perform a hometown show at The Drake on Friday (Feb. 23). Expect material from their current EP Survival alongside bangers from their catalogue. Check our review of their current single "Mutations," featuring De La Soul's Posdnuos.
– The musical fare at most beer festivals in Canada has traditionally leaned to rock or country, but Toronto's Festival of Beer is making a real mark by adding hip-hop to the menu. Last year, famed hip-hop duo Method Man & Redman was a fest highlight, and now FoB has announced top US rapper/actor Ludacris as the Friday night (July 27) headliner at the fest, which runs July 26 to 29 at Bandshell Park. Local party cover band Dwayne Gretzky headline the Saturday bill. More info here
– Toronto's Winterfolk fest last weekend has been pronounced a success, with attendance up from last year and sold out shows for the ticketed events. There was plenty of backstage drama and stress for organizers, however, as one of the four venues, Terri O's Bar & Grill, pulled the plug on having shows there.
Artistic booker/publicist Bev Kreller tells FYI that "the restaurant had a noise complaint from an upstairs tenant, who had also complained to the landlord. The landlord then reminded Terri O's that their lease (unbeknownst to Winterfolk organizers) specifically did not allow live music, and, as a result, they advised Winterfolk could not continue after Friday night." Much scrambling to re-sked followed, and the fest made sure that everyone hired got a chance to play at least one set. 
– Saskatoon-based soul/rock combo Bombargo has received a huge career boost from a seemingly unlikely source, Taylor Swift. The pop megastar recently compiled her official Spotify playlist, Songs Taylor Loves, and it features Bombargo track "Mr. No Good" alongside cuts from the high-profile likes of Charli XCX, Lady Antebellum, Kendrick Lamar, Camila Cabello, Ed Sheeran and Swift herself. Bombargo is the only unsigned Canadian act on the list. Together three years, Bombargo is also earning a rep as a crowd-pleasingly energetic band in performance.
–  Drake's current smash hit "God's Plan" remains at the top of many international charts. It is at No. 1 on the Australian ARIA chart for the third straight week. As well as being the No. 1 streamed track in that country, it climbs back up to No. 16 on the digital sales chart.
– On Tuesday, The P.E.I. Museum and Heritage Foundation and the City of Charlottetown gave out their annual heritage awards honouring those for their preservation efforts. Singer/songwriter Catherine MacLellan received the Wendell Boyle Heritage Award for outstanding contribution in a performance medium for her work on the musical If it's Alright With You: The Songs of Gene MacLellan.
–  Kensington Market Jazz Festival (KMJF) is presenting a live recording event by noted Toronto jazz/blues singer Laura Hubert on March 5. Two shows featuring Hubert and her quartet take place that night at Market venue Poetry Cafe. Formerly the lead singer of indie-rockers Leslie Spit Treeo, Hubert has released three earlier solo albums. 
–  Toronto, music promotions company, AM to FM Promotions has announced a new collaboration with Niagara Falls Craft Distillery. Look for the venture to bring a cocktail of indie music and indie spirits to such industry events as Canadian Music Week, the CMAO conference and awards, Manitoulin Country Fest and the CCMA's. More info here
RIP
Didier Lockwood, a French jazz fusion violinist, died on Feb, 18, after a heart attack, at age 62.
Lockwood's eclectic career started in 1974 when he joined Christian Vander's progressive rock/jazz fusion group Magma. He went on to become known for his use of amplification and experimentation with electric violins. He had a prolific recording career, releasing more than 20 albums, with the most recent, Open Doors, coming last November. Lockwood also opened a school near Paris for teaching improvisation in music, which followed methods he developed himself. Source: celebrityaccess.com
Stormin ( real name Shaun Lewis), a grime MC who had a significant influence on that English scene, has died, of skin cancer.
As a teenager with east London's Nasty Crew, he was a crucial participant in the birth of grime. Recently he had been leading another big wave in grassroots music, as part of the drum'n'bass collective SaSaSaS.
Stormin addressed cancer on his album #BRB (Be Right Back), and had been using social media to document how it was affecting him. Sources: The Guardian, nme.com
Alexander Sevastian, a Toronto-based accordionist, died suddenly on Feb. 16, in Mexico, of a heart attack, at age 41. He was on tour with internationally-acclaimed ensemble Quartetto Gelato, with whom he had been a member since 2002. The group's eight CDs have sold over 150,000 units to date.
Sevastian was a renowned artist (accordion, piano, bandoneon), who won four major International Accordion Competitions. Born in Minsk, Belarus, he pursued advanced studies at the Gnessin Academy of Music in Moscow where he received his Masters in Performance degree in 2002. As a member of the Russian Radio Orchestra, he toured internationally, then moved with his family to Canada in 2001. 
Sevastian made his debut with the Toronto Symphony Orchestra in 2008, touring Eastern Canada with it the following year. He has performed solo recitals internationally and appeared with many North American symphony orchestras. A GoFundMe campaign has been started to support his family.