FYI
Music News Digest, Feb. 10, 2020
Sorrey lead the pack at the 2020 Music PEI Awards, Whitehorse (pictured) was amongst those celebrating the life of Jon Box, and Corb Lund announces a new album and tour. Also in the news are Tenille Townes, Junofest, G-Eazy, MMF Canada, Cheapies, Elton John, Chin Injeti, Noah Reid, and farewell John Burke.
Feb 10, 2020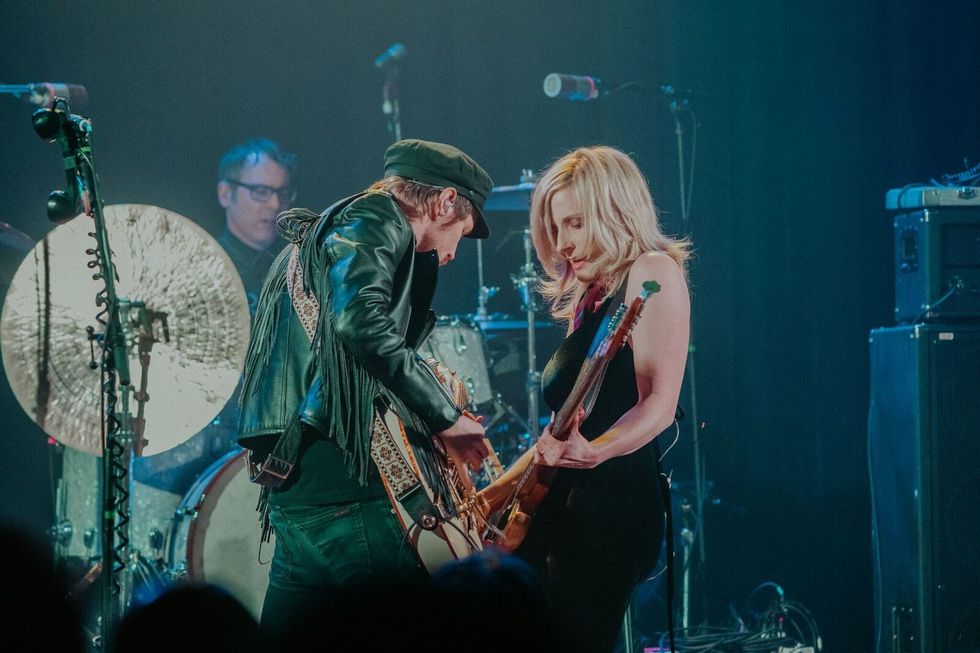 By Kerry Doole
Yesterday afternoon (Feb. 9), the 2020 Music PEI Awards were handed out at an invitation only an event hosted by Music PEI at The Rodd Charlottetown Hotel that marked the end of  Credit Union Music PEI Week. The biggest victor was Sorrey, a dream pop quintet from Charlottetown who took home three awards; Album of the Year, Pop Recording of the Year and Video of the Year (below). Double award winners included Cory Gallant, Tara MacLean, Paper Lions and Irish Mythen. Read a full list of winners here 
---
— A packed Opera House in Toronto on Sat. night paid fitting tribute to the late Jon Box at a celebration of life that doubled as a charity fundraiser, for the Unison Benevolent Fund and Dr. Jay Children's Grief Centre. Co-organiser Mike Renaud tells FYI that "we did just over 700 tickets. Estimates with outside donations is that the event topped $30K." July Talk closed the night as the unannounced guests, following sets by Terra Lightfoot, Sloan, Whitehorse, and The Dirty Nil.
— Albertan honkytonker Corb Lund releases his first album of original material in five years, Agricultural Tragic, on April 24. The first single, 90 Seconds Of Your Time, is now out. Lund has also announced a 25-date Canadian tour, set to begin April 27 in Victoria, after 31 US shows in March and April. His itinerary includes a May 22 Toronto date at the El Mocambo, a venue that has yet to announce an official reopening date. See the tour sked here.
— Fast-rising Canadian country singer/songwriter Tenille Townes released a new EP, Road to the Lemonade Stand, on Friday, via Columbia Nashville. Produced by Jay Joyce (Eric Church, Little Big Town), the EP features five original songs written by Townes including her current single, Jersey On The Wall (I'm Just Asking) , plus a Keith Urban cover. Jersey recently reached No. 1 on the BDS Canada and Mediabase Canada country radio charts, making it her second chart-topping single following her Canadian platinum-certified Somebody's Daughter. Her Road to the Lemonade Stand Acoustic Tour launches tonight (Feb. 10) at Nashville's Bridgestone Arena, and includes March UK and European dates. Sked here 
— The Canadian Academy of Recording Arts and Sciences (CARAS) has put passes for this year's Junofest on sale. The fest runs March 13 and 14 in Saskatoon, featuring more than 50 musical acts at various venues throughout the city. Passes are $30 each and offer "priority access" to all shows over both nights. Performers TBA. Passes here
— Platinum-selling US rapper G-Eazy has looked north for his new single, recruiting Canadian Tory Lanez and Tyga to feature on Still Be Friends.
— Save the date: The 14th Annual MMF Canada Honour Roll event will be held in Toronto on May 19. Honouree announcement and ticket onsale date coming soon. 
— Long-running Hamilton record store Cheapies has announced it is shuttering. Owner Brian Jasson posted on FB that "It is with a heavy heart that I must formally announce, after owning and operating Cheapies for 40 years in downtown Hamilton, the store will permanently close on or before March 27." Jasson purchased the store in 1980, which was called Record & Tape Warehouse then. The shop has been selling new and used vinyl, CDs, films and pop culture merchandise.
— Last night, Elton John and longtime songwriting collaborator Bernie Taupin won the Academy Award for Best Song, for Love Me Again, from Rocketman.
— Noted Vancouver-based songwriter/producer/vocalist Chin Injeti (Bass Is Base, Eminem, Drake) has released a new single, Serious, described as an homage to '80s R&B/soul.
— Schitt's Creek star and singer/songwriter Noah Reid has just released a new track, Honesty, the first single from his sophomore album Gemini. Produced by Matthew Barber, it will be released in May. Reid's  First Time Out Tour begins Feb. 11, and demand has seen 10 extra North American dates added, 23 in all. Itinerary here. Check out the track here
Obit
John Burke, a Toronto-born composer, died in his sleep Jan. 18 at his home in Marmora, Ont. He was 68.
After attending St. Michael's Choir School in Toronto, Burke studed composition at McGill University, privately in France and at the University of Michigan, where he received a doctorate. He taught at McGill University, McMaster University and the University of Victoria.
His music was commissioned and performed by Toronto's Esprit Orchestra, CBC Vancouver Orchestra, the Manitoba Chamber Orchestra, Vancouver New Music, Société de musique contemporaine du Québec and other organizations, his friend, pianist Catherine Wilson, said in a news release.
He received the Jules Léger Prize for New Chamber Music from the Canada Council for the Arts in 1995. A tribute concert, "John Burke: A Celebration of His Musical Life," is being organized for later in the year. Read more tributes to Burke here. Source: Toronto Star