FYI
Music News Digest, Dec. 12, 2018
Halifax modern rockers Wintersleep release their seventh album, In The Land Of, on March 29 via Dine Alone.
Dec 12, 2018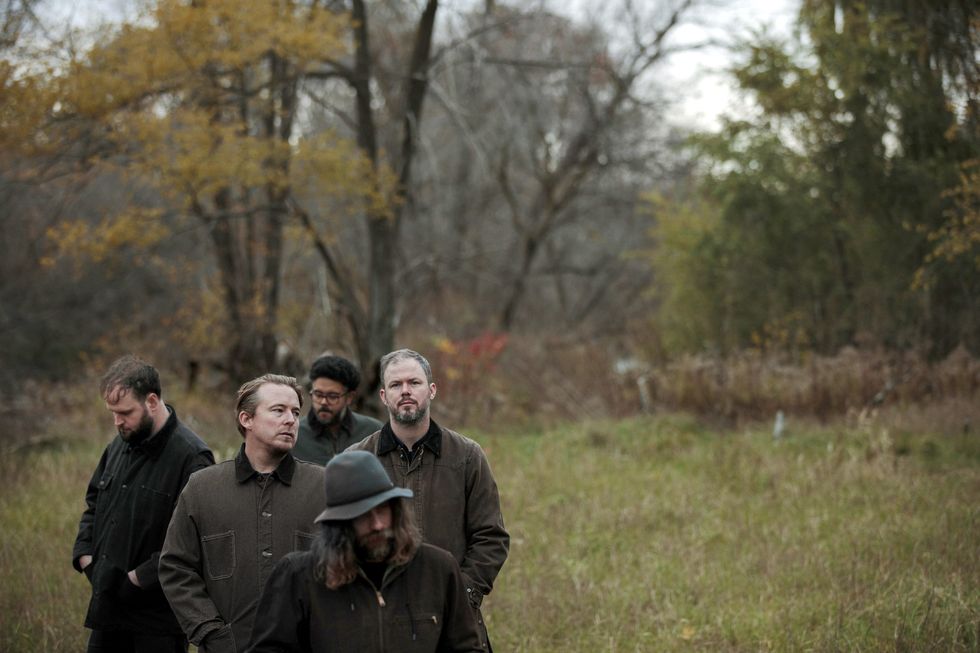 By Kerry Doole
Halifax modern rockers Wintersleep release their seventh album, In The Land Of, on March 29 via Dine Alone. The first song from it is "Surrender." Wintersleep tour Canada extensively from March 20 to May 3, with Partner in support on many shows. Tix on sale this Friday. Dates here
---
– The Canadian Pressreports a proposed $13M arts centre in downtown Halifax has received approval for more than $10M in federal and provincial funding. The Link Performing Arts Centre proposal includes an 1,800-person performance hall and a media production studio. 
– Tommy Mottola has signed a multi-year, first-look deal with eOne to develop and executive produce scripted and unscripted TV programming through his Mottola Media Company. – Source: Deadline Hollywood
– Hamilton, ON music promoter Ellen Davidson has started a GoFundMe drive to take 11 local musicians to Folk AllianceInternational (FAI) in Montreal in Feb. She is seeking $10K to help defray costs. To donate or find out more, here.
– Neil MacGonigill continues to be first out the gate in spotting new talent with commercial appeal. His latest discovery is Calgary singer Shaye Zadravec (see our coverage of an earlier track she released here). Below is a recent performance of Chip Taylor's song "I'll Carry For You," included on her critically acclaimed Norway EP.
– CARAS is inviting the public to volunteer to participate in Juno Week 2019 in London, Ont. The week-long music celebration commences March 11, closing with the 48th annual Juno Awards Broadcast, which will air live across Canada on CBC, CBC Radio and globally on CBCMusic.ca/junos on March 17. Volunteer applications here
– The earlier FYI list of Canadians nominated for Grammy Awards omitted Yiddish Glory, a part-Canadian project nominated for Best World Music Album for Yiddish Glory - The Lost Songs Of WW2. Released on Six Degrees Records, the acclaimed album was spearheaded by Russian-American singer and songwriter Psoy Korolenko and Yiddish Professor Anna Shternshis, from Toronto. The featured musicians include notable Canadian artists Sophie Milman, David Buchbinder, Alexander Sevastian (Quartetto Gelato), and Shalom Bard (TSO).
– The Toronto Blues Society has announced Richard Flohil as the keynote speaker for the biennial Blues Summit, being held at Courtyard by Marriott Toronto Downtown, Feb. 1-4. Legendary music promoter and live music advocate Flohil will step back from his perch spanning five decades to offer comments on the state of the music industry including anecdotes from his forthcoming book.  Showcasing artists include Brian Blain, Earle & Coffin, Sugar Brown, Judy Brown, Suzie Vinnick, Miss Emily, Dan McKinnon, Bywater Blues, Myles Goodwyn, Kat Danser & The Tall Tales, Jenie Thai, Tri-Continental, Michael Jerome Browne, Lindsay Beaver, Raoul & The Big Time, Dawn Tyler Watson, Soulstack, Al Lerman, Steve Marriner, Terry Blersh, and Sue Foley. The early-bird registration is extended to Dec. 17.
– On Monday, City and Colour (aka Dallas Green) joined MusiCounts to surprise the students of Church Street Jr. Public School in Toronto.  Green performed an acoustic set for the students to celebrate the $10K MusiCounts Band Aid Program instrument grant the school received this year. Green also had the opportunity to visit the music class and see the impact the instruments have had on the school program firsthand. During 2017's sold-out An Evening with City and Colour – Solo Canadian tour, Green worked with Plus1 to collect $1 from each ticket sold to benefit MusiCounts. $1 from the sale of each Guide Me Back Home City and Colour album worldwide will also be donated to MusiCounts.
– CIMA is now accepting submissions for Awards to be presented at its 2019 Awards Gala. This is your chance to nominate yourselves, your mentors, peers, employees and partners for the Entrepreneur Award, Brian Chater Industry Award, Unsung Hero Award, and Builder Award categories. Submit here. Deadline is Jan. 31.
– Vancouver electro-pop duo Rococode is calling it quits, with last week's two-song release, Something Stranger, serving as a swansong. The duo of Andrew Braun and Laura Smith recorded these two tracks with synths from Calgary's National Music Centre, plus engineering assistance from Ryan Dahle (Mounties, Limblifter). Smith tells FYI that "We love these songs, they mean a lot to us, and they are a good period for the band." Rococode released two full-length albums 2012's Guns, Sex & Glory and 2016's Don't Worry It Will Be Dark Soon.
– Vancouver world music group Delhi 2 Dublin has just released a video to accompany the recent single "Home (Everywhere I Go)," in time for the 70th anniversary of Human Rights Day. The song (out on Inside Pocket Music) and video are the band's response to the anti-immigrant and anti-refugee rhetoric they see and experience in today's world.
– Cancountry star Gord Bamford is nearing the end of his 40-plus date cross-country Honkytonks & Dive Bar Tour, closing with shows at Sault Ste Marie's The Machine Shop (Dec. 12), and Winnipeg's The Pyramid (Dec. 14). On Friday, he released a video for "Down," the 5th single from his current album Neon Smoke.
– Popular Toronto actor and blues singer Raoul Bhaneja (Raoul and The Big Time) has teamed with pianist Jesse Whiteley in a new jazz duo termed Blue Standard. A debut album A Good Thing is set for a Jan. 18 release, preceded by a launch party at Toronto's Jazz Bistro the night before. Here is the title cut.
– Bud Light will put on a music festival in Atlanta where Super Bowl LIII will be held on Feb. 3. The fest runs Jan. 31 to Feb. 2, and the lineup includes Post Malone, Cardi B, Bruno Mars, Ludacris, Migos, and Aerosmith.
– Music BC in partnership with Unison Benevolent Fund recently presented a panel entitled How-To Promote Mental Health In the Music Industry. Video of the discussion is now available.
.
– On Thursday (Dec. 13), the internationally-acclaimed Canadian Brass is promoting its latest album, Christmas Time Is Here: The Encore!', at a special event at Apple Soho, NYC. This will be streamed live on Facebook.