FYI
Music News Digest, Dec. 11, 2019
Hollerado (pictured) goes out in grand style, Royal Mountain signs Shady Nasty, and Billie Eilish dominates LyricFind. Others in the news include Jennah Barry, The Julian Taylor Band, Killboys, CIMA, Maestro Fresh Wes, James Bryan, Josie Dye, and farewell Marie Fredriksson.
Dec 11, 2019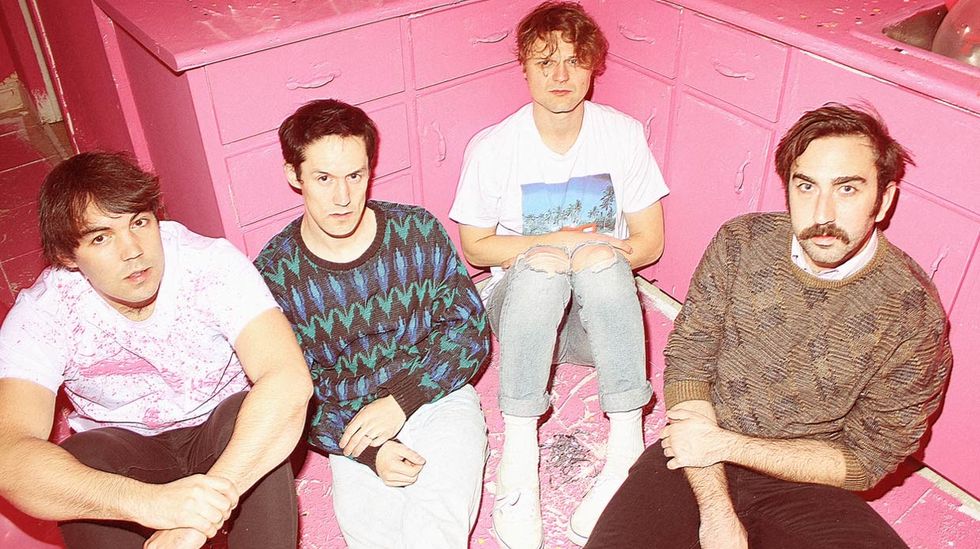 By Kerry Doole
Hollerado is saying farewell to Toronto in fine style this week. The band's status as one of the most popular Canadian indie rock outfits of the last decade is confirmed by the fact that its goodbye tour features three shows at The Danforth Music Hall (Dec. 11-13) and one at the Horseshoe Tavern, Dec. 14. Details here.
---
— Toronto-based LyricFind has announced the Top 20 Lyric Searches of 2019. Lil Nas X's Old Town Road wins the crown, topping the list of most-viewed lyrics worldwide for the year. ArianaGrande's 7 Rings and Shawn Mendes' & Camila Cabello's Señorita round out the top three. Mendes also places at No. 19 for If I Can't Have You, while the Ed Sheeran/Justin Bieber collabo,  I Don't Care, takes the No. 7 spot. Most impressive stat?: Billie Eilish tallies 5 hits on the list.
— Opening US rocker Tommy Stinson's superb solo show at Hamilton's This Ain't Hollywood on Sunday night was a brand new duo, Killboys, comprising two notable indie rock veterans, Mike Trebilcock of The Killjoys and Peter Arsenault from The Doughboys. TAH dynamo Lou Molinaro suggested the collaboration, and he tells us "I am going to ask them to be on another show soon, to stop them from being a one-off!" Let's hope he succeeds.
— The Julian Taylor Band is currently touring Ontario, promoting its latest release Avalanche. The remaining shows are at Toronto's Horseshoe (Dec. 19), London's Rum Runners (Dec.20), and Owen Sound's Heartwood (Dec. 21).
— Americana-accented East Coast singer/songwriter Jennah Barry releases a new album, Holiday, March 27,  2020, on Forward Music Group. A new single, Pink Grey Blue, has just come out. She plays four Maritime shows in Feb.
— CIMA & MusicOntario presents a workshop entitled Lunch & Learn 01: How to Break in Toronto at The Garrison, Dec. 12 (noon-2pm). The event provides a perspective into booking and promoting for the hip-hop community. Lunch is included. Free with discount code: lunchandlearn01 here
— One of Canada's top indie labels, Royal Mountain Records, has announced its first international signing, Australian trio Shady Nasty. A press release states the band "plays an energetic and weirdo breed of punk." A new EP, Bad Posture, comes out on Feb. 21, 2020, followed by showcases at both SXSW and New Colossus Festival.
— Canadian hip-hop pioneer Maestro Fresh Wes (Wes Williams) performs the halftime show for the Toronto Raptors vs LA Clippers game tonight (Dec. 11) in Toronto. "I've performed at Raptors halftime games before," he says, "but this is the biggest one yet." The return of former Raptors star Kawhi Leonard (now a Clipper) adds to the drama of this tilt.
— A holiday concert sure to appeal to lovers of the guitar is the Candlelight Christmas show from two stellar guitarists: James Bryan (Philosopher Kings/Prozzak) and Emma Rush. The seasonal edition of their popular Guitar Magic show presents a mix of jazz, pop, fingerstyle, and classical guitar originals and classics, plus seasonal favourites, at Church of St John the Evangelist (aka Rock on Locke) in Hamilton, Dec. 13. Tix here
—  Major League Socks (formerly Babsocks), is donating 1,000 pairs of socks in support of The Josie Dye Show's 3rd annual Socks for the Streets campaign, in partnership with Socks 4 Souls Canada. The Josie Dye Show airs on Toronto radio station Indie88. Sock donations can be dropped off at Dufferin Mall in Toronto, Dec. 13 and 14, and the show broadcasts there from 10 am. You can donate here
Obit
Marie Fredriksson, the female lead singer of Swedish pop group Roxette, has died on Dec. 10, at age 61. The band's manager confirmed the news in a statement, revealing that Fredriksson passed away following a 17-year long battle with cancer. "In 2002, Marie was diagnosed with a severe brain tumour, receiving an aggressive treatment that took its toll but ultimately was successful."
Fredriksson and Per Gessle formed the pop group in 1986 and went on to record a string of hits, beginning with 1989's The Look, the first of four No. 1 singles in the US, which also included Listen to Your Heart, Joyride and their hit ballad, Must Have Been Love, which was later re-recorded and featured in the hit film Pretty Woman. The latter track also reached No 3 in the UK. After her initial diagnosis and treatment that reportedly left her nearly blind in one eye and with limited hearing, Fredriksson returned to the stage for a Roxette comeback tour in 2009.
The pair would go on to sell an estimated 75M records worldwide and record 10 studio albums. Fredriksson also released eight solo albums, three of which topped the Swedish charts – she scored her first chart-topping solo single in 2008 with Där Du Andas. In May 2018, she released a new single, Sing Me a Song, to mark her 60th birthday. Sources: Guardian, Billboard