FYI
Music News Digest, Aug. 26, 2019
Walk Off the Earth (pictured) releases a new single, Lisa MacLeod angers Billy Talent, and Ian and Sylvia Tyson are to be honoured. Also in the news are Jacob Hoggard, Michael Moore, HPX, Kiesza, Castro's, Manitoba Music, Kresnt, and VIFF Soundoff. Video added.
Aug 26, 2019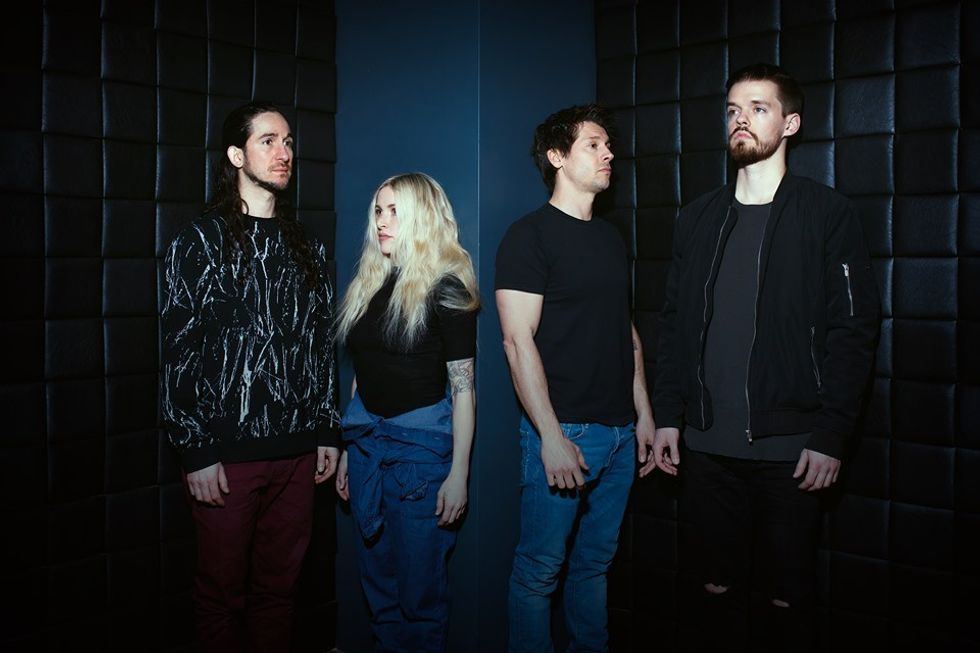 By Kerry Doole
Walk Off the Earth has announced the release of a new album, to be released on Oct. 25. Earlier this summer, WOTE put out an original single, Mike's Song, that helped raise thousands of dollars for MusiCounts, Canada's music education charity, in honour of band member Mike Taylor, who died last year.
---
WOTE recently wrapped an extensive summer world tour that included stops at Wembley Arena in London and Vancouver's Orpheum Theatre and will return to North America for a slew of dates in US and Canada this fall, beginning with an Aug. 31 show at Toronto's CNE.  Dates here. Here's the group's new single, I'll Be There.
– Oops, she did it again. Gaffe-prone Ontario cabinet minister Lisa MacLeod is back in hot water, thanks this time to top Canadian rock band Billy Talent. In a statement Friday, the group explained that their record label asked them to meet with MacLeod, the province's tourism, culture and sport minister, to discuss recent cuts the government has made to the Ontario Music Fund and the negative impact it has on artists.
She responded by turning the meeting into a photo-op, tweeting a photo — one apparently since deleted — of herself sitting behind a drum kit, joined by the band. BT was not amused, writing that "unfortunately, a photo of us with the minister was posted without our knowledge or consent that completely misrepresents the purpose of the meeting and has been misinterpreted by some as our support for the current administration. While we recognize that Ms. MacLeod was attempting to be funny, the fact is that what the provincial government is doing to artists in Ontario is anything but." MacLeod was also in trouble recently after reportedly hurling a profane tirade at Ottawa Senators owner Eugene Melnyk at a Rolling Stones concert. Source: CP
– The Canadian Songwriters Hall of Fame (CSHF) will honour both Ian Tyson and Sylvia Tyson for their individual achievements on Sept. 5. The ceremony takes place at Studio Bell in the National Music Centre in Calgary, coinciding with Country Music Week. Both songwriters will perform a few songs from their solo catalogues, and Stony Plain Records will offer a preview of their joint material prior to the official release of Ian & Sylvia The Lost Tapes on September 6.
–  The case of Hedley frontman Jacob Hoggard has been put over to next month, with the next hearing set for Sept. 27. The singer has pleaded not guilty to two counts of sexual assault causing bodily harm and one count of sexual interference. Last month, a judge ruled that the Crown had a strong enough case to proceed to trial and Hoggard requested to be tried by a jury. Source: CP
–  A man appeared in a Toronto court Thursday to face two first-degree murder charges in connection to the shooting deaths of two well-known members of Toronto's hip-hop scene outside a Queen St. W. nightclub last summer. The victims were Jahvante Smart, 21, who performed as rapper Smoke Dawg, and Ernest (Kosi) Modekwe, 28, a music brand manager known as Koba Prime.  Abdulkadir Handule, 23, was arrested in BC last month. Source: Toronto Star
–  In a milestone worth noting, on Saturday night Blue Rodeo played a (sold-out) 20th show at Toronto's Budweiser Stage/Amphitheatre, the most of any artist in the venue's 25-year history.
–  Jim Cuddy will join filmmaker Michael Moore on a three-city Ontario tour this fall. The interactive appearances will feature Moore's trademark political commentary, and an audience Q&A moderated by Cuddy.  The dates are Sept. 28 at Scotiabank Convention Centre in Niagara Falls, Budweiser Gardens in London on Sept. 29 and The Danforth Music Hall in Toronto on Sept. 30. Tx here 
– HPX 2019 in Halifax, running Oct, 23-26, has added three new names to the lineup: Ryan Cook & Sunny Acres, The Hypochondriacs, and Nicolette & The Nobodies, all playing at new fest venue Bearly's House of Blues. Fest wristbands are selling fast. 
–  Kiesza's return after a long absence will be boosted by an upcoming North American tour supporting pop star Mika. The Tiny Love Tiny Tour kicks off with back-to-back shows at New York City's Brooklyn Steel on Sept. 12 and 13, followed by two dates at Montreal's Corona Theatre, Sept, 15 and 16.
– Live music fans in Toronto's Beaches hood were alarmed on the weekend to read on social media that popular venue Castro's was shutting down, but the report proved false. The bar/resto has been subject to persistent noise complaints from just one source, but we're pleased to see it is staying the course.
– Manitoba Music is partnering with the Manitoba Country Music Association to present a showcase at the Times Change(d) High and Lonesome Club on Nov. 8 as part of Manitoba Country Music Meeting. The submission deadline is Sept. 5.
– Vancouver-based hip-hop artist Kresnt has released a new album, Rumi, four months after another full-length, Rumi's Reflection. That disc charted high here and made it to No. 1 in Turkey. The new album includes production work from Ken Lewis, Bangullure, and NXSTY. Source: Hip-Hop Canada
–  Presented by Music BC, VIFF SOUNDOFF is a platform for local musicians, with a focus on song placement and sync licensing in film and TV. The artists perform songs and connect with music supervisors Ann Kline (The Good Doctor), Yvette Metoyer (Halt and Catch Fire) and Sanaz Lavaedian (VP at Mocean) at the event. Free tickets here