FYI
Music News Digest, Aug. 17, 2023
Aug 16, 2023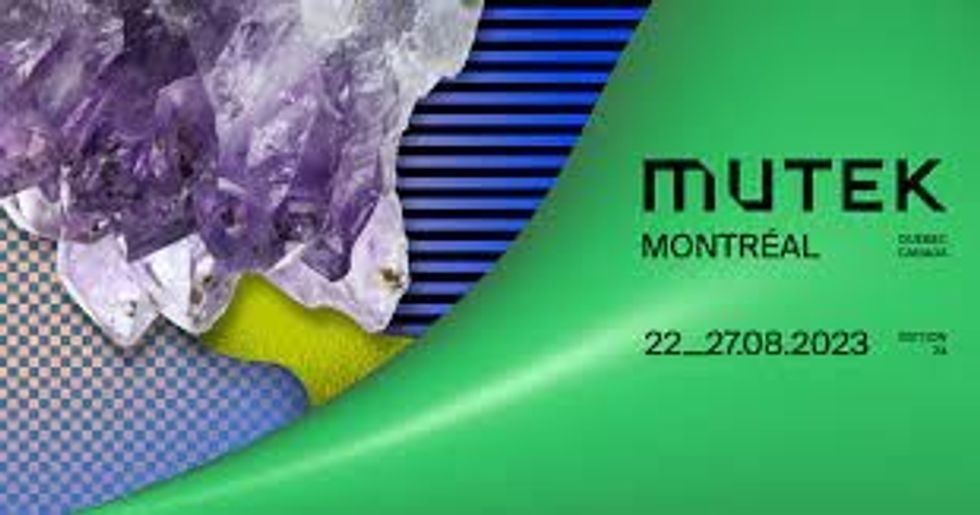 By Kerry Doole
Industry news
---
The ninth edition of MUTEK Forum, the international gathering of ideas for culture, art, and technology is ready to roll next week, Aug. 22 - 27 at The 7 Fingers in Tio'tia:ke/Mooniyang/Montréal.  The program features over 70 speakers in digital creativity, including top AI experts, XR professionals, festival directors, and climate activists. This year, MUTEK Forum follows the theme Future Currents, featuring a carefully curated program of keynotes, performative presentations, interactive panels and roundtables as well as workshops and masterclasses that examine our technological futures and the role of digital creativity within them. More info here. The lineup of 124 artists performing in the music component of MUTEK this year includes .VRIL, Ale Hop, Deena Abdelwahed, Grand River, Open Reel Ensemble, Rich Aucoin, E-Saggila, Emissive, Honeydrip, and OBOXUM.
– At a press conference held at at Kelowna, BC's Red Bird Brewing on Aug. 15, the final wave of artists to showcase at the 2023 BreakOut West music festival was announced. BOW runs Oct. 12-14 in Kelowna, with over 50 acts from across western Canada and beyond. Notable artists showcasing include Andrina Turenne, Black Belt Eagle Scout, Celeigh Cardinal, Field Guide, Katie Phelan, Keeper E, Kimmortal, Kris Ulrich, Skunkadelic, Teon Gibbs, the della kit, The Garrys, The Lucky Ones, and Wolf Castle. Visit breakoutwest.ca for a full schedule of events. Festival wristbands are available here.
– A reminder that the free Wavelength Summer Thing Fest takes place at Ontario Place Trillium Park, Toronto, Aug. 18-20. The eclectic lineup is expertly curated by Anishinaabe musician/composer Daniel Monkman (Zoon and Ombiigizi). Noted acts performing include Lex Leosis, Sebastian Gaskin, Status/Non-Status, Kat Duma, Sunnsetter, and Lee Paradise. Check out the schedule here.
– The 7th annual World of Jazz Festival is set for downtown Brampton, ON, on Sept. 9 and 10. The full festival schedule can be found at worldofjazz.ca
Industry news
–An Indigenous music icon, singer/songwriter/artist Buffy Sainte-Marie recently announced her retirement from live performances. Her personal message reads: "I have made the difficult decision to pull out of all scheduled performances in the foreseeable future. Arthritic hands and a recent shoulder injury have made it no longer possible to perform to my standards. Sincere regrets to all my fans and family, my band and the support teams that make it all possible."
– Tributes to the late Robbie Robertson continue to flow in. Jeff Healey Band bassist and co-founder Joe Rockman, passed this one along to FYI:  "I mourn the loss of Robbie Robertson with profound sadness. His music left an indelible impression on a young Jeff Healey and the JHB as we expanded into material beyond our early Blues Rock repertoire. We'd go on to feature Band songs, including The Weight and Shape I'm In. Jeff's expressive vocal treatment perfectly suited these classic songs.
"Jeff and I first met Robbie in 1988 at the TIGRA International Rock Awards in Munich, where we both won awards for our albums. Robbie was friendly and clearly loved Jeff, who lit up while discussing their shared love of Jazz and Blues history. They would continue to run in to each other from time to time over the years. Robbie has left such an eclectic and inspiring musical legacy."
– This year, CAPACOA, Folk Music Ontario, Folquebec, Global Toronto, Small World Music, International Indigenous Music Summit, Mundial Montréal and Sunfest are joining forces to organize a call for artists for professionals participating in WOMEX 2023 and wishing to develop their international careers. The deadline for those seeking participation in mentorship sessions and performance at an unofficial showcase has been extended to Aug. 18. WOMEX takes place in Galicia, Spain, Oct. 25-29. Apply here.
– Master luthier William Scheltema first started work several years ago on a 'Dream Guitar' designed for Randy Bachman. That project stalled, but thanks to the intervention of veteran music journalist Larry LeBlanc, it was recently completed, and Scheltema, his partner Jeff Brodie and LeBlanc presented the instrument to Bachman last week at his Casino Rama show.  On social media, Bachman reported that "Casino Rama Resort was a great night and gig. Luthier William John Scheltema presented me with a custom-made guitar that he designed and created from my dreams. It's beautiful, sounds amazing, plays like butter and weighs about 7 lbs. One of a kind in the whole world. I feel very honoured to get a gift like this. I have incredible fans!"
– The late Toronto graphic artist and punk rocker John Grove is being remembered with a Celebration of Life at The Horseshoe Tavern on Sept. 3, 4-8 pm. It will feature Bunchofuckingoofs, Son Of Bronto, The Punching Nuns, and special guest performers. Info here.
Artists news
– Veteran Hamilton singer/songwriter/visual artist Martin Verrall is readying the release of his new album, January Downs. Accompanied by A-list sidemen The Martin Verrall Players, he launches the album with a hometown show at the Casbah (main room) on Aug. 19. Verrall is an imposing presence, visually and vocally, and his poetic work is both dark and compelling. RIYL Tom Waits, Leonard Cohen, and Art Bergmann. Show tix here. Strongly recommended.
– Canadian honkytonk songsmith Colter Wall has announced US fall tour dates in support of his new album, Little Songs. Beginning Oct. 11 in Columbus, the tour comprises 10 shows. Check the full itinerary here.
– Earlier this week, veteran Edmonton singer/songwriter Wilfred Kozub released a new album, The Last Vibrations of Summer. The record features instrumentals, new vocal songs, and a couple of gems from his back catalogue. It's coming out on 12-inch vinyl in the fall. Kozub is known as leader of Wilfred N & the Grown Men and has also released other albums under his own name. On Oct. 7 at Trinity Gallery in Edmonton, he has a joint album release performance and an exhibit of his visual art. Streaming links for the album here.
– Last Sat. night, The Corktown in Hamilton hosted a farewell party for one of the city's best-loved music fans, Bob McKnight. He previously worked at local record stores and did some booking at The Corktown, and has been a huge supporter of the Hamilton music scene. Saluting him with performances at the party were Rob Leonard, Rob Willett, Dave Pomfret, The Squids, The Responsibles, and surprise guests CATL. McKnight has relocated to Barrie, and we wish him well.