FYI
Music Biz Headlines, June 28, 2021
Outdoor concerts and performing arts shows are reopening in Ontario, a tribute to Tafelmusik's Jeanne Lamon (pictured), and news about Alex Lifeson and Neil Peart. Also in the headlines are Cirque de Soleil, Elton John, the Grammys, Backxwash, Siobhan Williams, Blue Frog Studios, radio royalties, Zoom, Snap, Philly soul, Britney Spears, and Peter Jackson.
Jun 28, 2021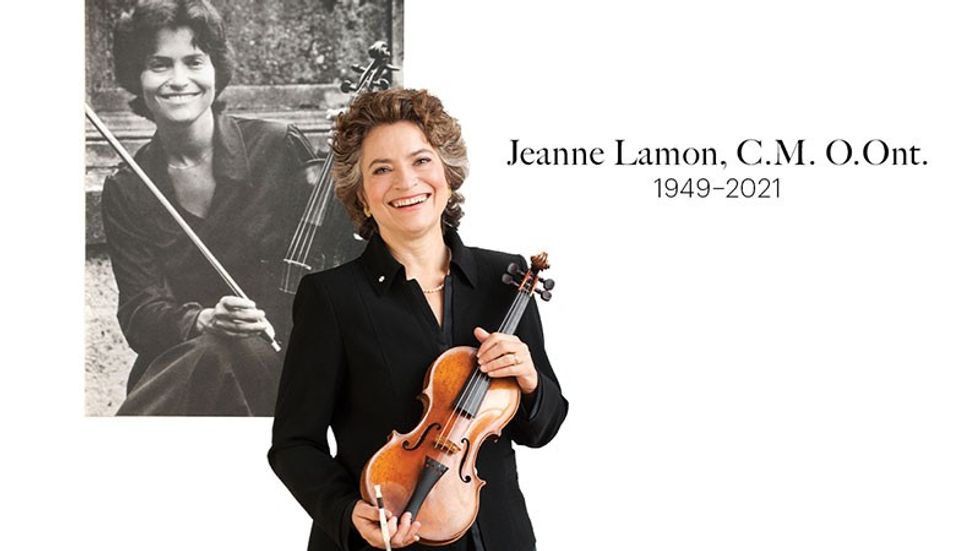 By Kerry Doole
---
Outdoor concerts, open-air movie screens and performing arts shows are getting the green light in Ontario starting this Wednesday as the province moves forward with a reopening plan that hinges on strict capacity limits. While hardly a return to normal, the loosened restrictions will allow for outdoor events, such as concerts and live theatre shows, to go ahead at a fraction of their usual size. – David Friend, CP
Advocates for Ontario's live music and performing arts industries say a lack of clarity in the provincial reopening plan puts their futures at risk. Provincial and municipal leaders, including Toronto Mayor John Tory, met virtually Friday with members of the arts and culture sector eager to welcome live audiences back into venues. The resounding message: they need financial support, a detailed timeline and far more than a week's notice from health authorities to reopen. – David Friend, CP
In Toronto at the dawn of the 1980s, a little baroque chamber group with four core players was just starting to make some waves on the city's nascent early-music scene. Then in blew a hurricane called Jeanne Lamon, a dynamic young feminist from New York, wielding a fiery baroque violin and animated with a passion for the music of the preclassical era. – Martin Morrow, The Globe and Mail
The Rush guitarist released his first new music in nearly a decade when he shared the instrumentals Kabul Blues and Spyhouse to coincide with the arrival of his new Epiphone guitar earlier this month. But fans won't have to wait nearly that long for the next chapter, as Lifeson has completed 10 songs for an upcoming project with an aim to release them later this year. – Ultimate Classic Rock
The Rush drummer/lyricist's  personal cars, which he dubbed the "Silver Surfers," including a 1964 Aston Martin DB5, a Shelby Cobra 289, and a Lamborghini Miura P400 S, will be auctioned at Pebble Beach, CA,  in August. – Gooding & Company
The Montreal-based circus company says five live shows are being added to its schedule for the coming months as it returns from pandemic closures. All of them will be in the United States where Cirque's "Michael Jackson One" begins new shows at the Mandalay Bay Resort & Casino on Aug. 19 and "the Beatles Love" will reopen at the Mirage in Las Vegas on Aug. 26. – CP
On June 20, Backxwash, whose real name is Ashanti Mutinta, released her followup LP, titled I Lie Here Buried With My Rings and My Dresses. Recorded in Montreal, Mutinta's new album represents an attempt to develop her sound while remaining true to the core values of her previous work. – Richie Assaly, Toronto Star
The TD Vancouver International Jazz Festival continues to be one of the marquee events on the city's entertainment calendar. Organized by Coastal Jazz and Blues Society, it's the largest music festival in BC, running this year from June 25 to July 4. Here you can see articles about some of this year's performers, which have appeared in the Georgia Straight print edition and/or on Straight.com. – Georgia Straight
Williams will be releasing a four-song EP, which will include Whispers in the Hall, eventually under the one-name moniker SIOBHAN. Those curious about the actress's foray into music can check out Everything, her indie-pop debut single and video now on YouTube. – Eric Volmers, Calgary Herald
Speaking out helped Kelly Breaks of Blue Frog Studios get his property tax hike of nearly 50 per cent reduced by more than half. – Kevin Griffin, Vancouver Sun
International
 A bi-partisan group of legislators announced the American Music Fairness Act, a bill that would seek to make sure that singers, songwriters, and performers receive performance royalties from radio play. The new legislation announced Thursday would require AM/FM radio broadcasters to pay performance royalties for music played on their stations, similar to what satellite radio and streaming services do. – Ian Courtney, CelebrityAccess
Just as the American Music Fairness Act was introduced in the US Congress, IMPALA, the Brussels-based indie label trade organization urged its adoption. –  Hypebot.
"We have to be more relevant, we have to be more reflective," Recording Academy CEO Harvey Mason Jr. tells us. – Brian Welk, The Wrap
Dugan was ousted by the Grammys organization just ahead of the 2020 ceremony. – Ross A. Lincoln, The Wrap
A study in Britain of nine entertainment events – including three big soccer matches, a business conference, a music festival and two nightclub gigs – found that they produced just 28 cases of Covid-19 out of 58,000 total spectators and led to no significant community outbreaks. – Paul Waldie, The Globe and Mail
The video giant says its recent growth is thanks to more online learning, TV viewership and livestreams during the global pandemic YouTube is officially dominating the social media scene in 2021 — now eclipsing Facebook and its counterparts on the leaderboard. A whopping eight in 10, or 81%, of Americans say they use YouTube, according to data from Washington, D.C.-based think tank Pew Research Center. That's up by 8% since 2019, while usage of Facebook remained the same at 69%.  – Antoinette Siu, The Wrap
Americans may be bleary-eyed from Zoom fatigue, and many may be desperate to get back to live concerts and movie theaters. But virtual events are here to stay, despite the return of music festivals, movies and comedy shows, after the pandemic subsides, according to new data published Thursday by United Talent Agency. Of those who participated in a virtual event, 88% said they plan to do so again even when in-person gatherings return. – Ryan Faughnder, Los Angeles Times 
Snap has inked a global deal with Universal Music Group (UMG) that will allow Snapchat users to incorporate UMG's catalogue of recorded music and content into creative tools, such as Sounds and augmented reality Lenses. –Telecompaper 
"Elton John Farewell Yellow Brick Road: The Final Tour" will visit Frankfurt, Germany, on May 27, 2022 and will make several stops throughout Europe, including Milan, Liverpool and Paris. John also announced dates in North America, kicking off those shows on July 15, 2022, at Citizens Bank Park in Philadelphia. He's scheduled to play Toronto's Rogers Centre on Sept. 7 next year and Vancouver's BC Place on Oct. 21. – AP
Philly soul is unmatched and Black Music Month presents the perfect time to shed light on its origin and impact. Kenny Gamble and Leon Huff, who actually founded Black Music Month along with Dyana Williams, and Thom Bell are credited with discovering the Philly sound. –The Black Chronicle 
After 13 years of near silence in the conservatorship that controls her life and money, Britney Spears passionately told a judge Wednesday that she wants to end the "abusive" case that has made her feel demoralized and enslaved. "This conservatorship is doing me way more harm than good," the 39-year-old Spears said. "I deserve to have a life." – Andrew Dalton, AP
The 34-year-old singer and songwriter fuses folk, blues, rock and once-hidden emotion on her new album, "Wary + Strange." – Jewly Hight, The New York Times
New Zealand filmmaker Peter Jackson said he found "great stuff" for his documentary miniseries "The Beatles: Get Back." Running six hours in total, and including the uncut version of the band's final live performance, it's scheduled for a three-night run on the Disney Plus streaming service in November. – Peter Howell, Toronto Star