FYI
Music Biz Headlines, Jan. 20, 2022
CLMA issues a regulation guide, Bob Moses (pictured) discuss a new track, and Drom Taberna brings live music back to Toronto. Also in the headlines are Simple Plan, Winterfolk, Vivek Shraya, Proper Music Group, WMG, Arc Angels, Peleton, David Bowie, Fanny, Elvis Costello, Ronnie Spector, Castro Theatre, Jay-Z, and Ralph Emery.
Jan 20, 2022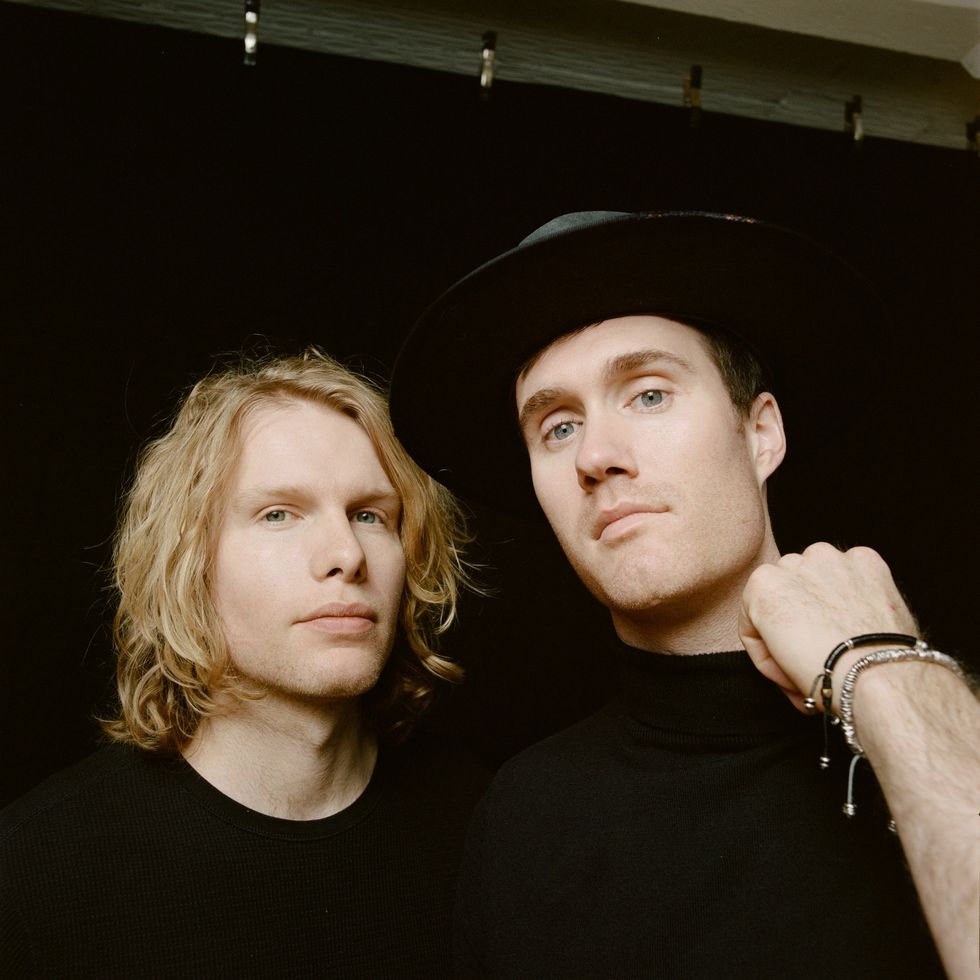 By Kerry Doole
One of the leading advocates for Canada's live music industry is trying to give musicians and fans a clearer look at the country's varied and complex Covid-19 rules. The CLMA says it recently launched a summary of public health guidelines for live music events across all 10 provinces and three territories. – David Friend, CP
---
As the festival director of the Winterfolk Blues and Roots Festival, I have to connect with venue owners when scouting for locations for Winterfolk. Presenting live music is one way of building a clientele for their business. t's become increasingly difficult to find venues for our festival as many of them closed both before and during the ongoing  pandemic. Our upcoming festival, on Feb. 18, 19 and 20, celebrates our 20th anniversary. – Brian Gladstone, Roots Music Canada
One brave Toronto bar has opted not only to open a heated outdoor patio during this frigid week, they're going to host live music on it every single night. Drom Taberna is known for its menu of Eastern European cuisine and events calendar packed with world music bands. – Blog TO
The Offspring and Simple Plan have cancelled their 21-date Canadian tour due to the current surge of Covid. The coast-to-coast trek, which was due to begin in Moncton on Jan. 27, was announced last October behind the Offspring's recent album Let the Bad Times Roll — their first in nearly a decade — which assuredly had one of the worst album covers of 2021. – Calum Slingerland, Exclaim!
In her latest book "People Change," a personal meditation, the multi-disciplinary artist notes that 'there's more to life than living your so-called best one.' – Toronto Star
The  hit Canadian duo talk their beginnings in art class and their upcoming tour upon the release of their track "Love Brand New". – Wonderland
International
Switzerland-headquartered fintech company Utopia Music is expanding into physical and digital music distribution. The fast-growing firm has acquired UK-based distributor Proper Music Group. Utopia says that the new acquisition will help it to "supercharge their song economics and accelerate Royalty payouts for Creators", as well as to digitise operations and processes within PMG's services. – Murray Stassen, MBW
Cooper Investors, in its Q4 2021 investor letter, mentioned Warner Music Group Corp. and discussed its stance on the firm. Warner Music Group Corp. is a New York, New York-based entertainment company with a $20.7 billion market capitalization. Its 12-month returns are up by 15.16%. The stock closed at $40.27 per share on Jan. 14, 2022. – Yahoo News
WME's Lucy Dickins, CAA's Emma Banks, Phil Bowdery of Live Nation, and UTA's Neil Warnock speak to us about the challenges ahead. – James Hanley / IQ
A little over one week after SiriusXM launched a dedicated David Bowie channel, Peloton has officially debuted The David Bowie Collection, featuring the five-time Grammy winner's "entire" body of work as well as three "exclusive" remixes. – Dylan Smith, DMN
"You can't like everything," the veteran bard declares. –  Ali Shutler, NME
The history of rock and roll is probably the least understood of any aspect of popular culture. The narrative, as accepted these days, is full of myths and it is, to be blunt, very male and often maliciously twisted. Fanny: The Right to Rock (streaming on Crave) is a terrific and eye-opening documentary and an amendment to misconceptions. – John Doyle, Globe and Mail
A true original, the Ronettes leader pioneered an eternal attitude—tough and tender at once. – Jenn Pelly, Pitchfork
Jay-Z has admitted a regret about his music in a rare post on his Twitter page. Despite being on the social media site since 2008, the rapper only shares sporadic messages to his three million followers. However, he shared an admission on Sunday. – The Independent
The rapper welcomed the controversial country star to the Martin Luther King Freedom Festival stage to perform their hit "Broadway Girls." Durk prefaced the appearance by asserting, "Can't nobody cancel s— without me saying it." Wallen appeared in a viral video last year that caught him using a racial slur. – Michael Ordona, LA Times
The late broadcaster dissed the Byrds, who gained revenge by writing a song about him. – Chris Willman, Variety
The group featuring Charlie Sexton and Doyle Bramhall II reunites for several Texas dates including a show at 713 Music Hall. – Chris Gray Houston Chronicle
The  pandemic might have laid waste to the music industry on a grassroots level, but it continues to be great news for one percenters like Bruce Springsteen, Paul Simon, and the Red Hot Chili Peppers. All three cashed in big time in 2021 by selling their back catalogs for millions. And by millions, we're not talking numbers like 10, 20 or 30, but instead eye-popping megabucks.–  Mike Usinger, Georgia Straight
A folk singer from the Czech Republic has died after deliberately catching Covid, her son has told the BBC. Hana Horka, 57, was unvaccinated and had posted on social media that she was recovering after testing positive, but died two days later. Her son, Jan Rek, said she got infected on purpose when he and his father had the virus, so she could get a recovery pass to access certain venues. – Ben Tobias BBC News
The Castro Theatre, a San Francisco jewel that has hosted countless film festivals and premieres, is set to get a major makeover. The 100-year-old theater, known throughout the world as one of the symbols of SF's historic LGBTQ Castro neighborhood, will be renewed as a live events venue with music, comedy, film and more as Another Planet Entertainment takes over its programming. – Aidin Vaziri, SF Chronicle