FYI
Kevan Funk Wins The Prism Prize
The BC video and film director (pictured) took home the $15K Grand Prize in Toronto last night for his provocative clip for Belle Game's Low. Other winners were Johnny Jansen, Soleil Denault, Clairmont The Second, and Lacey Duke, while the evening showcased the serious creative talent working in Canadian music videos.
May 14, 2019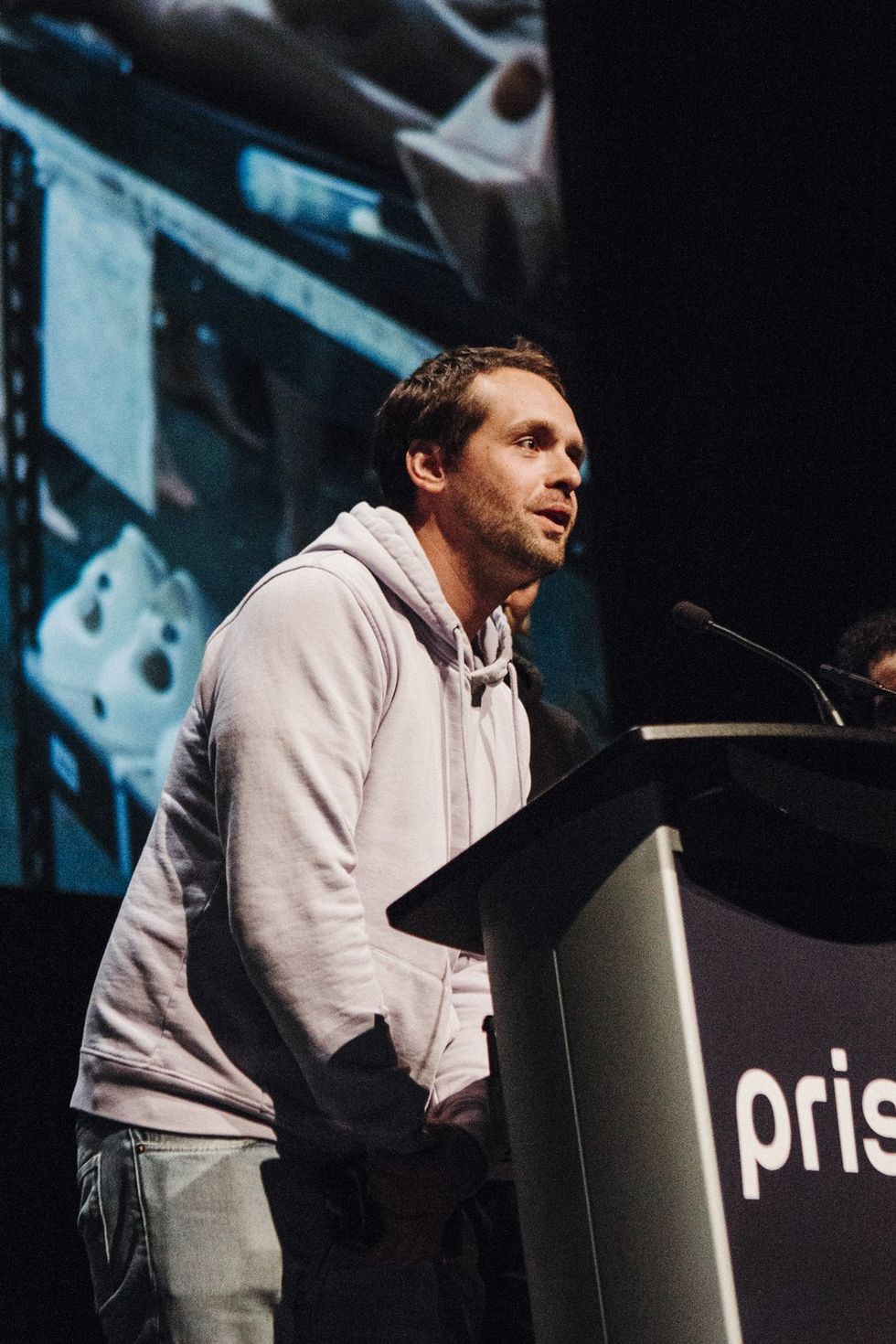 By Kerry Doole
Kevan Funk is the Grand Prize winner of the 2019 Prism Prize for Best Canadian Music Video, for his clip for Belle Game's Low. Funk was on hand to accept the Prism Prize trophy and $15,000 award at the Prism Prize Awards Presentation at TIFF Bell Lightbox in Toronto on Monday night.
In his acceptance speech, Funk declared h
i
mself "super surpr
ised," then 
thanked the Prism Prize for "help
ing to show there is more to music videos than YouTube counts." He received his award from the 2018 wi
nners, director Fantavious Fritz, and artist Charlotte Day Wilson. Another Funk-helmed v
i
deo, for Blue Hawa
ii's Do You Need Me, made the 2019 Prism Top 10.
The 2019 Prism Prize Audience Award was presented to director Johnny Jansen for
Said The Whale's UnAmerican video, based on thousands of online votes on
prismprize.com
.
Also honoured at the event was
Soleil Denault, the recipient of the Lipsett Award, one established to recognize an innovative and unique approach to music video art, and Clairmont The Second was presented with the Hi-Fidelity Award (supported by
FACTOR
), for exhibiting a strong visual identity through music video.
Lacey Duke
was previously announced as the  Prism Prize Special Achievement Award (presented by
Slaight Music
), honouring a Canadian music video artist for their artistic achievements and exceptional contribution to music video art on a world stage. Duke has directed, edited, and conceived music videos for Janelle Monae, SZA, The Internet, and more.
All Prism Prize Award recipients, including the Grand Prize, Audience Award, Special Achievement Award, Hi-Fidelity Award, and the Lipsett Award, received $2500 grants from William F. White for production equipment rentals, and all Top Ten nominees received an exclusive gift bag from MAC Cosmetics. The Prism Prize Top 10 runners-up receive $500 cash each, courtesy of Slaight Music, Patron Sponsor of the Prism Prize.
The awards screening and presentation drew a full house, one entertained by comedian host Dino Archie. Beth Janson, CEO of the Academy of Canadian Cinema & Television, took to the stage to announce that the 
RBC Foundation's support of the 
Music Video Production Project
(MVP Project)
i
s be
i
ng
i
ncreased to $300K per year for the next three years, a welcome support for a sector of the mus
ic industry sent reeling by the demise of MuchFACT in 2017.
At the pre-show party, Prize founder Louis Calabro told FYI he was not feeling any seven-year itch with Prism, but was energized by the recent partnerships with the Academy of Canadian Cinema & Television and the RBC Foundation.
Those spied at the pre-party and screening included Steve Jordan (Polaris Prize), Cam Carpenter (Indie Week), publicists Dalton Higgins and Bev Kreller, scribes Nick Krewen, Karen Bliss, and Howard Druckman, artist manager David Click Cox, Honey Jam winner Denver Haylee, and scenester Yvonne Matsell.
Plans for the 8th annual Prism Prize will be announced later this year. Prism Prize is proud to host a comprehensive resource for music fans to watch the best Canadian music videos all in one place. Videos and news from Canada's music video community are available throughout the year at 
prismprize.com
.
---
ABOUT THE PRISM PRIZE
Now entering its seventh year, the Prism Prize is the largest cash prize in the world for music videos. Established in 2012, it is an annual award recognizing outstanding artistry in Canadian music videos and is now produced by the Academy of Canadian Cinema & Television (The Canadian Academy). Becoming a division of The Academy allows Prism Prize to promote and support homegrown Canadian creative projects, and bolster the Canadian music landscape. In addition to this acquisition, and through collaboration with RBC Foundation's RBCxMusic, Prism Prize launched their inaugural Music Video Production Project (MVP Project) grant to director/ producer/ artists represented heavily across the country.
Previous winners of Prism Prize's Grand Prize have included Fantavious Fritz for Charlotte Day Wilson's Work (2018), Martin C. Pariseau for Kaytranada's Lite Spots (2017), Philip Sportel for Kalle Mattson's Avalanche (2016), Chad VanGaalen for Timber Timbre's Beat The Drum Slowly (2015), Emily Kai Bock for Arcade Fire's Afterlife (2014), and Noah Pink for Rich Aucoin's Brian Wilson is A.L.i.V.E (2013).