FYI
Indigenous Renaissance Man Jeremy Dutcher Wins Polaris
At the beginning there were 10, but in the end Jeremy Dutcher and his fascinating album Wolastoqiyik Lintuwakonawa reigned supreme and was declared the 2018 Polaris Music Prize winner.
Sep 18, 2018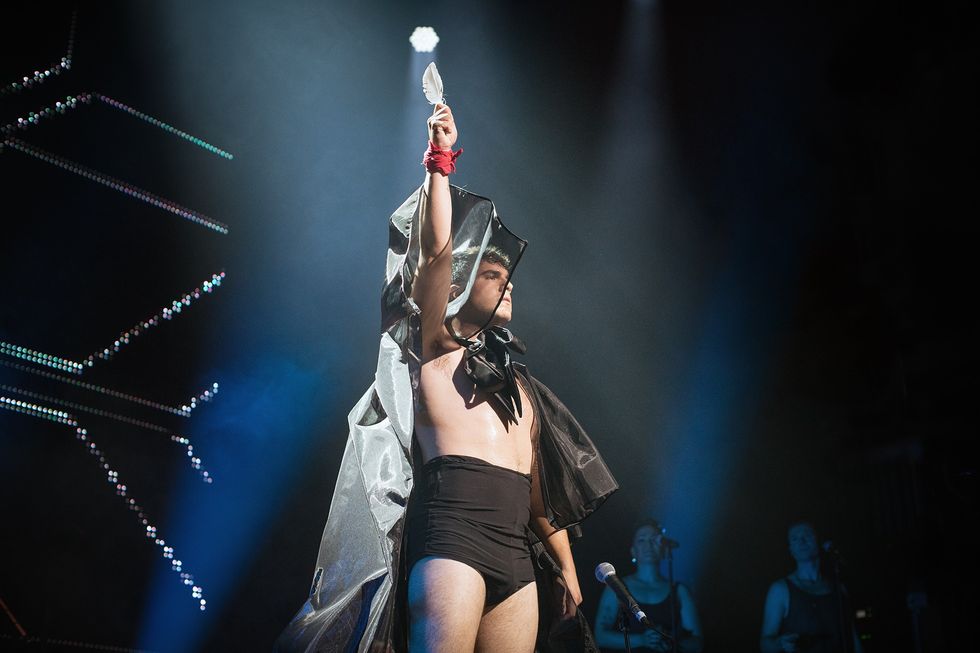 By Nick Krewen
Need further proof that music is a universal language that defies translation?
---
Toronto-based indigenous classical singer Jeremy Dutcher is 50,000 clams richer thanks to his Polaris Music Prize victory for Wolastoqiyik Lintuwakonawa, an album recorded in his ancestral language of Wolastoq (Malaseet), originating from the Tobique First Nation in New Brunswick, and a dialect that was threatened with extinction until Dutcher resurrected and rescued it for mainstream absorption.
"Canada, you are in the midst of an indigenous renaissance!" the top-hatted Dutcher, clutching an eagle feather and wearing a t-shirt branded with the word "Indians," gleefully declared as he capped a three-and-a-half-hour ceremony that was broadcast over CBC Music at Toronto's Carlu with his victory speech.
"Are you ready to hear the truth that needs to be told? Are you ready to see the things that you need to see?
"This is incredible!"
Incredible – and maybe a little predictable.
The Fredericton-born Dutcher's Wolastoqiyik, an album that he explained was "a culmination of five years of work, research, community engagement in the making," was such a uniquely outstanding work in a strong field of nine other contenders. That competition included Daniel Caesar's R&B masterpiece Freudian, the U.S. Girls' stellar In A Poem Unlimited and Alvvays' alt-pop appetizing  Antisocialites. Dutcher's imaginative opus resonated the most with the 11 members of the Grand Jury who ultimately awarded the final prize.
But predictability in Polaris Music Prize proceedings is not an indictment, just a rarity: sometimes a vision emerges that is just so strong and undeniable that you'd be completely surprised it wouldn't be rewarded, as was the case with the stunning "Wolastoqiyik."
It's not like it was a slam-dunk, either. While millions of people were being bored at home by the Emmys, Polaris Music Prize attendees were being treated to a cultural pastiche of amazing musicians from our English, Francophone and Indigenous fronts, enhancing what they do musically with visually imaginative presentations that only enriched their aural excellence, as spotty as the sound was in some places at the venue.
After some fine fish taco-and-meatball, grilled cheese-and-cold-noodle fare provided by SOCAN, Toronto's Weaves began things with the perfect introduction: a slow-burning and dreamy title track from their contending Wide Open, a number that signified the eclectic musicality that was about to unfold. 
We then witnessed Jean-Michel Blais striking piano-and-symphonic splendour from Dans Ma Main; the powerful glam rock of the androgynous and wildly raucous Hubert Lenoir–who stood on tables and swiped beers as he declared, "I am your French-Canadian nightmare!" after a couple of songs from Darlène; some amazing 12-singer-strong In A Poem Unlimitedacapella from U.S. Girls' Meghan Remy and her troupe and soulful Congolese-flavoured new world rhythms from a shirtless Pierre Kwenders from his euphoric Makanda At The End Of Space, The Beginning Of Time.
The Snotty Nose Rez Kids offered a visually scintillating and colourful presentation of masks, native dancing and hip-hop wisdom from their excellent The Average Savage; Deep VVaters, a young female quartet from Girl's Rock Camp, subbing for the absent Alvvays and nicely representing Antisocialites, and a rocking finish to the event's musical proceedings by Toronto's Partner and their cheekily excellent In Search of Lost Time.
Each finalist was awarded $3000 for their efforts by Slaight Music, a nice validation that speaks to the fact that everyone is a winner and a visionary in their own right.
As Jeremy Dutcher later mentioned, the music that on stage we heard "is the future – this is what's to come."
And the future is not only exciting but in good hands.
While Polaris undoubtedly provides a platform for great Canadian music regardless of commercial potential or achievement, it can also serve notice that an even larger awakening is taking place.
In this case – especially by the strong showings in current and recent Polaris contest by 2014 winner Tanya Tagaq, 2015 winner Buffy Sainte-Marie and contenders such as A Tribe Called Red, Snotty Nose Rez Kids and of course, Jeremy Dutcher - the voice of Canadian indigenous music is being heard, heralded and appreciated.
Dutcher best summed it up best:
"To do this record in my language and have it witnessed, not just by my people, but people from every nation from coast to coast, up and down, we're on the precipice of something. 
"I'll part with this – I do this work to honour those who have gone before me - and I lay the footprints for those yet to come – this is all part of a continuum of indigenous excellence, and you are here to witness it. I welcome you."
And that's the enduring magic of the Polaris Music Prize – it welcomes everyone.