FYI
Gord Downie, Jessie Reyez, Teenage Head Among 2018 Indie Award honourees
Teenage Head was inducted into the Indie Hall of Fame, Gord Downie won Album of the Year for Introduce Yerself, and Jessie Reyez was named Artist of the Year at the 16th annual Indie Awards.
May 14, 2018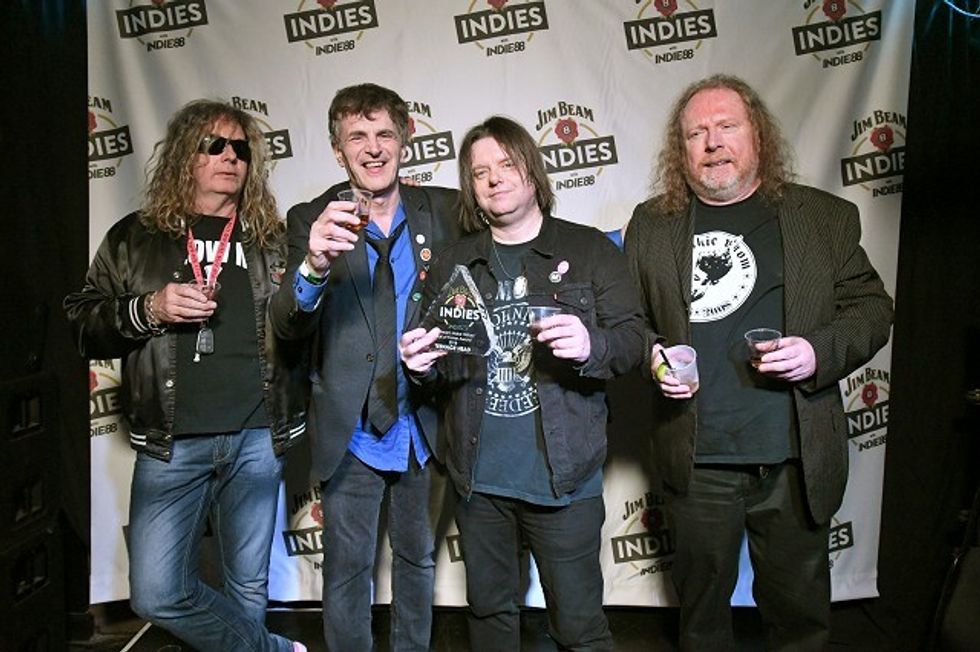 By Nick Krewen
Legendary Hamilton rock 'n rollers Teenage Head, the late, great Gord Downie and current North American buzz act Jessie Reyez were among the big winners of the 16th Annual Indie Awards, presented by Jim Beam in association with Toronto radio station Indie88.
---
Held at the Phoenix on Saturday night ,and hosted by Indie88's Matt Hart and Carlin Burton, the packed-house ceremony alternated between live presentations, video screen announcements and performances by The Rural Alberta Advantage, Said the Whale, Hall of Fame inductees Teenage Head, Sam Coffey & The Iron Lungs and Jim Beam Talent Search winner Alfie.
Here are your 2018 Indie Award winners, listed in bold:
INDIE HALL OF FAME
Teenage Head
ALBUM OF THE YEAR  
Alvvays - Antisocialites (Royal Mountain)
Daniel Caesar - Freudian (Golden Child)
Gord Downie - Introduce Yerself (Arts & Crafts)
July Talk - Touch (Sleepless)
Weaves - Wide Open (Buzz Records)
SINGLE OF THE YEAR 
Allan Rayman - 13 (Communion Music)
Death from Above 1979 - Freeze Me (Last Gang)
DVBBS - Not Going Home ft. Gia Koka & CMC$ (Ultra Music)
Mother Mother - The Drugs (Mother Mother Music Inc.)
Virgina to Vegas - Lights Out (Wax)

GROUP OF THE YEAR 
Broken Social Scene (Arts & Crafts) 
Hollerado (Royal Mountain)
Stars (Last Gang)
The Glorious Sons (Black Box)
The Rural Alberta Advantage (Paper Bag)
ARTIST OF THE YEAR
Daniel Caesar (Golden Child)
Jessie Reyez (FMLY)
Lido Pimienta (Lido Pimienta)
Mac DeMarco (Royal Mountain/Captured Tracks)
PartyNextDoor (OVO Sound)
SONGWRITER OF THE YEAR            
Alvvays - Dreams Tonite; In Undertow (Performed by Alvvays) (Royal Mountain)
Daniel Caesar - Get You; We Find Love (Performed by Daniel Caesar) (Golden Child)
July Talk - Beck + Call; Picturing Love (Performed by July Talk) (Sleepless)
PartyNextDoor - Wild Thoughts (Performed by DJ Khaled ft. Rihanna, Bryson Tiller) / Not Nice(Performed by PartyNextDoor) / Damage (Performed by PartNextDoor ft. Halsey) (OVO Sound)
Shaun Frank - No Future (Performed by Shaun Frank ft. Dyson) (Ultra Music)

ALTERNATIVE ARTIST/GROUP OF THE YEAR                      
Fast Romantics (Light Organ)
Partner (You've Changed)
Said the Whale (Hidden Pony)
The Courtneys (Flying Nun Records)
The New Pornographers (Dine Alone)
ELECTRONIC/DANCE ARTIST/GROUP OF THE YEAR                       
DVBBS (Ultra Music)
Grandtheft (Mad Decent)
Jacques Greene (Vase Music/Arts & Crafts)
Neon Dreams (Dreaming Out Loud Entertainment)
Shaun Frank (Ultra Music)
FRANCOPHONE ARTIST/GROUP OF THE YEAR                   
Canailles (Dare to Care)
Catherine Leduc (Dare to Care)
Corridor (Corridor)
Mara Tremblay (Audiogram)
Peter Peter (Audiogram)
INDIGENOUS ARTIST/GROUP OF THE YEAR                   
Iskwé (Iskwé Musik)
JB the First Lady (JB The First Lady)
Mob Bounce (RPM Records)
The Jerry Cans (Aakuluk Music)
Wolf Saga (Mukwa Records
POP ARTIST/GROUP OF THE YEAR              
Christian Hudson (Mathurmatics)
Coleman Hell (604)
Marianas Trench (604)
Ralph (604)
Ria Mae (Ria Mae/Sony)
RAP/R&B ARTIST/GROUP OF THE YEAR                  
Allie (Oracle)
Majid Jordan (OVO Sound)
Pierre Kwenders (Bonsound)
Quake Matthews (Fontana North)
SonReal (Black Box)
ROCK ARTIST/GROUP OF THE YEAR           
Big Wreck (ole)
Bleeker (Five Seven)
One Bad Son (604)
Sam Coffey and the Iron Lungs (Dine Alone)
The Wild (eOne)

SINGER-SONGWRITER ARTIST/GROUP OF THE YEAR                    
Leeroy Stagger (True North)
Leif Vollebekk (Secret City)
Matt Mays (Sonic Records)
The Barr Brothers (Secret City)
The Weather Station (Outside)

INTERNATIONAL ARTIST/GROUP OF THE YEAR                  
J. Cole (Dreamville Records/Interscope)
Migos (Quality Control Music)
Run The Jewels (Run The Jewels Inc.)
Sampha (Young Turks)
St. Vincent (Loma Vista Records)