FYI
The FYI Bulletin: Sept. 28, 2023
On Sept. 24, veteran Canadian music scribbler and regular FYIMusicNews contributor Kerry Doole hosted a milestone birthday party at Hamilton live music hub The Casbah.
Sep 28, 2023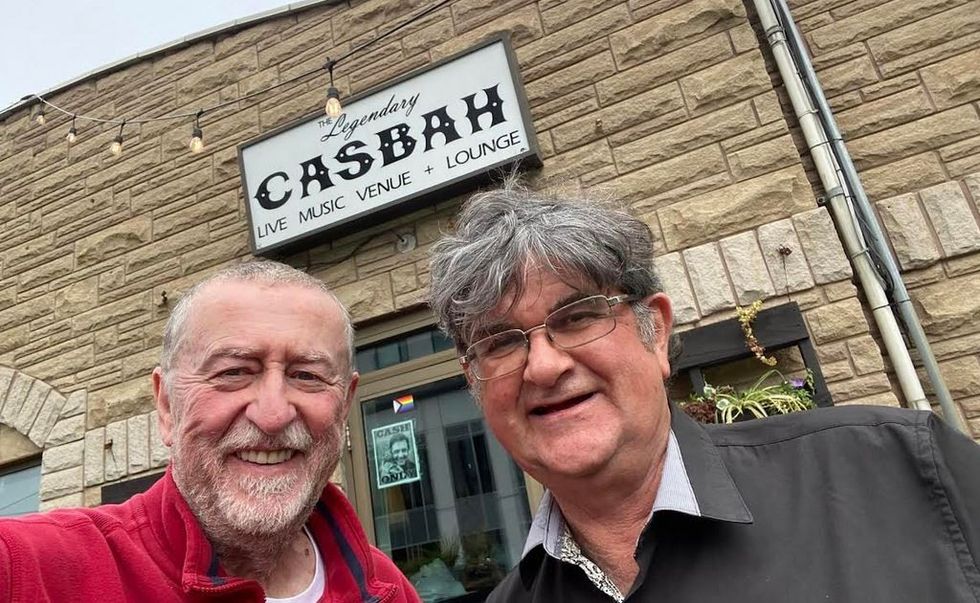 By David Farrell
On Sept. 24, veteran Canadian music scribbler and regular FYIMusicNews contributor Kerry Doole hosted a milestone birthday party at Hamilton live music hub The Casbah. Amongst those supplying musical entertainment for assembled friends and industry colleagues were Lori Yates and her ace band Hey Stella, Chris Houston (Forgotten Rebels), Edgar Breau (Simply Saucer), Suzie Vinnick, Whitehorse, and Ron Sexsmith. Those in the audience included Hamilton-based music luminaries Tom Wilson, Lorraine Segato, and James McCollum (Philosopher Kings, Prozzak). Pictured above is music biz veteran Bob Roper with the birthday boy himself.
---
– The hottest ticket in Hog Town is tonight's retro Rock of Fame shindig at Massey Hall. The SRO event, with a steep ticket price, has caught the eyes and ears of the city's media as impresario Jeffrey Latimer has laced together a solid gold line-up of '70s and '80s Canadian AOR staples that include Lee Aaron, Glass Tiger, Chilliwack, Platinum Blonde, Lighthouse, the Parachute Club, Rough Trade, Loverboy, Prism and Michel "Pag" Pagliaro. The all-star cast of veterans will be on hand to whet the whistle of fans who grew up listening to a hit parade of platinum classics by these acts who once packed arenas coast to coast.
Co-hosting the main stage event is Jeanne Beker with Terry David Mulligan, and they will be joined by a bandwidth of radio stars from the era that includes Roger Ashby, Marilyn Denis, Steve Anthony, Alan Cross, Terry Dimonte, John Donabie, Liz Janik, Stu Jeffries, David Marsden, Maie Pauts, Ingrid Schumacher, Michael Williams, and era VJs Erica Ehm and Christopher Ward.
Canada's Al Kooper, Lou Pomanti, is MD for the night, performing with an all-star band featuring many but not all of the above-named. It's gonna be a history-making night honouring rock stars from an era like no other and co-hosted by some of the most engaging radio broadcasters who spun the hits that went on to sell in the millions. A sort of rock of ages and a last waltz for the tunesmiths who wrote the soundtrack to our youths.
– Canadian Music Week has announced the creation of the CMW Top 50 Music Industry Leaders list. Nominations are now open and close one month later, Oct. 20. Winners are to be announced on Dec. 4.
– Live Nation has teamed up with manager Jeffrey Latimer as promoter of The Tenors 12-city soft-seater tour that opens Nov. 23 at Victoria's Royal Theatre and winds down on Dec. 20 at Kitchener's Centre in the Square. Preceding this, the multi-platinum quartet is booked for a dozen or more US shows. On Sept. 29, the lads release Christmas with The Tenors, the first album to feature new members Mark Masri and Alberto Urso.
– Michelle Wright follows fellow hat country singer Lisa Brokop in Nashville-based Bob Frank Entertainment (BFE). Through Frank's Audium imprint, she plans to reissue master recordings from her sizeable cache of hits that originally issued by Savannah Records. The first in the series is a 17-song collection of acoustic live recordings, followed by a 12-track Christmas collection. On Oct. 11, she heads out on a 20+ soft-seater tour with Doc Walker and Jason McCoy.
– The National Music Centre has named Stephanie Hutchinson as the new Director of Programs. Most recently, she held the role of Associate Director, Presenting at Arts Commons, Western Canada's largest performing arts centre. She also co-founded boutique imprint Chronograph Records and remains President, Producer and Program Director of the Calgary Music Awards.
– Randy Bachman has revived BTO with Fred Turner and Tal Bachman on the road in the US for a handful of shows. Guitarist and songwriter Blair Thornton is sitting out the reunion. As per Classic Rock & Culture, the band has a 1976 concert film and a double-live at the Budokan Arena set for release in 2024.
- Vancouver's Ray Ramsay is promoting Promo Monkey: My Life As A Bellhop in the Waldorf Hysteria, an intimate account of his life and times working promos for Quality Records, RCA and BMG. His latest launch is a podcast complementing the book.