FYI
Five Questions With… Tim & The Glory Boys' Tim Neufeld
The high-energy country combo returns with a hot new track, Without A Prayer. Here the group's award-winning leader discusses the tune, the history of the band, upcoming parking lot shows, and a love of Tim Horton's brew.
Sep 08, 2020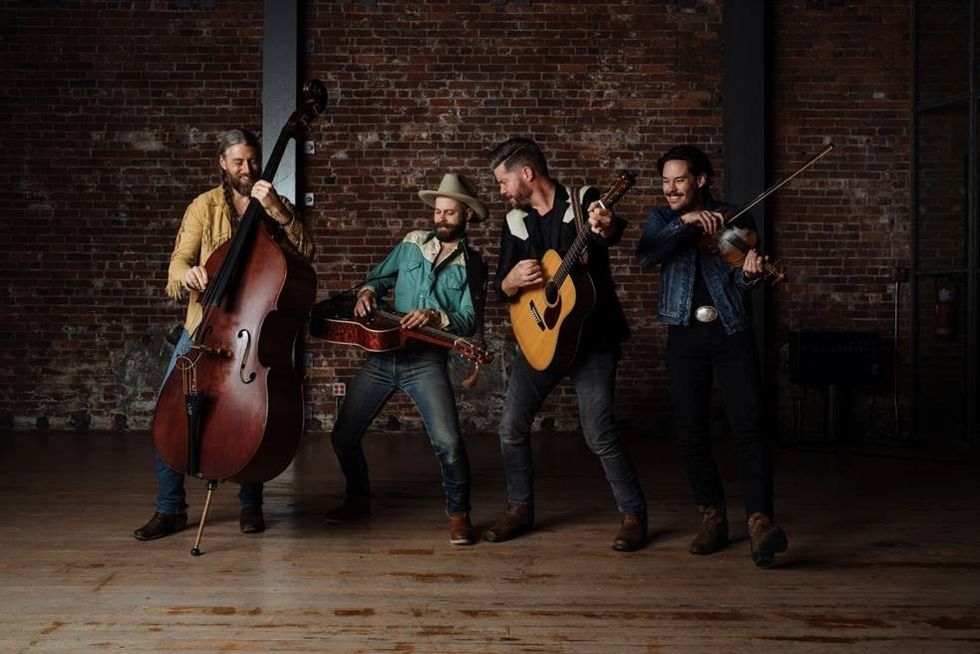 By Jason Schneider
Following the Top 20 Canadian Country Radio success of their Sony Music Entertainment Canada debut single When You Know You Know, Tim & The Glory Boys are back with the wholesome love song Without A Prayer.
---
The four-piece country band fronted by lead singer Tim Neufeld has been entertaining live audiences across Canada since 2013 with their distinct style of boot-stompin' country, elaborate production and a healthy dose of blue-collar humour.
Pulling on an abundance of heartstrings, Without A Prayer is an upbeat track about being at a loss without a companion, while musically it adds a rollicking, poppy twist to the band's bluegrass leanings. The video for Without A Prayer, directed by Travis Nesbitt, fully displays the band's sense of humour, along with some stunning views of their home turf of Abbotsford, BC.
If the 1.8 million streams so far of When You Know You Know is any indication, Without A Prayer looks to be in good company at streaming services and country music radio. Tim & The Glory Boys have a busy schedule of outdoor, socially distanced shows in B.C. and Alberta lined up for September, and for full details on that, go to timandthegloryboys.com.
Tell me about your new single Without A Prayer. What made this the right song to put out right now?
Without a Prayer is a fun little ditty about being saved from yourself by your perfect match. It's the storybook fantasy ending we're all looking for; an 'ever after' of substance and fulfillment.
It's fun, but it's also real. It's a little summer and a little fall. It's the kind of love song that makes sense to me. It's not so much about promising the perfect life as it is about acknowledging how much better ordinary life is because of who you're living it with. 
What is the backstory for people who might just be discovering you?
We've been a band for almost eight years, touring 100-150 days a year. We've been everywhere there is to be in our great country, coast to coast to coast. The more we tour, the more connected to our fellow Canadians we feel. We genuinely can't wait to get back to each and every one of the 250-plus different cities, towns, and tiny "blink and you'll miss it" places across this nation. We have so much exciting new music and entertainment to share with them. 
You have a number of parking-lot shows coming up this month. How are you getting ready for those?
Well, Covid has definitely shaken things up! I never thought I'd be so stoked to shop for plexiglass and hand sanitizer. Honestly, though, we're loving the challenge of having to adapt to the new normal, and we think parking lots are a pretty perfect place to experience the spectacle that is a T&theGB's show. We may never go back indoors!
What are some things you've got in the works for next year when things hopefully start getting back to normal?
All we want to do is write new music, release new music and perform said music. All-day, every day. Our mantra is write-release-perform-repeat. That and all the usual family and community shenanigans we get up to on a daily basis.
Lastly, what's the band's key to maintaining good facial hair?
Tim Horton's dark roast!