FYI
Five Questions With… Peter Katz
Surviving a near-fatal accident had a radical impact on the life and music of the singer/songwriter. Here he discusses that event, describes his new album, and offers a sage perspective on the pandemic.
Nov 22, 2020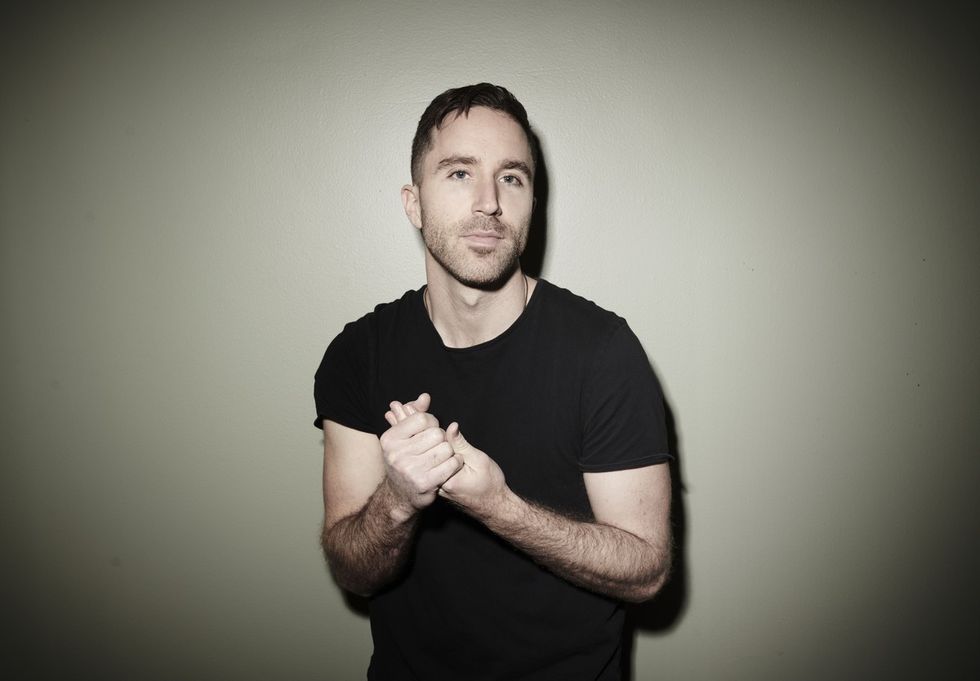 By Jason Schneider
After taking a hiatus from a decade of non-stop touring, Montreal-born singer/songwriter Peter Katz has returned with City of Our Lives, his first English language album since 2015's We Are The Reckoning, which is available Nov. 25 on all digital platforms. Produced by Derek Hoffman (The Trews, RALPH, Caveboy) City of Our Lives finds Katz expanding his folk-based approach into the realm of contemporary pop with minimalist beats and atmospheric synth backdrops.
---
The new musical direction is part of an overall re-evaluation of his life Katz has undergone since he narrowly averted tragedy after falling off a 100-foot cliff. Although he beat the odds by merely surviving, he had to continue fighting for the next six months just to be able to walk again. However, his personal challenges didn't stop there and by the time Katz regained some semblance of a normal life, he knew that embracing change in his music needed to be a part of his overall recovery.
After writing in the neighbourhood of 60 songs and tracking nearly as many of them with numerous producers, Katz found the right chemistry with Hoffman after the producer turned an acoustic demo of Paper Thin into a radio-ready, synth-pop single that ultimately set the template for the rest of the album.
We caught up with Katz to find out more, and you can get full details on City of Our Lives at peterkatz.com.
What makes City of Our Lives stand apart musically from your past work?
It's a pretty major departure on so many levels. The biggest change is the shift to focusing on the rhythm section and a lot more pop sensibilities. A lot of the songs were written in a studio, with production influencing the writing instead of just sitting with a guitar or at the piano as I had done in the past. It pushed me to write melodies in a totally different way. Despite the shift towards pop, I stand by my goal that every single one of these songs could be played on an acoustic guitar or piano and they would hold up. I just wanted the delivery method to be one that would prompt dancing—maybe even on the same kitchen floor you were once crying on. 
Which songs on the record have particularly special meaning for you?
Paper Thin certainly captures the essence of the record, both in its lyrical content and also in the production. Producing that song informed the whole sound palette that we would end up using—and as soon as we made it, we had to restart everything! Book Of Truths is another really special one, and it kind of started this whole album. I love Take Mine so much too. I don't know that I've ever allowed myself to write something so simple, but I feel like the simplicity really allows the lyrics and the hooks in each section to shine through.
You survived a pretty close brush with death. How has that changed your perspective on your music?
One of the most heartbreaking thoughts I had when I wasn't able to walk for the better part of a year after the accident was thinking that I might never get to run around the stage anymore and get the crowd going. Then soon after I was able to start walking again, the pandemic struck so I only got to do two shows where the new music was featured. So when I finally get my chance, I know I'm going to cherish it—and run around the stage—like never before. It will have been a long time coming.  
How have you adapted to engaging with your audience during the lockdown?
I very quickly tried to embrace the new paradigm and come up with ways to make the most of the virtual experience. I've been doing these special live streams around the release of each single, which have been so fun, and then a lot of private Zoom concerts for groups of fans. I tried to pick ways of streaming that weren't just one-way, anything to replicate the experience of being together. It feels like I've been able to stay really connected, and to have some experiences that maybe could only happen under these circumstances.
For example, I recently did a concert where a person's mother was in Toronto, their grandmother was in the U.S., and the granddaughter was in New Zealand. They requested a song that they all loved, and I got to watch them connect to the music—and with each other—all from different parts of the world. It was incredibly touching. I've also been growing my audience in a big way through these keynote concerts that I give, where I'm speaking and playing to a really wide range of people. I've been able to play for over 30,000 people so far since the start of this whole thing, including the House of Commons just a few weeks ago!
What's your mindset looking ahead to next year and the prospect of playing live again?
The prospect of playing live again is a lighthouse for sure, but I find that if I'm focused too far off in the future, then I miss what's in front of me. I trust that someday I'll get to do that thing that I love so much, and in the meantime, I'm doing my best to find other ways of still connecting with people through my music and storytelling. We only get so many minutes on Earth; I don't want to spend mine wishing for something I don't have. I will treasure it mightily when it comes, but I'm grateful for the experiences I'm still able to have right now.