FYI
Five Questions With… Patrick Ballantyne
The highly-regarded Toronto singer/songwriter explores classic AOR sounds on his new album SKY. Here he discusses the album's mandate, his artistic evolution, and fond musical memories growing up in Windsor.
May 31, 2019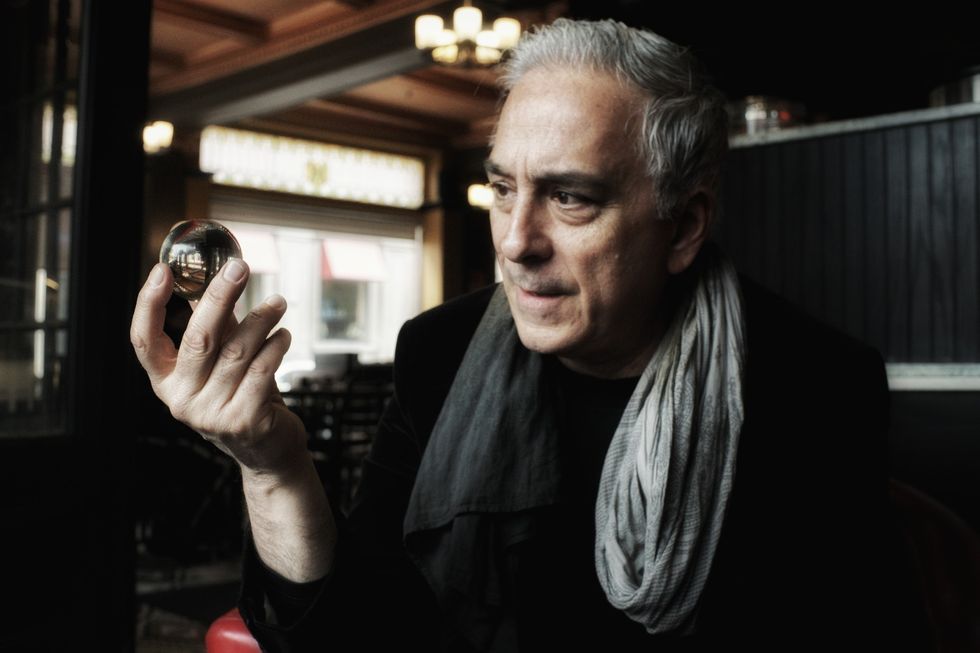 By Jason Schneider
SKY is veteran Toronto singer/songwriter Patrick Ballantyne's fourth collection and finds him venturing off into new sonic territory unlike anything he's done before.
---
Fans of classic AOR will surely feel a familiar rush that comes with embarking on a new journey when they click play—or, more appropriately, drop the needle—on SKY. As the Pink Floyd-ian opening track Beneath Your Skin flows into the mellotron-drenched Practicing (co-written with his Northwood Music label mate Ambre McLean), and the McCartney-esque focus track Dominos, it's clear that Ballantyne has melded all of the elements at his fingertips into a clear, defined sound.
Although Ballantyne admits that he did find some inspiration in '70s prog rock (hence the prominence of the mellotron), excess never overshadowed his sharp songwriting instincts, which over the years have made him a close collaborator with the likes of The Trews' Colin MacDonald and Big Sugar's Gordie Johnson.
Amid all the ear candy on SKY, the album's most poignant moment is the ballad A Bit Of Make Believe, which echoes Warren Zevon, another of Ballantyne's influences. Like the late, great Zevon, Ballantyne has developed a reputation as a "songwriter's songwriter," delving into the complexities of adult relationships. And as his understanding of that topic continues to evolve with age, it's only helped shape the direction of his music.
Patrick Ballantyne'sSKY is available May 31 through northwoodmusic.ca or patrickballantyne.com
What makes SKY different from your past work?
SKY was conceived and assembled as a single unified piece. While it's a collection of different songs, it is stitched together as one and is intended to be listened to in one sitting—preferably with headphones on, and preferably loud. In many ways, it's an album the 11-year-old me would likely have enjoyed. I'd call it a combination of Ram by Paul McCartney and Fragile by Yes.
What songs on the record are you most proud of and why?
The one/two punch of We're Rolling, and Sky [the title track] worked out well. The former deals with the insecurities of putting your music out for criticism, while the latter tries to boost your confidence a bit. You may feel down today, but it's just a cloud. You will always be the sky. Poetry, right?
How would you describe your artistic evolution so far?
I just try to write good songs and make them into interesting recordings. I'm not sure that, artistically, I've actually evolved all that much from age 11. That said, if that was artistically where my musical sense matured, then stagnated, that ain't so bad. I will say that judging from my early home recordings, my lyrics have improved over the years. I certainly hope they have!
What's been the biggest change in your life over the past year?
My daughter has become a teenager. And I finally finished SKY!
What are your fondest musical memories as you were growing up?
I grew up on a very musical block in Windsor, Ontario. In the alley, or in the neighbourhood houses, the radio was on, or records were always playing. My sister was always spinning the latest 45. Bands were practicing in the basement next door. Marco Bradac, of the quintessential "big in Japan" Canadian band Teaze grew up a few doors down from me. My mom would buy me records, mostly in Detroit, where'd we often travel to visit relatives. When I was a little kid, music was just always there. Thankfully, nothing has changed.