FYI
Five Questions With… Marianas Trench's Josh Ramsay
The hit progressive pop band releases its fifth album today, and its leader takes time out to describe its sonic approach and the discovery of new soundscapes that keep inspiring him.
Mar 01, 2019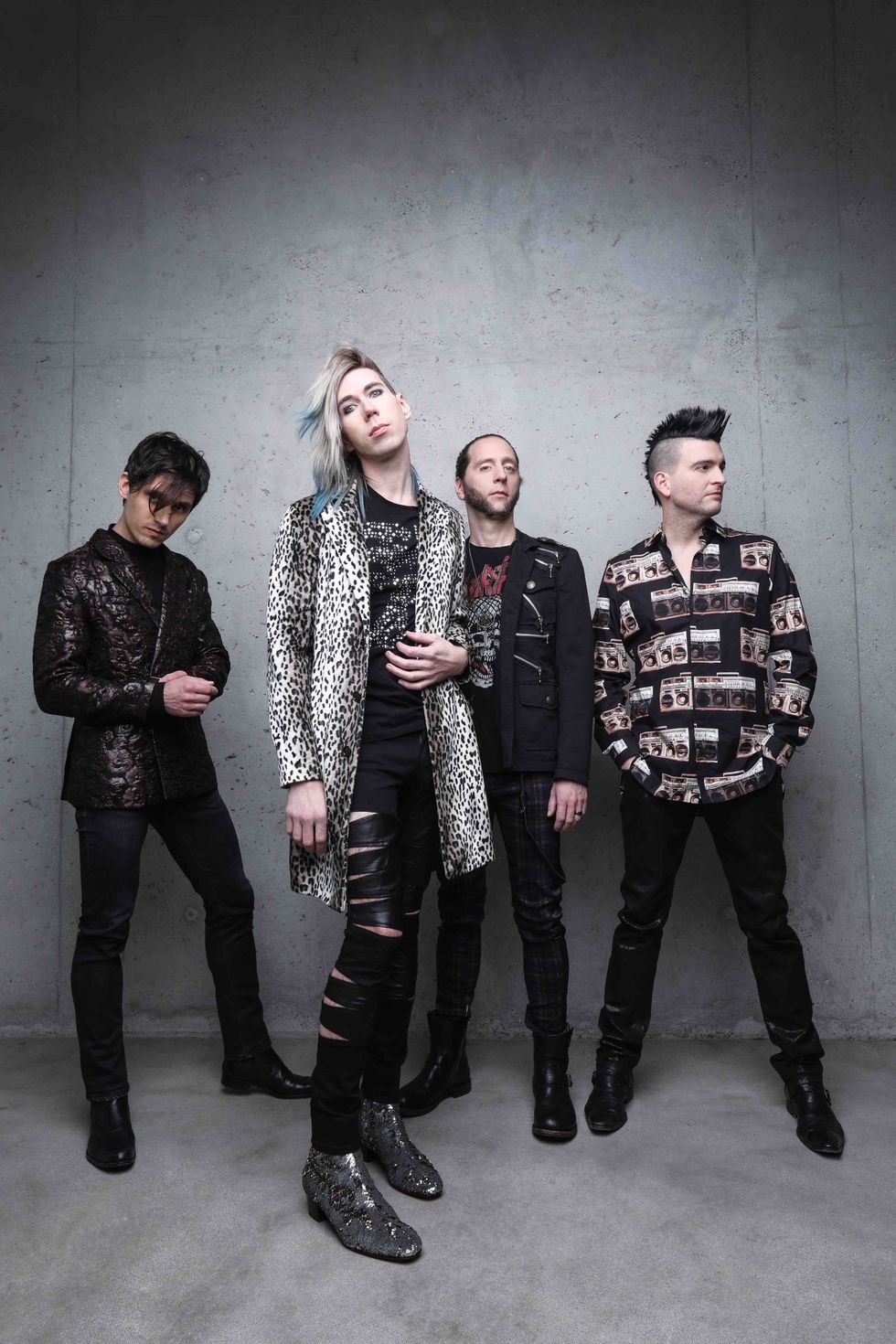 By Jason Schneider
Veteran Vancouver progressive pop band Marianas Trench will release its fifth full-length album Phantoms on March 1 through 604 Records. The group is also gearing up to hit the road across Canada in March, with further international tour dates confirmed throughout 2019.
---
The rabid Marianas Trench faithful got a preview of Phantoms this past autumn with the bouncy first single "I Knew You When," currently climbing the Billboard Canadian Hot AC chart. The song's high energy is indicative of the album as a whole, although lyrically it reflects Phantoms' overall theme of coping with memories of past relationships.
Phantoms stays true to the pattern of past Marianas Trench albums in having a loose concept connect all of the songs. While 2015's Astoria paid tribute to 1980s fantasy films, and 2011's Ever After was based in a fictional kingdom of Toyland, Phantoms shows Ramsay and company addressing more adult situations.
With a slew of Top 10 radio hits to its credit, Marianas Trench is continually pushing the boundaries of pop and translating that into explosive live shows. Along with double platinum and gold digital singles, the band has also garnered multiple SOCAN and MMVA Awards, along with a 2013 Juno Award for Group of the Year. Ramsay also received a Grammy nomination in 2013 for co-writing and producing Carly Rae Jepsen's international breakthrough smash and certified U.S. diamond selling single "Call Me Maybe."
We caught up with Ramsay to get his take on Phantoms, and for more info on the band's upcoming tour schedule, go to marianastrench.net.
What makes Phantoms different from your past work?
I strive to reinvent and keep all of our albums different from one another. It keeps me creative and always searching. On Phantoms, I wrote the songs to feel like a sonic landscape to a haunted house. I thought about being haunted by the ghost of a [past] love, and the descent into madness that would entail.
Sonically, I wanted to hear elements that one would associate with haunted places—instruments like harpsichord and Theremin—but most of all, I tried to keep the album organic. There's not a lot of programming. The songs are written in a modern style, but with real instruments played by humans.
What songs on the record are you most proud of and why?
I think of this record as one story, and each song is a chapter for me. The album has a growing tension that builds throughout the whole thing, finally resolving in a very cinematic and dramatic climax. The climax of "The Killing Kind" was enjoyable to do. It's a musical descent into madness. I do love a good ending.
How would you describe your artistic evolution so far?
With every album, I write and sing to the peak of my ability at the time. Then we hit the road for a couple of years, forcing me to maintain that performance level. When it's time to record the next one, my ability level is higher, and I've learned a lot from recording the previous album. So then I get to go in with a new set of skills and knowledge and push for a higher goal. I'm very competitive, but only with myself.
What's been the most significant change in your life over the past year?
Writing and recording this album. I've learned so much and gotten to play with a whole new sonic soundscape that I never would've thought to try before. There's nothing more exciting to me than increasing and evolving with music. It's like a painter discovering new colours for the first time.
What song in your catalogue means the most to you and why?
I'm proud to say that I stand behind every song we've put out. Music is subjective, and you can't please everyone, so I don't try to. I try to write songs that mean something to me and hope that they might mean something to someone else. I don't like to think of a favourite. I prefer to be in love with the one I haven't written yet. Eyes always forward. There's nothing more inspiring than thinking this new one you're working on could be the best one, and that's what I always try for.