FYI
Five Questions With… Crown Lands
The fast-rising rock duo releases a new EP this week. Here Cody Bowles and Kevin Comeau discuss the record, working with ace producer Dave Cobb, the solidarity of the rock community, and strategy in a pandemic age.
Aug 09, 2020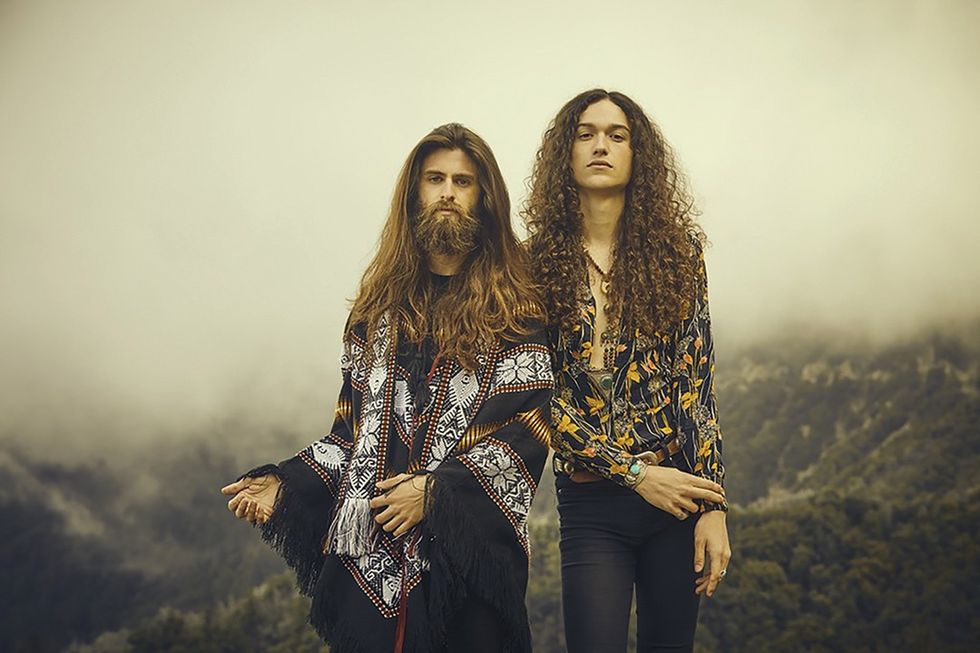 By Jason Schneider
After building a fearsome international reputation over the past few years on the strength of two EPs, Oshawa, Ontario's Crown Lands—comprised of drummer/vocalist Cody Bowles and multi-instrumentalist Kevin Comeau—are set to offer seven more blues-rock howlers on their new self-titled release, out Aug. 13 on Universal Music Canada.
---
Produced by rock's current sonic standard-bearer Dave Cobb in Nashville, the album streamlines the duo's gloriously fuzzy approach that quickly took them from self-booked tours, in small Canadian venues, to opening slots for Jack White, Rival Sons and Primus.
It's the fulfillment of the dream that Bowles and Comeau started chasing after forging their friendship six years ago over a shared obsession with Rush. But rather than adding a third component, they determined to stick with a duo format that could still bring together a range of influences, from folk to prog rock.
It was also crucial that their music reflected an allegiance to marginalized Indigenous communities (Bowles's heritage is Mi'kmaq), hence the name Crown Lands as a symbol of reclamation. We caught up with Bowles and Comeau to learn more about the new record, and for more information, go to crownlandsmusic.com.
Congrats on releasing this record! How does it stand apart from your past work?
Bowles: Thanks, it's been a long time coming. I think this record stands out as a singular body of work that showcases all facets of the band. The first two EPs are very rock-oriented, and our Wayward Flyers EP showed our acoustic side. This album puts both of those together but with a different lens, thanks to working with Dave Cobb. The record honours where we come from, but there is a forward-moving element to it. I'm thrilled about how dynamic it turned out. 
So what was the process like with Dave Cobb?
Comeau: Dave is a masterful arranger and an incredible all-around guy. He's a legend! It was terrific to work with a professional like him on this record. He forced us to get way out of our comfort zone by picking the first or second takes of the songs. Cody and I are perfectionists, and to go so off-the-cuff is not what we're used to. The songs grew and changed as they were being tracked. Dave helped us capture a real and raw performance with no click track and minimal overdubs. That being said, we had a lot of fun with Dave's Mellotron—we snuck that on every song!
The rock 'n roll community seems to have gotten a lot tighter in the past few years, as media seems more interested in other genres. Do you feel rock artists are supporting each other more these days?
Bowles: Yeah, I'd like to think so. A rising tide raises all ships, and it's been nice to be part of a unique community that tries to lift one another. There's always healthy competition between bands, and that can be a factor that drives you to be better, but the most important thing is bettering your last effort. I think that the key to success is just not to be a dick, and to love and support your fellow artists. We have been so lucky to get the breaks that we've been given, and we know that all it takes is the right people to believe in you.
How have you been adapting to engaging with your audience during the pandemic?
Comeau: If you're not constantly posting on social media, you don't exist. It's been moving toward this for years now, and the pandemic pushed it over the edge. We have never been super keen on building our social media compared to the work we put into our business as a live band, and it's been quite humbling. There's been a race over who will "win" the social media game for artists in this new model, and it's disheartening to see that the only way to grow as a band right now is on Facebook and Instagram. That's just not what we're about and not what we want to be putting our effort into, but we have no choice. We are so, so, so incredibly lucky to have the best team in the world. They have supported us and taken us by the hand to help us with our social media. We owe all of our cool posts to them!
Bowles: In all seriousness, though, we do put the work in to get to almost every comment and message we get on socials because that's where the real interaction comes from. A post can be cool and artistic, but if you aren't talking to the people who are supporting you, and listening to your music, then it's all just an artifice.
You've started scheduling tour dates for 2021. What are your thoughts about (hopefully) going back out on the road?
Comeau: The second that we can play shows and have everyone in the room feel safe, we are going to tour the world. There is a revolution happening, and we are going to be the soundtrack.