FYI
Essentials… with JC Campbell
Each week, Essentials allows Canadian music industry figures to share the things that have helped get them through the pandemic, and why they still can't live without them. Here are the choices of an Indigenous roots artist from Winnipeg.
Mar 02, 2022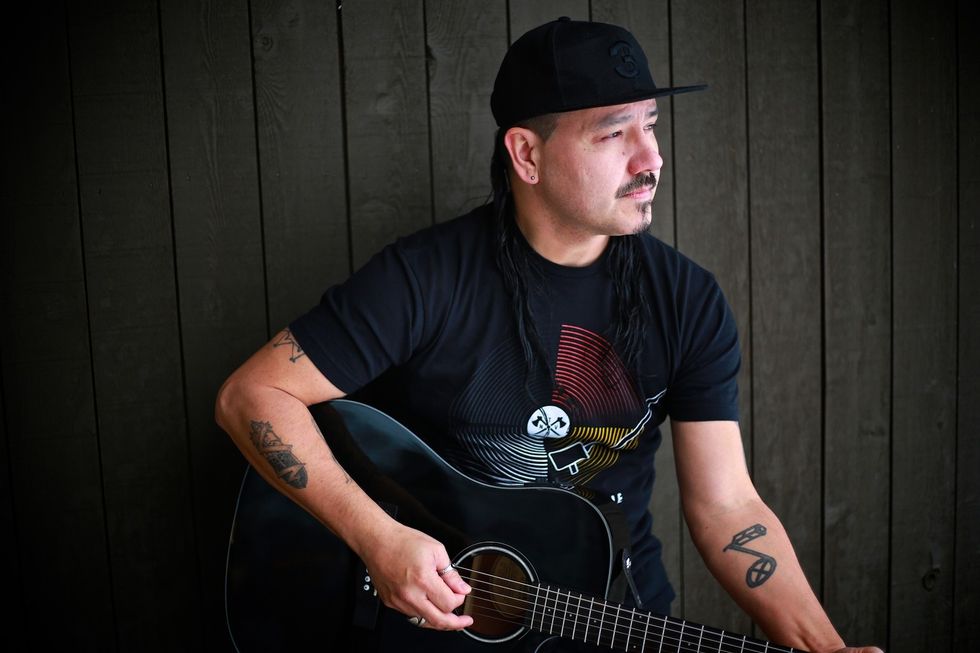 By Jason Schneider
Each week, Essentials allows Canadian music industry figures to share the things that have helped get them through the pandemic, and why they still can't live without them.
---
Growing up with a father who sang the blues and a mother who loved classic soul and country, it seemed as if JC Campbell was predestined for life-making music. With three albums now under his belt, the Winnipeg, Manitoba-born Campbell has hit his stride with his new release, Lately, a seven-song collection, available on all digital platforms March 4, that brings together all of his influences, while offering powerful messages of hope in dark times.
As an Indigenous artist, Campbell has a unique perspective on the world, expressed through a soulful voice that would have been right at home in Memphis or Muscle Shoals in the 1960s. That definitely comes across on Lately's first single, the heart-swelling Walk In Love as well as the irresistible Sweet Soul Love, and the gospel-infused title track, on which Campbell digs down deep to reveal his pure intentions.
Lately is Campbell's second collaboration with producer Marc Merilainen (aka Nadjiwan), whose old-school recording approach and love of vintage gear is the foundation of the record's warm sound.
Campbell describes his own musical journey as a slow evolution. He began writing songs as a teenager on a guitar with a bowed neck given to him by his mother, which eventually led him to work with Winnipeg producer/guitarist Murray Pulver (Crash Test Dummies, Doc Walker). Now with Lately, JC Campbell is poised to transcend any specific labels that may have previously been attached to his music, and stake his rightful claim within the worlds of Americana and roots rock. Find out more at thatjcguy.com.
Essential Album: Chris Stapleton, Starting Over (Mercury Nashville, 2020)
This is my current favourite album. I absolutely love to hear amazing songs that move me, and he delivers the goods. It seems to be a bit of a tall order to find an artist who can write, sing and play the way he can. This album in particular has me fully and completely entrenched in soulfully beautiful songs about life. If I had to pick just one of these gems as my favourite from the album it would be Maggie's Song. All you need to do is listen to this one, eyes closed and prepared to feel the feels. And possibly have a good cry if needed!
Essential Book: Paul McCartney, The Lyrics (WW Norton, 2021)
In my life, I can count on one hand the number of books I've read cover to cover. I'm one of those "what did I just read?" types, and re-reading every page just takes too long! I don't know how I became a songwriter without reading books, but here we are. However, I've recently purchased Paul McCartney's The Lyrics and will surely have more to say about reading books by the time I'm finished. It will definitely take time but I'm positive it will be well worth the re-read.
Essential TV:Trailer Park Boys
Trailer Park Boys has always been my favourite show and Bubbles would be my favourite character. Just about everything about the show is comedy gold in my opinion. It could be the crazy humour, relatable slang or the straight up outlandish situations these guys find themselves in, but it's definitely my top TV show to watch. 
Essential Movie:Nacho Libre (2006)
I have to give this the nod as my all-time favourite movie. Jack Black was the funniest guy out there at the time it was released, and it may be his masterpiece. Any Jim Carrey movie would be my go-to second choice. I'm all about catching a good laugh when watching a movie. If I'm going to invest any time sitting down for more than an hour, I want to be either laughing or making music.