FYI
Essentials… with Ben Sures
Each week, Essentials allows Canadian musicians to share the things that have helped them get through the pandemic, and why they still can't live without them. Here are the choices of an acclaimed Edmonton singer/songwriter.
Jan 06, 2022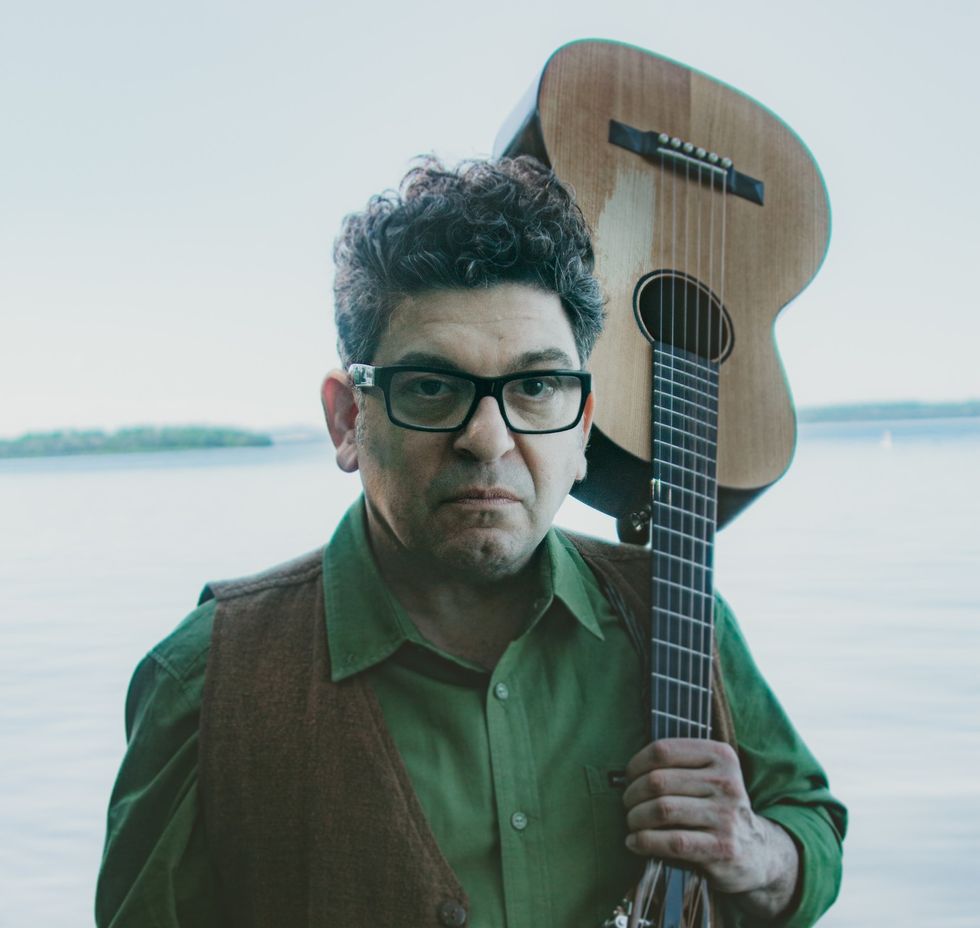 By Jason Schneider
Each week, Essentials allows Canadian musicians to share the things that have helped get them through the pandemic, and why they still can't live without them.
---
On his tenth album, The Story That Lived Here, veteran Edmonton singer/songwriter, guitarist and author Ben Sures offers tales inspired by friends and fans written by his own heart; songs about library ladies, yard sales and dive bars, accidents and grieving. And at least one song about the end of the world, just because, well, you know.
Over the course of Sures's 25-year career, he's honed a sound that blends folk, country, jazz and rock, while also borrowing from blues, Sinti swing and West African guitar. However, The Story That Lived Here—recorded mostly live at Tobacco and Rose Studios in Victoria, B.C. with old friends Richard Moody (viola, violin, mandolin and vocals), Scott White (upright bass) and Rebecca Campbell (vocals, percussion)—is a satisfyingly cohesive and tender bluegrass-tinged album with a steady heartbeat. It's the perfect accompaniment for Sures' funny, honest, quirkily wise and wistful tunes.
Sures isn't the only member of his family to work in the arts. His grandfather drew cartoons for The New Yorker and designed posters for the movies. He was also rumoured to have designed and built the fruity hats of Carmen Miranda. Sures's mother is a painter, while his classical guitar-playing father was a recipient of the Governor General's Award as well as the Order of Canada for his work in ceramics.
With The Story That Lived Here, Ben Sures continues to follow his own artistic journey that has made him a familiar voice on CBC Radio across Canada and solidified his reputation as one of the most lyrically descriptive and witty songwriters of his generation.
The Story That Lived Here is officially released Jan. 18 but can be purchased now from Bandcamp
Essential Album: Anh Phung/Braden Gates, Screech Plank Flute Fly (Bandcamp, 2019)
I heard this recording recently and I absolutely loved it. [Flautist] Anh Phung is one of Canada's most gifted instrumentalists, originally from Calgary, now living in Toronto. As the kids say or used to say, Anh is "sick" in her abilities. She can play anything, but unlike a lot of players who can execute well, she is also inventive and brilliant at improvisation and fearless musically. Her partner on this album is Braden Gates who is best known as a singer-songwriter who has recorded for Borealis Records. Braden is also an old-time fiddler. Ahn and Braden wove some magic on this record that just triggered me emotionally. I spoke with Harry Gregg, the engineer because I wondered if it was just me that felt that magic. But no, he agreed something special happened that day. He further confirmed it by telling me they tried to do another recording but it just didn't feel the same.
I listen to all kinds of music, and in the last decade or so I have stopped trying to keep up with what is going on. I also haven't even heard all the old music I want to get around to. I love finding vinyl in thrift stores from random artists I have never heard of, like fiddlers and independent Indigenous or Ukrainian country bands from northern Manitoba. There is a feeling you get from music whose self-awareness isn't the same as contemporary artists. Those artists sound great but they don't affect me in the same way as obscure artists who never really understood or were aware of the music business machine. Maybe I am just a big fan of artists I don't know, or maybe I love discovering "new" old things the most.
Essential Book: Annye C. Anderson, Brother Robert: Growing Up With Robert Johnson (Hachette, 2020)
I have read some music biographies, but unless the artist was an interesting individual, with political or activist tendencies or just extreme feelings, I found a lot of rock writing boring, especially books about obscure or not-so-obscure southern U.S. blues artists written by rock writers or genre "authorities." I much prefer stories from people who lived in the places and were part of the culture. When I heard about Annye C. Anderson's Brother Robert, I ordered it right away. The book is about Robert Johnson, written by his younger stepsister. As far as I am concerned, myths about artists going to the crossroads and making deals with the devil are just publicity angles and, in a way, veiled racism designed to make us more receptive to artists of different backgrounds. It's fictionalizing artists to suit our needs. It doesn't hit me in the same way as finding out the true inspiration for how songs came to be and about the real lives, personalities, habits, nature and tendencies of artists, what they experienced and the actual culture that surrounded them. In that sense, this is one of the few truly insightful examinations of Robert Johnson, the person.
I also need to mention Life Among The Qallunaat by Mini Aodla-Freeman, which was written and then hidden away in some basement by the Canadian government. Thankfully, it was discovered and brought back to life. In it, Mini Aodla-Freeman details her life as a young Inuit woman making her way to Ottawa, and the eye-widening experiences along the way. This is the kind of read that moves me to tears and inspires me. As well, I must recommend 1000 Years Of Joys And Sorrows: A Memoir By Ai Wei Wei. If you are compelled as an artist to speak and act your truth and have been beaten down by whatever shallow, hurtful, boring industry or scene you must participate in order to "stay relevant," then this book is for you. It is also a reminder of the world outside our bubbles.
Essential TV:Taco Chronicles (Netflix, 2019-present)
I love food shows that also reference ancient cultural practices and give life to staple foods, so I am a big fan of Taco Chronicles on Netflix. In this show, the tacos narrate themselves. Another show I love is Gentefied (Netflix), a fictional story about a Mexican family in L.A., and the plight of their taco shop. Yes, it's true, I love tacos, but that's not why I love this show. It's a fun, easy-to-digest overview of Mexican life in America. Plus, it has the best soundtrack ever.
Essential Movie:Eat Drink Man Woman (1994)
Ang Lee's Eat Drink Man Woman is my all-time favourite movie. It documents the life of a master chef in Taiwan and his three daughters. It's a coming-of-age, evolutionary, cultural clashing, lovely, surprising food movie. The running theme is the father has lost his taste buds and at the end, in a split second, he tastes his daughter's winter melon soup and looks her in the eyes and says, "It's too salty." That makes me cascade in tears every time. Oh geez, I love this movie so much.