FYI
Donna Grantis, On Her Career With Prince & Her New Album
After paying her dues on the Toronto club scene, the dynamic guitar-slinger's career exploded when she teamed up with the Purple One's project, 3RDEYEGIRL. Here she reflects upon that life-changing experience, her love of jazz fusion, and her new debut solo album.
Feb 01, 2019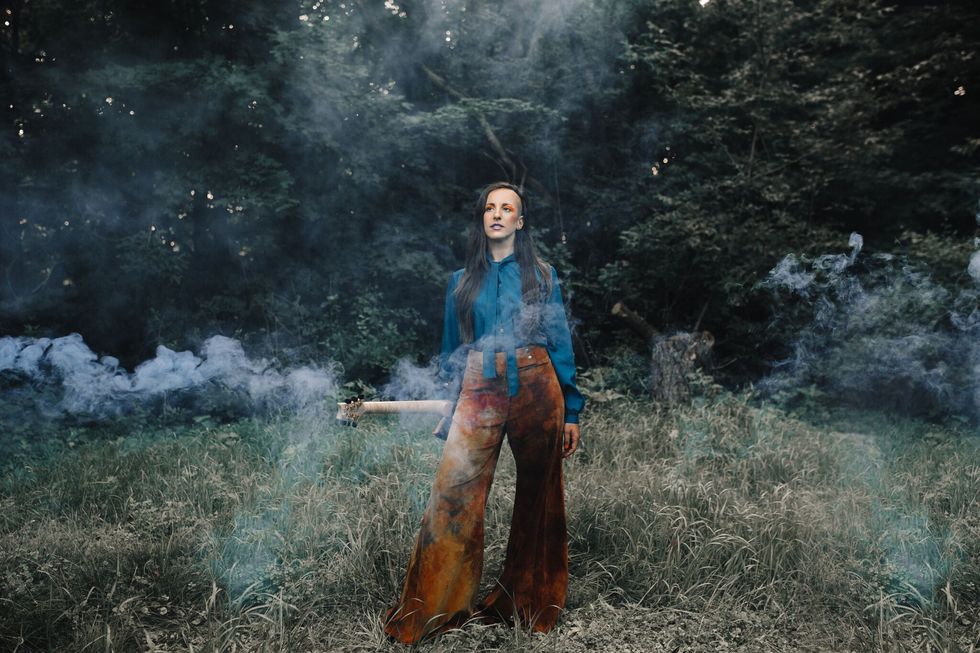 By Bill King
It doesn't seem that long ago a young, gifted guitarist with a strange hair chop was floating about the night scene in Toronto - jamming whenever and wherever possible. She soon became central to Toronto's solid blues scene and then found herself playing a crunching, bone-jarring electric in support of performer Saidah Baba Talibah (now SATE). To support herself, she also played jazz casuals; filled in here and there when called on - always focused on the path ahead.
---
I frequently recall the last gig we did together at a downtown establishment that valued musicians less than the ten-inch thick steak steaming from a patron's platter. It's singer Stacey Kay, Donna Grantis and myself, playing blues and soul as folks fill their bellies on prime beef. A week are so later the manager notifies me – "you are all fired." First up, how do you fire a sub? Secondly, fired for what?
A year or so later I drop them an update – Donna's now with Prince – Stacey was on America's Got Talent, and I'm doing the "King Thing" and thanked them. Thus, the principles and loyalty between the hired help and nomadic players live on as a testament to the always shaky gigging scene.
When word came Prince had hired Donna, we all cheered! We waited in anticipation for that first live performance and what a performance. The last time I was as pumped for a friend getting the big shot was when Windsor guitarist Stacy Heydon, who I had known since he was sixteen, hooked up with David Bowie. It does happen. Recently, I spoke with Donna and here's that conversation.
Bill King: You have a baby now?
Donna Grantis: Yes, he will be two in March.
The new record is DIAMONDS & DYNAMITE. Listening through the tracks, in a way it's kind of a throwback to Miles Davis' Bitches Brew and an era of experimentation and fusion. Is that a sound you naturally gravitate to?
Absolutely! I got into that music through Prince. Before hitting the stage with Prince and 3RDEYEGIRL and on Prince's direction, the song ""Recollections" from the Miles Davis album Big Fun, often played through the P.A. as fans walked into the venue and took their seats. That album opened up a whole new world for me of music and records that Miles made in the 70s' which is referred to as his "electric period". Albums like you mentioned - Bitches Brew, Tribute to JackJohnson, On the Corner, really resonated with me.
I loved jazz and studied jazz, yet I love blues and rock guitar too and I feel like the spirit and attitude behind those albums is pretty much rock and roll and that combined with the improvisational aspect and experimentation is something that appealed to me.
I notice that you even "souped-up" the Fender Rhodes or the Wurlitzer electric piano to get that crunching sound.
Yes. I love those sounds and rather than going straight to DI (direct input) we put it through an amp and turned up the volume a little bit and as a guitar player that is something that I love.
Miles always said, whatever he recorded in the past remained in the past and that he was always in the present.
And always pushing boundaries and creating his own sound and constantly changing and evolving, which is amazing.
Do you feel that's happening to you?
I feel like I am always learning, and you know, checking things out. I've always been into the fusion of jazz and rock. Even before being invited out to Paisley Park and joining Prince, I had a jazz fusion trio that I was leading. It's always been something that I've gravitated toward, but I feel like now after everything that I've learned and gone through over the past several years, it's informed by a different perspective.
Did the decision to record now seem like the right idea – plenty you wanted to say musically?
Absolutely. Before recording this album, the approach was very purposeful. I had a number of songs in mind and chose the ones for that collection that I felt I could put out together in a cohesive way.
On listening, much seems to be what is thought of as "sound architecture." There are layers of eastern percussion, sonic overlays and guitar, not always played at full force. There's a design to this dynamic.
I like that! I really enjoy that in a live concert context. I like the idea, both for myself as a player, but also for the audience as listeners to change things up and have a lot of variety within a set. I also enjoy playing a variety of styles, so sometimes I love to play on 10 while soloing and kick things into high gear. Sometimes I enjoy playing something a bit more contemplative, and I like the idea of taking listeners on a journey and going there myself.
That was pretty much what guitarist Al DiMeola does and even a Scott Henderson to a certain extent. Their recordings have shape and form and are spelt out in such a way.
Yes! I think it keeps things interesting. I also really love the idea of the live performance being very collaborative and having everyone in the group really shine and have their moments throughout the set.
Mike McCready of Pearl Jam – what was his involvement?
I met Mike in 2013 when I was on tour in Seattle with Prince and Third Eye Girl and we played at a venue called the Showbox and Mike was there, and we met backstage and have kept in touch since then. And then in May of 2016, Mike and the band invited me to play at the ACC in Toronto, and I joined them on "Rockin' in the Free World". It was just so much fun, and that's when Mike and I chatted about collaborating. He is a fan of vinyl as well as I. He has a boutique vinyl record label called HockeyTalkter Records.
The two songs that we've put out,  "TRASHFORMER" and "VIOLETTA" are the A and B sides of a seven-inch vinyl released through HockeyTalkter. It was just so amazing to hear his playing on those two tracks. It was a real honour to work with him, and he's one of my favourite guitar players on the planet.
What label is Diamonds and Dynamite on?
It's on Entertainment One.
Is it available in vinyl?
It will be, and is set to release March 22nd.
Are you going to tour in support?
Oh yeah.
What have you got lined up?
We've got a lot of things in the works, and we'll be playing in North America and the UK, and the UK and Europe later this year.
I'm sure Prince's passing has taken some time to process and time to rebuild your own life. I know after that happened you didn't want to talk to anybody. It must have been quite a shock at the time, and it's not only the loss of his life, but it's such a loss for the players and those around him. I imagine it's always an ongoing thing.
I think any time anyone loses someone close to them, it's very emotionally difficult. Having people in your life who have affected your life in so many ways - that's something that I think stays with you always.
Are you still living in Minneapolis? 
Yes. I moved here in the fall of 2016 from Chanhassen down the street from Paisley Park. I've been in Minneapolis ever since the fall of 2016. 
Before going on the road with 3RDEYEGIRL, what was the rehearsal schedule like?
We used to rehearse six days a week. We'd get in around 2 o'clock in the afternoon, and we would leave sometime between midnight and 6:00 a.m. The day would just be full of you lifting songs, working on arrangements and sets, recording - jamming on extended funk grooves, improvising - it was just, you know, a musician's dream.
A great many musicians do not understand when a musician or artist at that level goes about their craft; the work is intense. It's all day – it's all night and is a serious commitment that most people wouldn't make.
It was an absolutely amazing experience to be able to do that day in and day out - day and night. We started playing at the end of November of 2012 and then our first performance I believe was in February at a jazz club in Minneapolis. And then we played on Jimmy Fallon's show I believe at the beginning of March. The thing is whether we were on tour or not that's what we did every day.
Didn't Prince have quite a love affair with Toronto?
Yes.
People still talk about him showing up at the Rex Jazz Bar.
How cool. That's fantastic.