FYI
Crown Lands Talk Indigenous Issues, Anti-Semitism and Tree-Planting
As a duo, Crown Lands would've been just as impressive wailing away that they need love or some variation of, but ever since Cody Bowles and Kevin Comeau formed their psychedelic prog-rock band, pa
Sep 17, 2020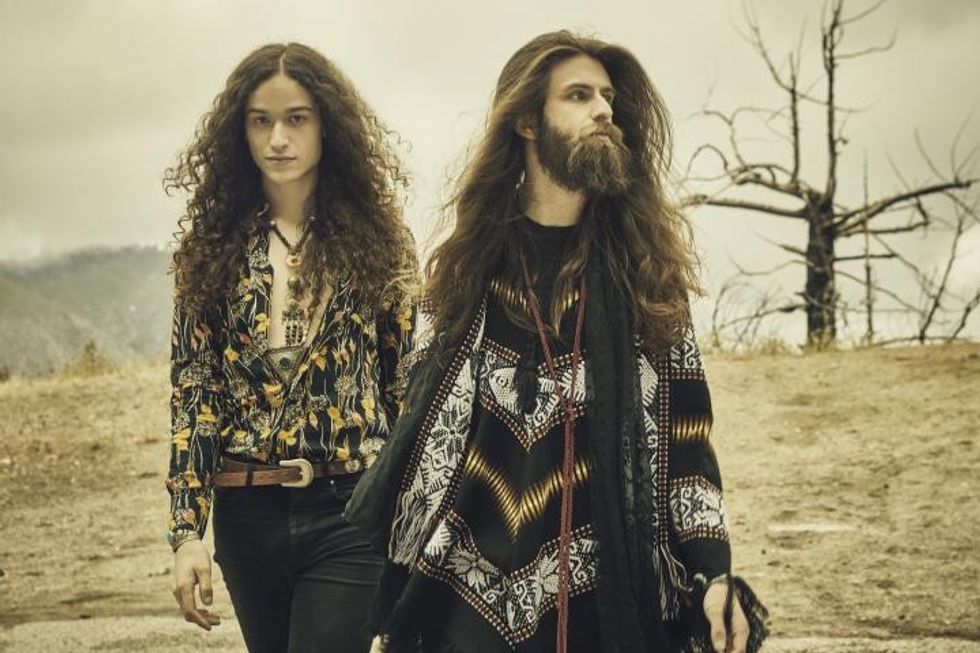 By Karen Bliss
As a duo, Crown Lands would've been just as impressive wailing away that they need love or some variation of, but ever since Cody Bowles and Kevin Comeau formed their psychedelic prog-rock band, paying deep respect to Led Zeppelin, Rush and Queen, they have had another agenda: get people to pay attention to what they are actually saying.
---
For one, their name. Crown land means territory belonging to the monarch, or, more accurately, stolen from First Peoples. Singer and drummer Bowles is half Mi'kmaq, an Indigenous tribe from Nova Scotia, so it's a subject close to his heart. Comeau, who plays guitar, bass and keys, is Jewish. 
The two met six years ago in their home base of Oshawa, Ontario, 60 km east of downtown Toronto, and became instant friends over their shared love of Rush. They jammed, wrote, booked shows, and released two EPs, 2016's Mantra and 2017's Rise Over Run. The latter contained "Mountain" about colonization.
The band went on to open up on some perfectly picked tours, for Jack White, Coheed and Cambria, Primus, and Rival Sons, from whom they met producer Dave Cobb (Rival Sons, Chris Stapleton, Lady Gaga) and went down to Nashville to record their eponymously-titled 7-song debut for Universal Music Canada.
They had already released a video for the lead track, "Spit It Out," in February, but a month later the pandemic brought the live music industry to a screeching halt. Crown Lands don't resume touring until February 2021, overseas, if all goes well, but instead of disappearing into the Netflix rabbit hole, the two have still been working. In June, they released an acoustic EP, Wayward Flyers Vol. 1, and some accompanying live videos including a cover of Neil Young's "Birds," and in anticipation of the self-titled album's mid-August release, they put out the poignant "End of the Road," narrated by Tanya Tagaq, about Missing and Murdered Indigenous Women and Girls (an estimated 1181 between 1980 and 2012, according to the National Inquiry's report, released in 2019).
For Crown Lands' latest video, "Sun Dance," they teamed up with sustainability farmers Wearth (as seen on Dragon's Den). For every 50 streams generated, across any platform, one tree will be planted, up to a maximum of 500 trees.  It's just another example of the band using their platform to make a difference.
In their bio, Comeau said, "People are going to listen to you, so you may as well say something that matters. I don't play rock and roll to talk about rock and roll, I play to talk about things that matter to me."
Samaritanmag set up a conference call with Comeau and Bowles to do just that, let them talk about what matters to them.
You've stated that Crown Lands is on a mission is to represent marginalized communities through your music and lyrics. You've done that with your band name, and songs about stolen land and the missing and murdered Indigenous women and girls. How do you perceive that's working in terms of your message reaching your fans?
-- Continue reading Karen Bliss's story on the Samaritanmag website