FYI
Christopher Ward Explores the Many Faces Of Stephen Stohn
Nov 09, 2022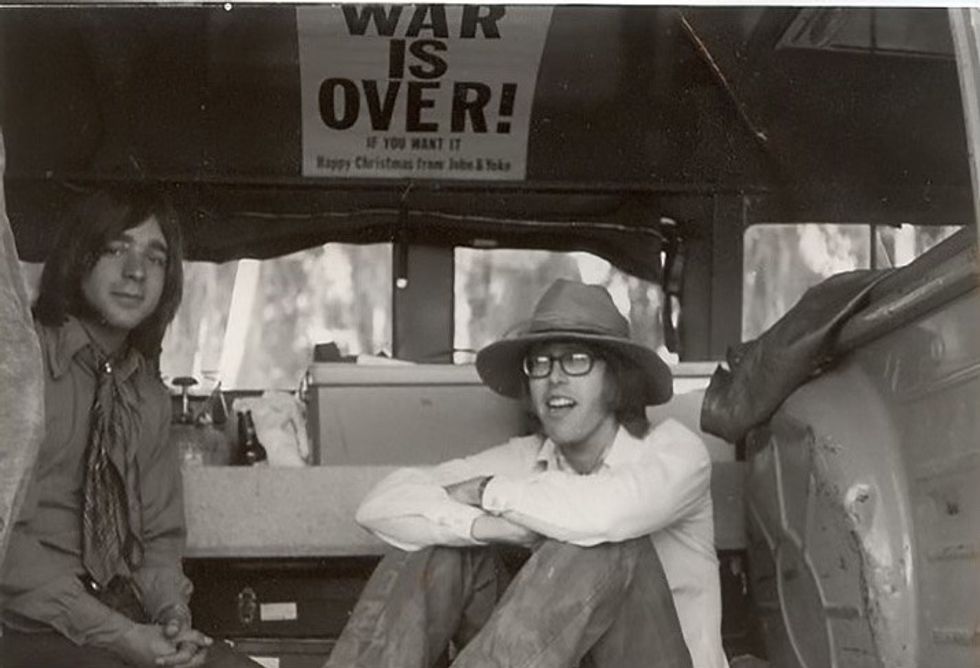 By Christopher Ward
---
I first met Stephen Stohn at Champlain College, Trent University in the fall of 1967, the year of our lord Sgt. Pepper. We became fast friends and soon musical collaborators. He was way ahead of me — a year at college and light years musically, having written songs for a while and being an alumnus of high school bands like The What 4, The Uncalled 4, and of course the immortal Rain Against the Sun, aka RATS.
We stayed up all night in my dorm room, listening to music, and then writing our earliest songs. Our first gig was one where we offended the Trent Folk Club by doing a medley of Everly Brothers songs. Apparently not cool at the time.
While we toured Europe in a beat-up VW van, performing in nightclubs as Cookies and Milk (already a household name), the future was decided. We would become the next Lennon & McCartney, or Bacharach & David, and life would be a song. Stephen taught me about song structure and the mighty Middle 8, the term the Beatles used for the bridge in a song. Choruses and verses came tumbling out and slowly the songs got better.
When we returned from our epic journey (which included a two-month gig playing dinner music at the Playboy Club in Ankara, Turkey) Stephen went to law school while I attended the dive bar academy. But he continued to write melodies, primarily during his frequent escapes to his grandmother's cottage in Georgian Bay where there was an old Heintzman upright piano. His love of Brian Wilson-type songwriting led to the creation of a series of sweeping melodic gems, which I put lyrics to, and which secured me a deal with WEA Canada.
With the dean of Canadian producers, Jack Richardson, guiding the sessions, a remarkable cast of players and singers helped us realize the recording of "Spark of Desire". Drummer Steve Ferrone, late of the Average White Band, who played with Clapton, George Harrison, Tom Petty etc., jazz bassist Mark Egan, The Brecker Brothers, Moe Koffman, Guido Basso, Peter Appleyard, Jack Waldman, and guitarist Sandy Torano all contributed their unique musical talents.
The singles Once in a Longtime and Maybe Your Heart became staples of Canadian radio, with Stephen's memorable melodies providing the emotional heartbeat of the songs. He also negotiated my deal with WEA while attending law school!
I sometimes wonder what would have happened if Stephen had pursued a career as a songwriter — he certainly had the ability. Would Stohn & Ward have become widely known as a songwriting duo? We'll never know, because, for Stephen, other career paths took over, paths that have always somehow revolved around music, and Canadian music and Canadian songwriters in particular.
His career as an attorney took off and he soon represented some of the most elite artists in the country. k.d. lang, The Cowboy Junkies, Alannah Myles, Randy Bachman, Tom Cochrane, Blue Rodeo, and a host of others relied upon his guidance through the challenging world of the music business. He always remained a fan of songwriters, and one of his joys was working with Eddie Schwartz to create the Songwriters Association of Canada over 35 years ago.
For two decades Stephen became the executive producer of the Junos as well as a director and ultimately the chair of CARAS. It was during this period the Junos transformed from a single-evening awards show held mostly in a Toronto theatre and aimed at music industry types, into what we now know as a week-long fan event culminating in an arena show in a different Canadian city each year.
He also became involved elsewhere in television production and took on the all-important role of executive producer of Degrassi (which his wife Linda Schuyler created, and for which he had been the lawyer back at the beginning of the series). He helped guide the show through many changes in format and cast, always with an eye on the powerful connection the show and its viewers had. He was involved in the most significant musical choices and co-wrote the timeless Degrassi theme Whatever it Takes, which was recently featured in a Drake video and prominently in the latest Kevin Smith film. What is not so well-known is that Stephen was heavily involved with licensing over a thousand recordings for use in the over five hundred episodes of Degrassi — virtually all of these recordings featuring Canadian artists and songwriters, many of them independent artists who as a result have been able to showcase their music around the world.
All to say, he has remained heavily involved in the Canadian music business, but almost always behind the scenes and out of the limelight.
And through it all, few people know of his songwriting, and if they do know they always assume he wrote the lyrics. But no, melodies were his passion and forte (He once said that lawyers make terrible lyricists).  I'm so glad that the Spark of Desire album we wrote together all those years ago has been digitally remastered and re-released, so that those melodies will be appreciated again, along with the genius of Jack Richardson as the producer.
The reissue makes the album available for streaming for the first time and includes the bonus track, the early version of Lost in a Love Song–one of the first songs written by Stohn & Ward, the itinerant songwriters of the early 1970s.
Editor's Note: Stephen Stohn's reflections on Degrassi as well as his relationships with Canadian iconic artists were chronicled in his memoir Whatever it Takes, Life Lessons from Degrassi and Elsewhere in the world of Music and Television. The audiobook version was recently released, and an accompanying podcast is currently available wherever you listen to your favourite podcasts.