FYI
Catching Up On Chris Taylor
Chris Taylor used to be an omnipresence on the Toronto music circuit, out at showcases and music events, passing on the word about the next big thing or about his own artists he had signed or shopped. In the past four years, his life has changed dramatically and a part of this includes moving to L.A. last year, which is where Karen Bliss caught up with him.
Oct 25, 2020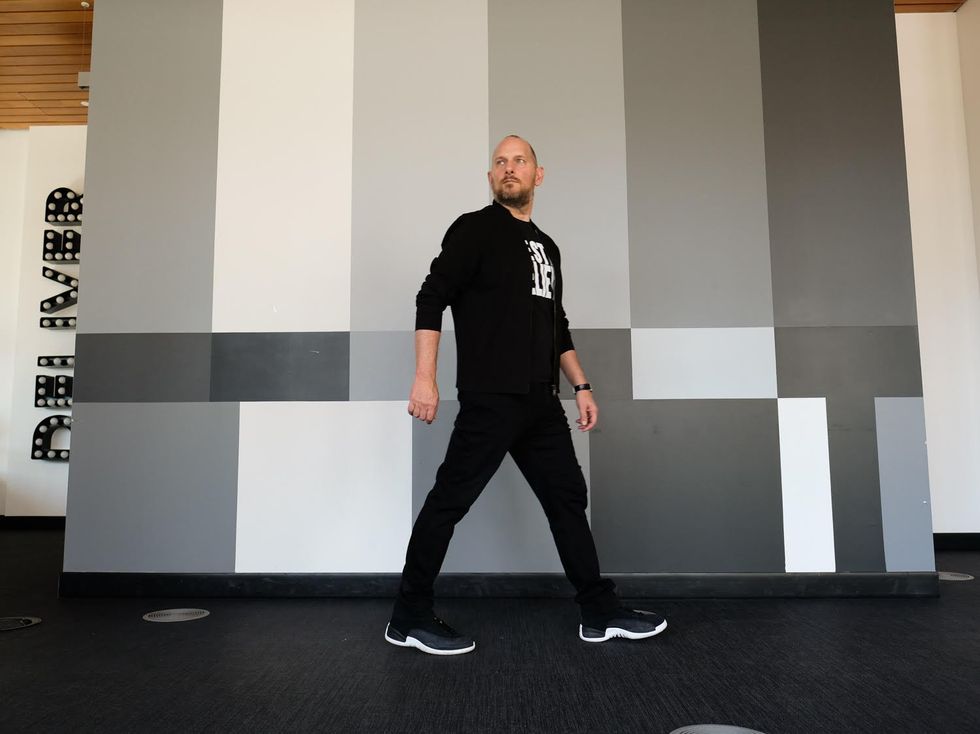 By Karen Bliss
Chris Taylor used to be an omnipresence on the Toronto music circuit, out at showcases and music events, passing on word about the next big thing or about his own artists he had signed or shopped.
---
As an entertainment lawyer — nine years as an associate of Sanderson Taylor, then from 2006 heading Taylor Oballa Murray Leyland — he was instrumental in securing deals for the likes of Nelly Furtado, Sum 41, Billy Talent, Three Days Grace and Alexisonfire, and went on to add Drake, Avril Lavigne, Gordon Lightfoot, Lights, and Dvbbs to his firm's client list.
In 2003, with partner Donald Tarlton, he also formed Last Gang Entertainment — a label, publishing and management company — which launched Metric, Death From Above 1979, MSTRKRFT, Crystal Castles and Ryan Hemsworth and propelled Arkells to arena status.
After soft chatter turned to a concrete offer, in 2016, Canadian-built multinational music, film and TV corporation Entertainment One bought Last Gang and president/CEO Darren Throop hired Taylor as global president of Music + Live, with a roster as varied as Brandy, Ace Frehley, Chuck Berry, Lupita Infante, The Game, Snoop Dogg, and Tegan and Sara.
That's when he moved down to Los Angeles. In December of 2019, Hasbro acquired eOne Entertainment for $4 billion USD all-cash, with Alberta-born Throop reporting to Hasbro chairman and CEO Brian Goldner.
Taylor's face is sorely missed around town, so FYI Music News decided to check in with him to see how he's doing south of the border, what he's done for the music division these past four years, what the Hasbro deal meant for music, and how they've been affected by covid.
When the Hasbro acquisition went down last year, did you think it would affect your job after moving your entire family to the United States?
When I looked at it, you could see they didn't have a music division. There were no music people at Hasbro. So, I saw it as an opportunity immediately. We have a brand blueprint, and music features prominently as a part of that. And it's been everything that I hoped it was going to be and more. We just placed some music in a new Hasbro stuffed animal toy. In that particular example, it was library music. We bought a music library, Audio Network, in 2019. We're placing so much of that music in eOne unscripted shows. We've got something like 50 shows and all of it uses music. And a lot of it uses library music. If you look online, Hasbro has a "bring home the fun" campaign [to provide child-friendly resources for parents and caregivers during covid]. That song comes from our Audio Network catalogue. I think the song is called Fun. it's perfect for the spot.
How important is Canada to eOne and the artists you have?
Canada is more important than ever. Chris Moncada and the team there are really strong. They work our Dualtone Records that are coming into the market. We have a Kathleen Edwards album [Total Freedom] that's been incredibly well-received that our team works, not to mention Lumineers music. We have a solo project coming out from the drummer Jeremiah [Fraites]. In addition, Chris plays a role across Canada, but also across Last Gang. He's taken that under his wing. He also oversees our kids' music division, the Peppa Pig album [2019's My First Album], PJ Masks album [latest is 2019's Heroes Forever], Ricky Zoom music [2020's Zoom! Into Adventure]. So he has three portfolios that are managed out of Canada. He's a really important part of the team.
Take us back to when you decided to sell Last Gang four years ago and accept this position. You had a boutique company and went to an enormous global one. What made you go into that type of environment?
I had a little law firm, an ongoing concern as well, at the same time. It was a long process. My discussion with Darren was for three and a half years. It commenced in August 2012. We had lots of discussions, lots of negotiation. We took some time off [from talks]. We went back. We went back and forth and then I made the move in March 2016.  And it was really hard. At the law practice, the lawyers, the staff, the clients, some of those people I worked with for 18 years — Nelly Furtado; Sum 41; Carolyn Shaver, who was our office manager; [lawyer] Pat Leyland, who started working as an intern while he was still in a band [Left Pencey]. The Last Gang piece of it was easier because we sold Last Gang into eOne, so all the Last Gang people were coming with me. That was part of the deal.  Leaving the law firm and leaving my practice was hard. Tears were shed. It was a boutique law firm. It was a boutique independent label brand. I was looking forward to experiencing corporate culture and organization and being part of a publicly held company and all that entailed.
Why? Normally, people do the opposite.
Darren's amazing. Anybody who's spent some time with him realizes that pretty quickly. He's a music fan and a serious businessman I was going to learn a lot from. The attraction for me was to have more resources. So looking at Last Gang, and how far we were going to be able to take that idea in the context of what I else was doing, which is the lawyer for Drake, Gordon Lightfoot, ole [music publishing], and trying to find time for all of it, it just wasn't going to get the focus to grow and flourish the way I wanted. This was an opportunity to put it inside a larger business that would be able to supercharge that idea, but then also be part of a bigger business that had global scale and got me more into the international music game in a major way. That was all the attractive parts — to play in the big leagues.
Artists that you had signed, presumably had gone with Last Gang because you were boutique. Maybe they didn't want to go to a bigger company. What did you tell them about the advantage of having Last Gang as part of eOne and you as its global president of music?
There was some anxiety and trepidation around that, for bands like Death From Above 1979. All you can say at that point is "Look, you guys have graduated to a level now where you need and are deserving of more resources, so it's still going to be me. I'm still controlling the strategy and the business and where we're going, going forward. We just have more resources."  The truth is nobody would really know until you're in there and you see how it goes. That's where the Darren piece was so important to me. Knowing when times got tough, or I needed some help, or someone who understood the music business, he'd be a great partner for us. And he has been. Four-and-a-half years later, all of that has been proven out.
Was your position newly created?
There was a gentleman that ran and owned the music company [Koch International] that Darren bought [in 2005], Michael Koch. He was running the music division previously. He had left prior to my arrival, but I think that was all part of the plan. So, I became head of the music division. At that time, it was largely a physical-based distribution business, based in New York that was doing fairly well, but I wanted to build a global business. So, let's put some people in London and Los Angeles. Let's think about Australia and Germany, which we eventually got to. Let's have an artist management division. Let's be more digitally focused. There was a massive warehouse in Port Washington [NY], the size of two football fields, pick, packing and shipping CDs, 400 distributed labels, CDs piled up to the ceiling. We exited that business by the end of 2016 and then pivoted into digital. The day I arrived in March 2016, Spotify streaming was just starting to ramp up so it pivoted what we were doing into digital, authoritatively.
You and Darren are music veterans. Did you bring in anyone else that could tell you about new things happening in that space? Or are you one for staying up on new technologies and disruptors?
Yeah, I had lived through it, even through Last Gang as well. I had experience in that, and Darren had as well. I know we're not 25 years old or anything, but Darren can run circles around 25-35-year-olds who think they know everything about the digital world. Not that we know everything, but we can certainly have a competitive dialogue about the marketplace and where it's going.
Darren clearly has built this incredible company. He gives you full autonomy to make these changes?
Yeah. It's a collaborative discussion. I had a 12-page business plan we had already agreed to on my way in. There were no surprises about what the plan would be. Fortunately, we had the benefit of streaming taking hold around the exact same time, not to mention aLumineers record [Cleopatra, on eOne-owned Dualtone Records] that ended up selling through the roof, and some other good fortune.
Because in addition to the items that I mentioned, I wanted to bring a music publishing component to what we were doing and also wanted to build a bridge into film and television production. We have a film and TV studio. We make [children's animated superhero TV series] PJ Mask. We make all these TV shows. We make all these films. None of it is using our music. They don't have to use our music all the time, but they should use it more than they are now. I've spent a lot of time over the last five years, building that bridge into the film and TV parts of our business, and now into Hasbro as well. That's a real unique selling proposition for us, when we sit down and talk to managers, artists, lawyers, what have you, and we're selling them on the eOne proposition. That's a big part of it.
The eOne film and television productions always have to look first at placing eOne music?
I wouldn't say always; they're encouraged. I'm proud of this accomplishment. My office in Santa Monica sits between the head of TV and the heads of film; it's right on that executive row.  We're in constant dialogue with them, whether it's in the boardroom or by the coffee machine or at regional events. I sit on the executive team with Darren. So it's our head of film and TV [Steve Bertram], head of family [Oliver Dumont], the head of music [Taylor], and Darren [CEO] — the four of us and our COO [Jonathan Linden], driving strategy for the entire business.
We have a music department, which is headed by Maria Alonte [SVP, creative integration/head of the music department], who worked for Nettwerk for a long time. That's where I met her. She joined us in March. She actually worked in the office for a week before everybody went home [due to covid-19]. But I'm on the phone or email with her every day about music supervision, soundtracks, composers that we manage, sync licensing our library music, or just artist relations and collaborations.
That is a big advantage, not having to go through third parties for syncs.
It's a direct pathway and we do get preferential treatments, particularly if we are the music department or the music supervision team on a particular show. Before the break, we completed the first season on Deputy; we're the music supervisors. They don't have to use our music in every single scene, but when you sit in the music supervisors chair, there's an opportunity to put a lot more of your repertoire in front of editors, directors, show runners, and people that select music, and your ratio of success just goes up. It's a thousand times what it is, as opposed to being like one of 350 people pitching for a scene in a TV show.
The Hasbro deal was completed last December. Then January is usually slow. Feb. things start rolling. What were your plans, your vision, for this year before it got curtailed by covid?
Really with Hasbro, it was even more opportunity. We were talking to our film and TV studio; we're talking to our family studio about Peppa Pig, PJ Masks and Ricky Zoom. Now we're talking about My Little Pony, Transformers, Power Rangers. All of a sudden, there are all kinds of other content that are using music every single day. So it was great timing for Maria's arrival. She spends her entire day talking to people at Hasbro — what do you need? What are you looking for? How can I help you? And then putting our songwriters, composers, artists, everybody to work. But [covid] does impact our artist's management division because touring is a huge part of commissioning for artist managers. There's been a bit of a pivot in that division and we'll get back to it next year, first quarter, second quarter, as people start to get back on tour.