FYI
Canada's Music Industry Mourns the Loss of Doug Chappell
A well-loved and highly respected fixture in Canada's music business for 30-plus years, the former musician and industry executive, who first came to prominence with the "Toronto Sound" as bassist in Richie Knight and the Mid-Knights, died December 3, in Niagara Falls. He was 77. Pictured centre at a Mid-Knights reunion several years back.
Dec 06, 2020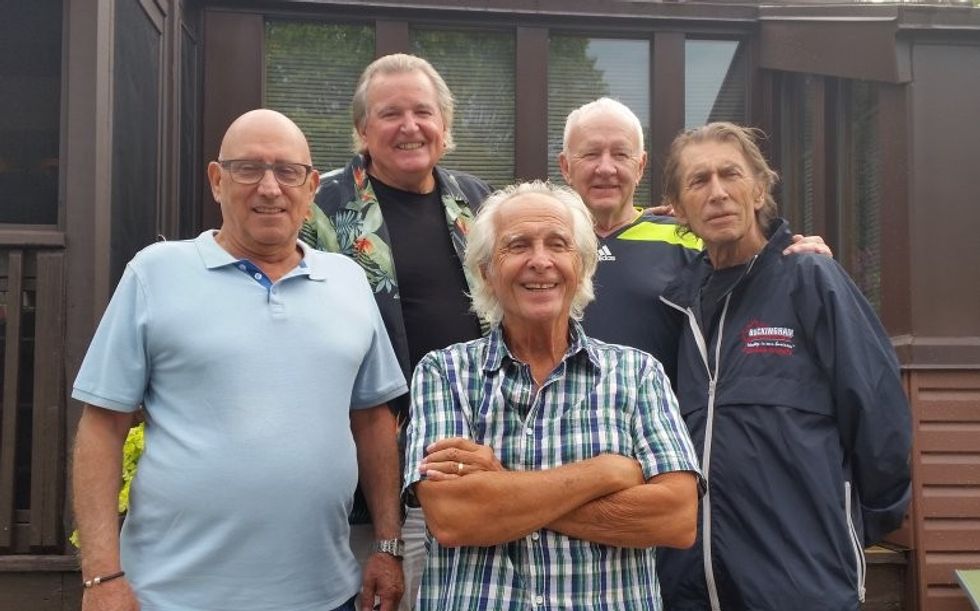 By David Farrell
A well-loved and highly respected fixture in Canada's music business for 30-plus years, the former musician and industry executive, who first came to prominence with the "Toronto Sound" as bassist in Richie Knight and the Mid-Knights, died from a massive heart attack on December 3, in Niagara Falls. He was 77.
---
Born Douglas John Chappell in Toronto, his first stirring of desire to be in music followed an Elvis Presley concert he attended at Maple Leaf Gardens. He went on to become a teen heartthrob with the Mid-Knights, a group that was synonymous with the 60s "Toronto Sound" and one that is reported to have become the first Canadian group to have a No. 1 hit, in 1963, on the then all-powerful CHUM AM hit parade. The song was Charlena, a cover first recorded by LA R&B band The Sevilles.  The Mid-Knights' were signed to Arc Records by Bill Gilliland and the single was produced in-house by Ben Weatherby. There is a fascinating and informative account of the band's history and the particulars of this recording session that can be found here.
An in-depth history of those early years with the band in the city, which included two marquee billings at Maple Leaf Gardens, is recounted by Chappell and reported on by Kerry Doole in an earlier edition of FYI.
Back in the day, he had all the trappings that a pop idol could hope for: a flash convertible (salmon pink with fins), looks, style, status–and a childhood sweetheart, Ann, who became his wife for almost 56 years. They both grew up in the Keele and Eglinton neighbourhood and attended York Memorial Collegiate, along with lifelong friend and bandmate George Semkiw.
After the salad days with the Mid-Knights ebbed, he joined the newly launched A&M Records Canada as national promotion manager and it was there that he first made his mark on the national stage as a music executive. To the many who knew the man, the outpouring of sadness and reminiscences on Facebook and elsewhere came as no surprise because he was a natural-born leader with a quirky sense of humour, immense loyalty to those close to him, almost obsessive organizational skills and a capacity for great empathy which touched many over the years.
He also didn't suffer fools easily, loved to debate as much as he loved a challenge, and never let his influence cloud his dealings with people of all races and gender. He was a rascal and a humanist rolled into one who also avoided the pitfall of becoming a "music snob" and that enabled him to see the greatness in people such as Rita MacNeil who he signed to Virgin Records Canada in the early '90s. She went on to sell over a half-million albums for the label here and earned him a lifelong friendship with east-coast impresario Brookes Diamond who managed her at the time.
His mastery of detail earned him the title of "Commish" as chief arbiter of the annual Rockers' Fantasy Hockey League and he presided over a similar fantasy league for baseball enthusiasts in the summer months.
Chappell's marketing and promotions war-room at A&M HQ on Warden Avenue had a stellar team that included Jim Monaco, JP Guilbert, and Lorna Richards and, small as the company was, it never failed to give the majors such as CBS, WEA, Polydor or MCA anxiety when it came to carving out market share. The Canadian division didn't have the kind of superstar rosters that the other majors imported, but it had an uncanny knack for conjuring hits from newcomers and creating superstar acts in the market. The era brought in windfall sales and touring opportunities for acts as diverse as Styx and Gino Vannelli, Supertramp and The Strawbs, Chris de Burgh and Nazareth.
Former colleague Charly Prevost, a Montrealer who had moved to the US with the explosive career rise of Supertramp, put in a kind word about Chappell with Chris Blackwell when the Island Records founder was looking to open a Canadian division.
In  1984, Chappell, with longtime A&M associate Lee Silversides and several others, launched Island as a standalone independent in Canada with the legacy of Bob Marley and a few other hallmark acts that included Robert Palmer, U2, Melissa Ethridge, and Frankie Goes To Hollywood who took the world by storm with Relax and the album Welcome To The Pleasuredome.  The new standalone was a huge success from the get-go, but Blackwell wasn't interested in allowing the Canadian division autonomy in plowing profits back into developing a domestic roster and Chappell grew restless.
By 1988, Chappell had turned over the presidency of Island to Silversides and took the mantle from the recently deceased Bob Muir to become Virgin Records Canada's newly installed president, a position negotiated directly with owner Richard Branson that included a domestic A&R budget. The thought of operating a record company with a mandate to sign and develop acts was essential to his DNA and his office became the repository of a wildly expansive but carefully organized collection of homegrown cassettes, vinyl pressings and indie CDs. Acts that he signed to the label included the Northern Pikes, the aforementioned Rita MacNeil, Sway, Colin James, Lori Yates, World On Edge, and One (the reggae-influenced ensemble created by Chris Taylor who now heads eOne's music division internationally).
Four years later, in 1992, Branson sold Virgin to EMI for US$1B, three years after Blackwell sold the much smaller but still impressive Island label to PolyGram for $300M. Silversides took retirement. Chappell, meantime, was allowed to retain his position running Virgin as a boutique label under the EMI umbrella, but eventually moved to Universal Music (which had, by this time, acquired A&M) to become the president of the Mercury/Polydor division before retiring in 1997.
One unsubstantiated insider story from that era tells that when Blackwell sold his company he handsomely paid out part of his newfound wealth to his overseas lieutenants whereas Branson's offer to his global team leaders was contract employment with the company's new overlord.
Doug Chappell had starred in the Toronto Sound era, rode the wave of mega-hits that typified the late '70s and early '80s when tens of millions of LPs were sold through chains such as Sam's, A&As, HMV and a string of independent music retailers, enjoyed the benefits that came with sumptuous profits from the CD boom and sauntered into the sunset when the mega-merger era whittled the number of once-vibrant independent imprints, that included Island and Virgin, down to what is known today as the Big Three: Sony, Universal and Warners. It was a panoramic ride through several eras that were glory days for music, the music business and music lovers.
His legacy will always be about the man he was: dedicated, loyal, honest, committed, empathetic and cheerful. In short, a decent person who did the right thing and helped many gain a foothold in our industry, as musicians or practitioners in the trade. His bent sense of humour, a penchant for creating weird faces, love of family and love of sports and arcane sports trivia made him a unique and well-loved individual. He was the kind of guy that could give a friendly face to a company, and the company he kept knew him to be a stand-up human being.
The remarkable story of his early years in Toronto with Richie Knight and The Mid-Knights is detailed in the final chapter of the newly minted book about the birth of rock & roll in Canada, authored by Greig Stewart, entitled Hawkins, Hound Dog, Elvis and Red
He is survived by wife Ann, their children Christopher and Lori and grandsons Derrick, Sean and Ryan.
His wishes were that he be cremated and that no celebration of life is to be organized. This said, it goes without saying that some sort of gathering of friends and acquaintances is inevitable when the chance to do so is doable.  He left an indelible mark on people, and, respectfully, friends and peers are going to want to celebrate him in some fashion at some point in time.
Online condolences at pattersonfuneralhome.com.
The many condolences offered can be found on the guest-book at Patterson here, and on Facebook here.
– Appreciatively noted support in compiling the above from Ann Chappell, Martin Melhuish, Kerry Doole and other cited sources.