FYI
Surviving As A Musician... Suzi Kory's Story, In Her Own Words
As a mom to two teenage boys with a full-time career in aviation, country rocker Suzi Kory  (born Khoury) made a ra
Feb 24, 2020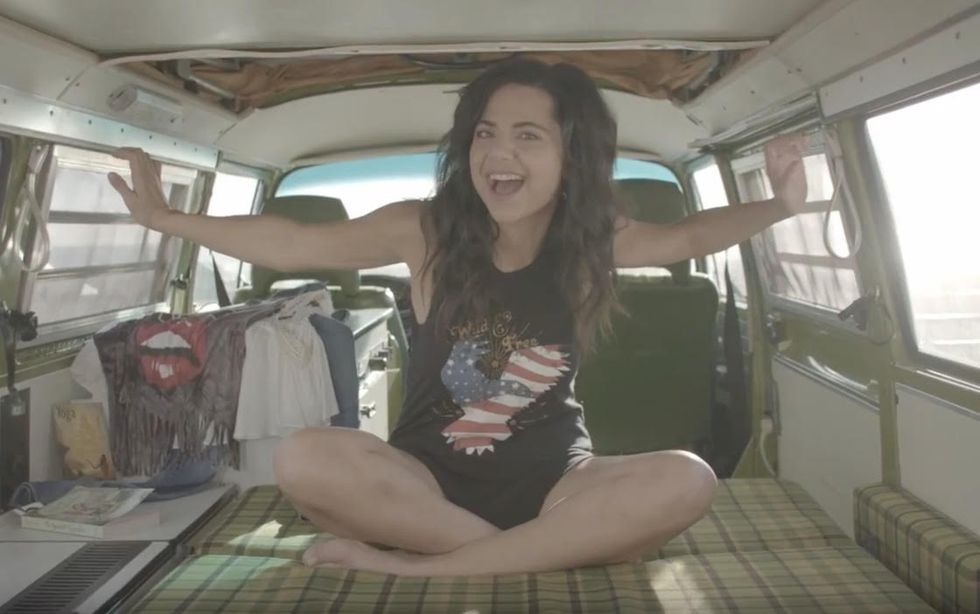 By External Source
As a mom to two teenage boys with a full-time career in aviation, country rocker Suzi Kory  (born Khoury) made a radical decision three years ago to pursue her longtime dream of becoming a musical performer. Since then, she has written and recorded ten singles, completed three music videos and found an avenue for revenue to offset the costs through Satellite Radio royalties. Her most recent single, Settle Of the Dust, was released earlier this month. What follows is her story, told as part of FYI's ongoing Surviving As A Musician series.
---
Most people might call it a midlife crisis, but I'd rather refer to it as a midlife 'revolution'. A rebirth of sorts that involves rediscovering your true self and purpose in life. It is usually triggered by a specific life event, forever altering your life path. In my case, it involved a fateful meeting with my musical idol, Axl Rose.
At the age of thirteen, I would attend my first concert for the band Guns N Roses. It was a lifechanging event. I had always loved music, but watching Axl Rose perform made me realize that I too wanted to pursue a career as a performer. My decision was met with a negative response from my well-intentioned parents who advised that I choose a more stable career.
I would end up following my second passion for travel and worked my way up the corporate ladder, eventually becoming a Station Manager for a major commercial airline.
Four years ago, I came up with a crazy idea that for my birthday I wanted to meet Axl Rose. I define the decision as 'crazy' because at the time he was a recluse and Guns N Roses had not yet reunited. I flew to LA, drove to his home in Malibu and as fate would have it, he would be walking on the road just as I was nearing his home. I explained that it was my birthday and I had flown from Toronto in hopes of meeting him. We chatted and took a photo together. The photo would go viral online a week later after several news agencies picked up the story of the 'first photo of Axl in over a year and a half'.
That fateful meeting would end up signifying so much more than simply meeting my idol. It brought back all the emotions I had felt as a teenager for music and my passion for wanting to become a performer. The fact that I was also able to realize my dream of meeting Axl subconsciously also proved that if I believed in something so passionately and followed through with actions, I would be able to manifest anything.
Upon my return home I would decide to finally pursue my dream of performing. I was literally starting from scratch. I had no experience, no contacts or any knowledge of how the music industry operated. I realized early on that I needed to connect with both musicians and industry experts to understand how things worked.
As a mom of two teenage boys, leaving my 'day-job' to pursue my dream was not an option. In fact, despite popular belief that one should be 'all-in' when pursuing artistic endeavours, my advice is to maintain a steady source of income. The ability to fund my musical project allowed for complete creative control–an essential ingredient when developing your brand. It would, however, also require working twice as hard managing two separate full-time careers…. but proved well worth the payoff in creative freedom.
Having said that, this is a 'business' and should be managed as such. Over the past three years, I made valuable connections in the industry and have been fortunate to have those connections provide invaluable guidance and support. One of the most important pieces of advice I received was 'If you're not making money, it's only a hobby'.
After having spent the first two years investing heavily in the creation and marketing of my music, I took this advice to heart and made a vow to find ways to make this a profitable venture; hence validating the fact that this was a career and not just a hobby.
Rather than releasing an entire EP, I opted to release one single every few months. As a developing artist, each single would provide an opportunity to gain more exposure and hopefully new fans, by ensuring there was a constant stream of new material being released.
Using Distrokid as an online distributor, I had my singles available on every streaming platform. I would quickly learn however, that the royalties from streaming were very minimal and would not be enough to cover the costs I had already incurred.
I began connecting with music industry professionals mainly using LinkedIn and I cannot stress enough the importance of setting up a profile and using this platform as a means to connect. It is generally overlooked by most musicians, yet has been one of the most beneficial tools I've used.
Through a single direct connection with a Program Director at Sirius XM, I was able to have my single placed on rotation for several months (cutting out the additional costs of a 'middleman'). I would discover that royalties for satellite radio airplay were phenomenally higher than any of the streaming platforms. I would also learn that although agencies, such as SOCAN, can pay royalties for 'songwriting', digital royalties paid by service providers such as Pandora and Sirius XM had to be collected through SoundExchange. It is free to register and submit your music.
This would prove to be a financial breakthrough, in that the first check I received for royalties through SoundExchange for a single song, was enough to cover half of my recording costs for the six-song EP.
A small win no doubt, proving that the money is out there to be made in the industry when you do the work of educating yourself.
Learning to manage spending had been equally important in turning this into a profitable business. In the past year and a half, I have shot three music videos in California, while cutting the cost of production in half between the first video and the most recent shot last month.
Last year I discovered a peerspace, a website that allows you to book any type of space you can imagine, at reasonable prices. One of the highest costs on the first video I shot was the location (which included additional insurance and permit fees common in California). Websites such as Peerspace charge a flat hourly fee that covers everything.
As a solo artist, performing showcases can also prove costly, when having to hire musicians for the gig. Not only are the musicians paid for the show, but understandably need to be paid for their time at rehearsal (in addition to covering the costs of a rehearsal space, if you are not fortunate enough to own a garage).
As a result, I have chosen to play more acoustic gigs with only a guitarist and have been strategic in choosing full-band performances. For example, this past fall I set up a showcase with a full band at the Horseshoe Tavern. The strategy was to introduce my new material to audiences at one of the most legendary venues in Toronto. Having worked endlessly to ensure a solid turnout, the hard work paid off and the show was a success. I would end up being contacted the next day from the people at Indie Week for an invite to play the Horseshoe again two weeks later.
On a final note, as I continue to learn and grow in this exciting, yet unconventional and unpredictable industry, nothing has served me more than maintaining a positive attitude.
Although some may say this is because I have not been in it long enough to have become jaded, I would respond that knowing 'why' you are doing it is the one constant that keeps you focused on your true purpose. Understanding and accepting that when things don't turn out as hoped it wasn't meant to be, is just as important as knowing that whatever is meant for you will come.
You must continue to plant the seeds by doing the necessary work, trusting that you will reap the rewards of all your efforts at the right time and place. It is not a race, nor is it a competition. Only you can do you. Create genuine connections, stay true to yourself and remember to enjoy every single experience on your unique musical journey.