FYI
SNFU, Four the Moment Win Slaight Family Polaris Heritage Prize
Albums by a legendary punk band and a gospel folk group are awarded the prestigious designation. The prize salutes Canadian records released prior to the 2006 creation of The Polaris Music Prize.
Oct 24, 2022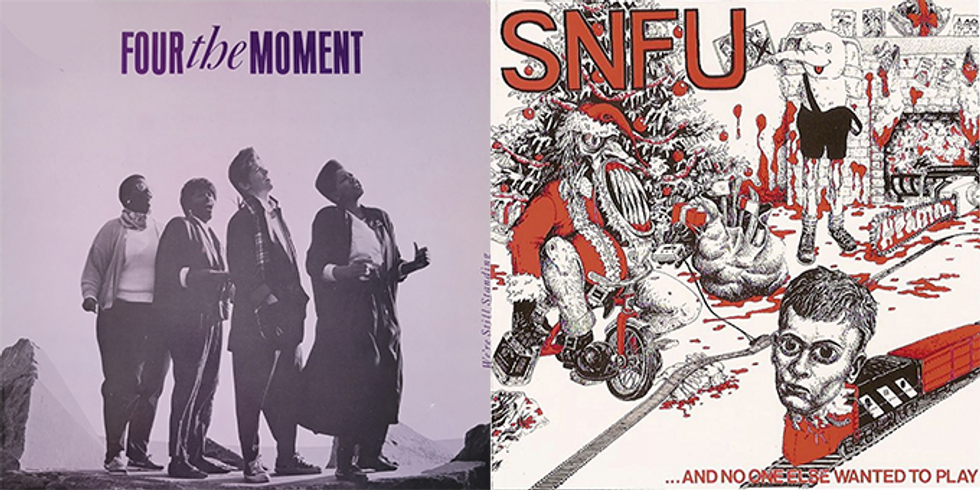 By FYI Staff
The Polaris Music Prize has announced albums from SNFU and Four the Moment have received the 2022 Slaight Family Polaris Heritage Prize designation.
---
This Polaris hall of fame-minded critics prize/public polling campaign is meant to celebrate classic Canadian albums created before Polaris began in 2006. Like the Polaris Music Prize, winners and nominees of the Heritage Prize are albums of the highest artistic distinction, without regard to sales or affiliations. Each year one album is designated by a public vote and one by the Polaris Heritage Prize jury.
Vancouver-via-Edmonton punk band SNFU's album ...And No One Else Wanted to Play from 1985 was chosen in the Heritage Prize public voting category. Halifax, Nova Scotia-based a cappela gospel-folk group Four the Moment's album We're Still Standing from 1987 received Heritage designation by the 11-member Polaris Heritage Prize jury.
"Congratulations to SNFU and Four the Moment. The valuable, unique albums you created show the tremendous depth and quality of Canadian music. Thank you for making these important works of art," said Gary Slaight, President and CEO of Slaight Communications, in a press release.
Four the Moment's recognition comes four decades after they began creating music together. "We are so deeply honoured, humbled and thrilled to be receiving the Polaris Heritage Prize," said Four the Moment's Delvina Bernard, in a statement. "When Four the Moment started its journey 40 years ago, we could not have imagined that songs written as feminist and Afrocentric testimonials of gender and racial social justice issues in Nova Scotia performed a capella would still hold sway today.
"Ironically, the injustices chronicled on the We're Still Standing recording are unfortunately still with us. Despite this, we are pleased and proud to celebrate along with those who've supported our music mission over the decades as collaborators, inspirators and patrons. We are grateful to the Polaris Heritage Prize organization and jurors and to all who voted for us. We are equally indebted to all nominees whose exceptional musical works make these awards possible… it just feels so uplifting to know we're still standing, and that a new and younger generation might just take note."
SNFU dedicated their win to two of its late members. "We are honoured by Polaris's recognition of our first album …And No One Else Wanted to Play," said SNFU's Marc Belke and Brent Belke. "It's humbling for SNFU to be mentioned in the same breath as the other nominees. It's also gratifying that after almost 40 years the album's impact is still being felt. We are thankful to our fans and friends who voted for this award. And we are thankful to Mark Stern, Shawn Stern and Gubby Svoboda, who, all those years ago, believed in us and pressed us to drive to Los Angeles to make the album. This award is dedicated to the lives of two people without whom this album would not exist: Mr. Chi Pig and Evan C. Jones. Love, respect, & 1, 2, SNFU."
There were 12 nominated albums up for Heritage Prize consideration this year:
Lillian Allen - Revolutionary Tea Party
Bran Van 3000 - Glee
Leonard Cohen - Various Positions
Four the Moment - We're Still Standing
k.d. lang - Ingénue
Kardinal Offishall - Quest for Fire: Firestarter, Vol 1
Martha and the Muffins - This is the Ice Age
Wayne McGhie & The Sounds of Joy - Wayne McGhie & The Sounds of Joy
Rascalz - Cash Crop
SNFU - ...And No One Else Wanted to Play
Stars - Set Yourself on Fire
The Weakerthans - Left and Leaving
Heritage Prize winners are commemorated with limited-edition artwork commissioned and inspired by the music on these designated albums. Examples of past winners' works, including those honouring the likes of last year's winners Nomeansno and Faith Nolan, can be found here.
Thirty-seven albums have received Heritage Prize designation since its introduction in 2015. Past winning albums include Peaches' The Teaches of Peaches, Harmonium's L'Heptade, Glenn Gould's Bach: The Goldberg Variations, Dream Warriors' And Now the Legacy Begins and Buffy Sainte-Marie's It's My Way!
More information here