FYI
Single Servings: Aug. 23, 2021
in this week's Single Servings, Ellevator do things the easy way, Anthony OKS sees things clearly now, Port Cities pull their parachute, and much more!
Aug 23, 2021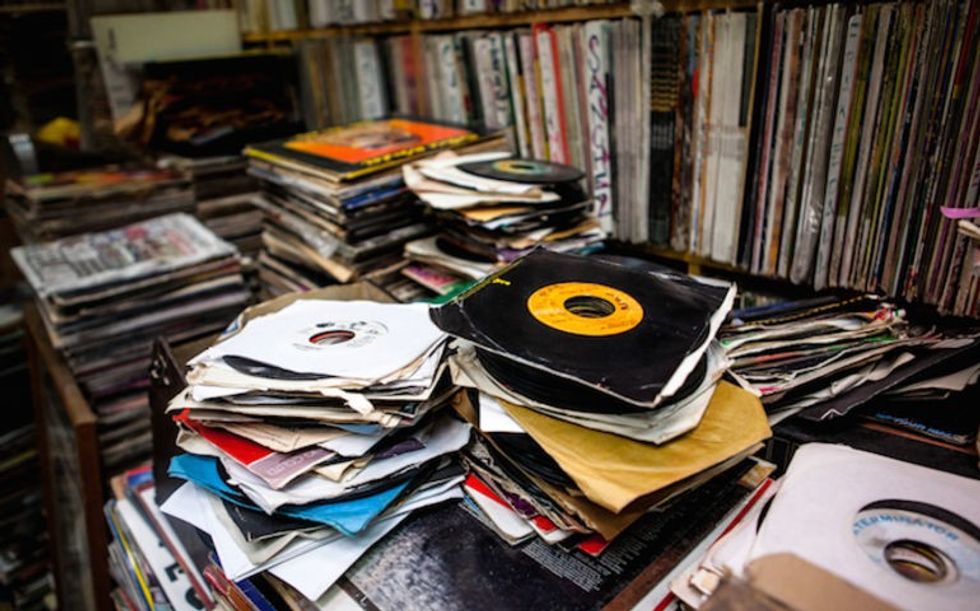 By Jason Schneider
in this week's Single Servings, Ellevator do things the easy way, Anthony OKS sees things clearly now, Port Cities pull their parachute, and much more!
---
TOBi / Jazz Cartier – Woah
Release Date: Aug 16
Label: Same Plate/RCA
This collaboration brings together two of the hottest properties within the Toronto hip-hop scene—TOBi, who's fresh off a Juno win, and past Juno winner Cartier who's preparing the long-awaited follow-up to his 2018 debut album Fleurever. As a track, there's not much to Woah apart from the pair matching other verse for verse in a thrillingly old school way. In this case, that's enough.
Stream/Purchase here  
Stereos – Glory Days
Release Date: Aug. 13
Label: Independent
Fans of Edmonton pop-rockers Stereos likely never expected the band to return after their formal break-up in 2012, but since playing two reunion shows in 2019 it appears they're a going concern once again, with a new album called Cheap Thrills on its way in the foreseeable future. Those fans are sure to appreciate the easy-going, feel good vibes of Glory Days, a song that's likely to make Stereos a radio fixture once again.
Stream/Purchase here  
Kayla Diamond – Screaming
Release Date: Aug. 19
Label: Pheromone / Cadence Music Group
It's not surprising that as we currently deal with a fourth wave of covid, we're also feeling the effect of a wave of post-covid songs that were planned to mark a full re-opening. Well, that's not happening yet, but the songs are here anyway. Kayla Diamond's Screaming is a tailor-made anthem for a return to normal nightlife, which some may find inspirational. But for others, it will likely come off as jumping the gun. Maybe next year.
Stream/Purchase here
Hotel Mira – The Eyes On You
Release Date: Aug. 19
Label: Light Organ
As the final planned single from their 2020 album Perfectionism, Edmonton pop-rockers Hotel Mira are using The Eyes On You to actually mark their return to live performance, with dates lined up in September and October in Vancouver, Victoria, Edmonton and Calgary. As a song, The Eyes On You certainly raises expectations that these are going to be celebratory events.
Stream/Purchase here
Jojo Mason – Broken Umbrella
Release Date: Aug. 20
Label: 604 Records
A two-time Canadian Country Music Awards Rising Star nominee, Mason seems primed for a major breakout, and Broken Umbrella is one further step toward that. A grooving roots rock number with a positive message, this track is a breath of fresh air amid a sea of country music clichés.
Stream/Purchase here  
Anthony OKS – Clearly Now
Release Date: June 9
Label: LHM Records
This preview of the Winnipeg hip-hop artist's EP In The Garden (out Sept. 24), is part of the product of years of self-reflection and earned wisdom. In the past year he's been introduced to 50 new family members in Nigeria and Sierra Leone, and has been an active participant in the Black Lives Matter movement. Clearly Now channels all of this with propulsive energy, along with honest and present truth-telling.
Stream/Purchase here 
Port Cities – Parachute
Release Date: Aug. 13
Label: Warner Music Canada
The Halifax pop outfit, now down to the duo of Dylan Guthro and Carleton Stone, return with this upbeat track about unapologetically living your life to the fullest, especially when it comes to being an artist in the world. Written during the 2020 lockdown, with Toronto-based musicians Todd Lumley, Brad Kilpatrick and Aaron Goldstein contributing remotely, Parachute offers that life is unpredictable, so it's better spent doing what you actually love.
Stream/Purchase here  
T. Buckley – Marilyn
Release Date: Aug. 18
Label: Fallen Tree Records
Acclaimed Calgary, Alberta-based Americana artist T. Buckley is offering another preview of his forthcoming album Frame By Frame with the single Marilyn, an uplifting tribute to the power of family. With backing by his top-notch band of multi-instrumentalists, Buckley delivers another of the trademark smooth and soulful vocal performances that has made him one of the most talked-about artists from western Canada over the past several years. Frame By Frame is out in November.
Stream/Purchase here 
Ellevator – Easy
Release Date: Aug. 19
Label: Arts & Crafts
On this precursor to their debut album set for release in early 2022, Hamilton-based trio Ellevator team up with renowned producer Chris Walla (formerly of Death Cab For Cutie) and build upon the cool precision of late-aughts guitar music and melodramatic post-rock. Easy manages to echo both the indie savviness of Spoon and Feist, as well as the stadium-rousing glory of U2, Peter Gabriel and Kate Bush.
Stream/Purchase here 
ATTLAS – Into Arms Of Lovers (feat. MAYLYN)
Release Date: Aug. 19
Label: Independent
Following up on his 2020 Juno-nominated album Lavender God, electronica artist ATTLAS (aka Jeff Hartford) teams up with American vocalist MAYLYN for this track that blends ATTLAS' highly technical musicianship and signature piano elements with nuanced electronic flare.
Stream/Purchase here