FYI
RIP: Ian Tyson
The legendary Canadian folk and country singer/songwriter died on Dec. 29 at the age of 89. He is in the Canadian Music Hall of Fame, the Canadian Country Music Hall of Fame, and the Canadian Songwriters Hall of Fame, and is a Member of the Order of Canada.
Dec 29, 2022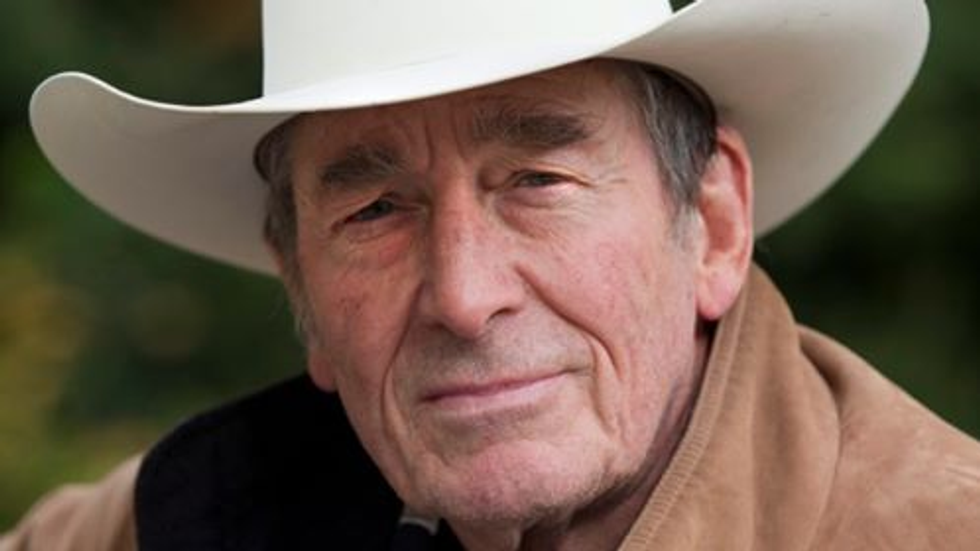 By Kerry Doole
---
Ian Dawson Tyson, a renowned Canadian folk and country singer/songwriter, died on Dec. 29 at the age of 89.
The family of the Canadian country legend Ian Tyson has confirmed his death from ongoing health complications at his ranch in southern Alberta, Canada.
The following biography is taken from a statement issued by the Tyson Family.
Ian Tyson was inducted into the Canadian Country Music Hall of Fame in 1989 and was inducted into the Canadian Music Hall of Fame with his former wife and singing partner, Sylvia, in 1992. Tyson became a Member of the Order of Canada in 1994 and in 2003, he received a Governor General's Performing Arts Award and was inducted into the Alberta Order of Excellence in 2006.  In 2019, he was inducted into the Canadian Songwriters Hall of Fame. Tyson won a Juno Award as Best Male Country Artist in 1987.
Tyson was born to British immigrants in Victoria and grew up in Duncan B.C. A rough stock rider in his late teens and early twenties, he took up the guitar while recovering from an injury he sustained in a bad fall in the rodeo.
Ian Tyson's story from there is familiar to most. He upped stakes from Vancouver Island and hitchhiked to Toronto, where he met a young singer from small-town Ontario called Sylvia Fricker. As Ian & Sylvia, they were the Canadian stars of the early '60s folk boom that gave the world Bob Dylan, Phil Ochs, Joan Baez, the Clancy Brothers, and the Kingston Trio.
Married in 1964, the pair made almost a dozen albums — and wrote some of Canada's best-loved songs, including Ian's Four Strong Winds and Someday Soon, and Sylvia's You Were on My Mind — songs that have all been covered countless times by some of the most famous artists of our time, including Dylan, Neil Young, Judy Collins, and a young Canadian singer the couple mentored in his early days, Gordon Lightfoot.
During the British Invasion, Ian and Sylvia evolved into pioneers of country-rock. Their band, Great Speckled Bird, rivalled the Byrds and other groups which helped create modern country a decade before the Urban Cowboy phase of contemporary "new traditionalists."
After hosting a national Canadian television music show from 1970 to 1975, Tyson realized his dream of returning to the Canadian West. The music and marriage of Ian and Sylvia had ended. It was now or never. Disillusioned with the Canadian country music scene, Tyson decided the time had come to return to his first love – training horses in the ranch country of southern Alberta.
After three idyllic years cowboying in the Rockies at Pincher Creek, Tyson recorded the album Old Corrals & Sagebrush, consisting of cowboy songs, both traditional and new. "It was a kind of musical Christmas card for my friends" he recalls. "We weren't looking for a 'hit' or radio play or anything like that." Unbeknownst to Tyson and his friends, the cowboy renaissance was about to find expression at the inaugural Elko Cowboy Poetry Gathering in 1983; a small coterie of saddle makers, rawhide braiders, cowboy poets and pickers discovered one another in a small cow town in northern Nevada. Tyson was invited to perform his "new western music"— and he's missed only one or two gatherings in the 30-plus years since.
Bob Dylan and the Band recorded his song One Single River in Woodstock, New York, in 1967. The recording can be found on the unreleased Genuine Basement Tapes, vol. 1. Judy Collins recorded a version of his song Someday Soon" in 1968. In 2005, CBC Radio One listeners chose his song Four Strong Winds as the greatest Canadian song of all time on the series 50 Tracks: The Canadian Version. He has been a strong influence on many Canadian artists, including Neil Young, who recorded Four Strong Winds for Comes a Time (1978). Johnny Cash would also record the same song for American V: A Hundred Highways (2006).
Life has not been without its difficulties, however. In 2006, he seriously damaged his voice after a particularly tough performance at an outdoor country music festival.
"I fought the sound system and I lost," he said afterwards. With a virus that took months to pass, his smooth voice was now hoarse, grainy, and had lost much of its resonant bottom end. After briefly entertaining thoughts that he would never sing again, he began relearning and reworking his songs to accommodate his "new voice." To his surprise, audiences now paid rapt attention as he half-spoke, half-sung familiar words, which seemed to reveal new depths for his listeners.
Tyson released his most recent single, You Should Have Known, in September 2017 on Stony Plain Records, the label that has released 15 Tyson albums since the '80s. The song unapologetically celebrated the hard-living, hard-drinking, hard-loving cowboy life and joins his favourites such as hits like Four Strong Winds, Someday Soon, Summer Wages, and more.
Notable Canadian musicians and industry figures were quick to pay tribute to Tyson.
Charlie Angus, MP and leader of folk/roots combo Grievous Angels posted this on Facebook: "Ian Tyson defined Canadian folk music. He was a true original. He wrote so many incredible songs. Four Strong Winds remains the defining Canadian song. But any of the top ten Ian classics could be pointed as capturing this nation's great breadth of land and hope. Go to the angels." Read a full tribute by Angus here.
Steve Kane, former President of Warner Music Canada, in a Facebook post: "Neither legend nor icon comes close to describing Ian Tyson. He is woven into the fabric of Canada. He brought our stories to the global stage. He helped keep the tradition of Cowboy Poetry alive and wrote a beautiful song, The Gift, about the Old West painter Charlie "Kid" Russell.
He recorded a cover of AC/DC's Ride On as a duet with his friend and keeper of the flame Corb Lund. I went to see Corb and Ian play cowboy songs and tell historical stories of the Cattle Trail. I'm eternally grateful to Corb for making sure that I got a chance meet the man who wrote Four Strong Winds and quite a few more that just stop time whenever they come on.
If I'm not mistaken he and Sylvia were the first to cover Gordon Lightfoot's Early Morning Rain. My folks and I watched Ian & Sylvia's / Great Speckled Bird T.V. show. The Cowboyography LP is on the turntable. My condolences to Mr. Tyson's family, loved ones and to my friends who worked with him over the years."
Keith Glass (Prairie Oyster) on Facebook: "Saddened to learn that one of my musical heroes has died. The legendary Ian Tyson passed away overnight. Adios, Ian. Thanks."
Corb Lund, on Facebook: "With a heavy heart, I learned of my old friend, Ian Tyson's passing this morning. Canada and the world has lost a legendary songwriter, performer and lifelong advocate for the romance and reality of the West. His music and presence will be missed by me and by many others. But I'll miss his friendship the most. Ride easy, cowboy; see ya on the other side."
Paul Brandt, on Twitter: "He kept country music and its artisans honest. Authentic to the core. Thankful we crossed trails this side of the Great Divide."
Brett Kissel, on social media: "He was one of the most authentic and genuine artists ever — and because of him — Canadian music was put on the map and respected worldwide."
Neil MacGonigill, who managed Tyson in the 1980s, told The Calgary Herald that "It's hard to put into words what he's meant to the Canadian music scene. An argument can be made he's the greatest singer-songwriter in Canadian history. … He's reinvented himself two or three times."
Richard Flohil, on Facebook: "The death of Ian Tyson, while not unexpected, hit hard. In the decades I did publicity for Stony Plain, the label which rejuvenated his career, I suppose I was a gatekeeper — and I turned down lots of media requests without even consulting his manager or Ian himself. Yes, Ian was one of the grumpiest people I've ever met, and he didn't suffer fools for more than 60 seconds. I defended him often — underneath his crusty exterior lurked a songwriter of enormous warmth and sensitivity; if you had been offended by his attitude, just listen to his songs. From his early folk days to his cowboy stories of a disappearing lifestyle, Ian Tyson was one of the best songwriters this country ever had. Safe home, old friend."
In an interview with CP, Gordon Lightfoot termed Tyson the "older brother" he never had and one of the reasons he found early success in the music business. He said Tyson wasn't only his friend, but also a "great teacher" in the ways of music, particularly guitar playing.
In a statement, the Mariposa Festival noted that "Tyson created what country and folk musicians have called the 'cowboy renaissance,' in which his bruised voice revealed secrets of a rancher's life and all that comes with it. His original songwriting paired with his unique voice will never leave the hearts and minds of Mariposa fans. He helped plant Mariposa roots and will never be forgotten for his dedication to the folk music community."
In an interview with CBC News, Sylvia Tyson reminisced about the impact of Ian & Sylvia's most famous song: "I sat in with a young band at the Horseshoe Tavern in Toronto, and they wanted me to do Four Strong Winds with them. It was quite a young audience, and I didn't really expect that kind of response but everybody in the crowd sang Four Strong Winds. It's kind of like a Canadian national anthem."
The family will hold a closed service and has requested privacy at this time. Donations in Ian's memory can be made to The Ian Tyson Legacy Fund here. 
Further tributes to Ian Tyson will be posted in FYI later.
Sources: CBC, The Tyson Family, Facebook, FYI, CSHF, Calgary Herald