FYI
Politically Charged 'Blood // Water' Wins SOCAN Songwriting Prize
A song simmering with rage over corporate and government malfeasance is the winner of this year's English SOCAN Songwriting Prize.
Jun 24, 2019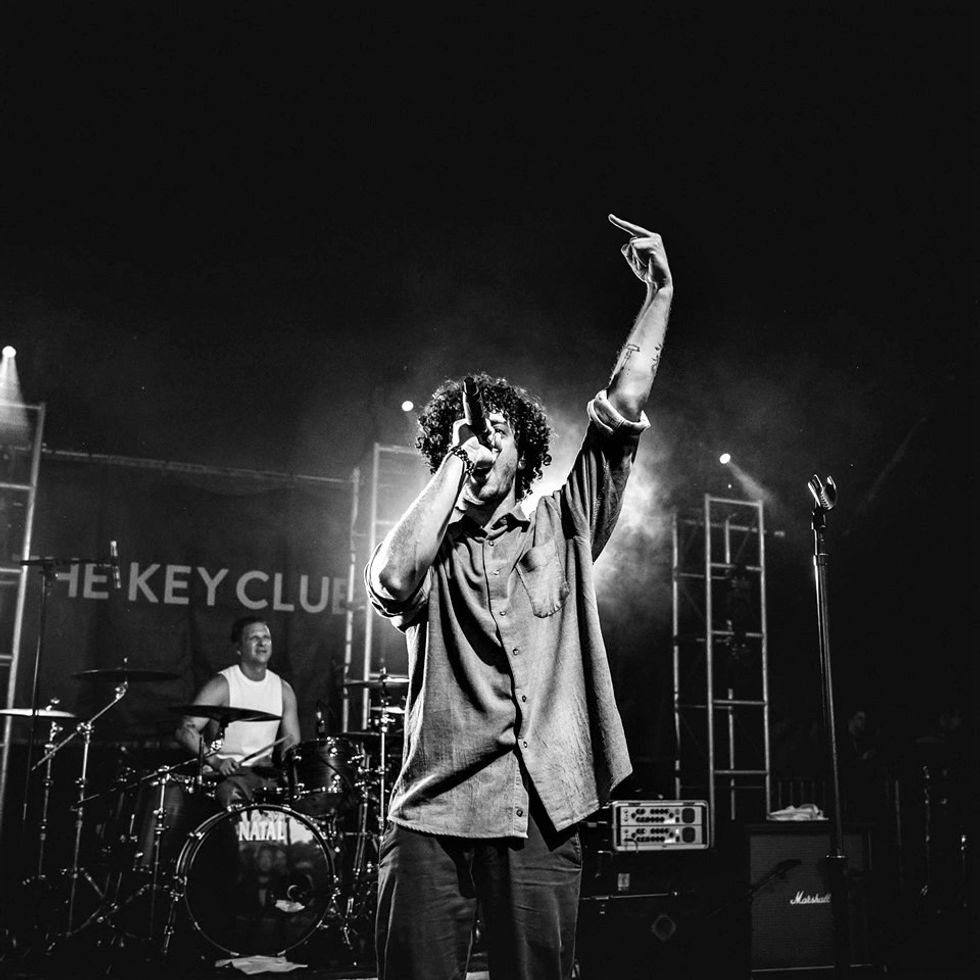 By FYI Staff
A song simmering with rage over corporate and government malfeasance is the winner of this year's English SOCAN Songwriting Prize.
---
Writers Chester Krupa Carbone, Jordan Benjamin, and Kevin Hissink co-wrote Blood // Water, a potboiler of a song that makes no claim at pointing the finger at the events that led to Flint, Michigan's toxic tap water disaster– but the words and the delivery surely stir the blood when listening to the song performed by Benjamin under his stage pseudonym, grandson. The track, included on grandson's EP, Modern Tragedy, Vol 1 (on the Fueled by Ramen imprint), was released as a single to radio last year and reached top 20 status in several US and Canadian Billboard charts. Equally impressive is grandson's ability to reach large audiences both on tour and using the YouTube platform.
The writers' purse in winning the 14th annual English songwriter prize is a $10K cash prize, a Yamaha workstation keyboard (worth a couple of grand), and a $500 gift card from Long & McQuade.
Below: The official music video for Blood // Water
The SOCAN Songwriting Prize is the only major songwriting award in Canada where fans vote to determine the winner. Ten outstanding songs created by Canadian songwriters over the past year are nominated by a panel of 14 music industry experts, and the general public is then invited to vote for their favourite song daily for two weeks to determine the winner. SOCAN plays no role in deciding the nominees or winners, apart from ensuring that they are members of SOCAN. A mirroring competition for songs in French, the Prix de la chanson SOCAN, is conducted separately.
"It is a great honour to receive this recognition as a Canadian songwriter," said Benjamin in a statement released by the PRO. "Blood//Water was written from a place of frustration and disillusionment, an expression of the manifestations of karma that are waiting for those who continue to subvert justice and democracy in the name of a dollar. Those core themes are as relevant today as when the song was written. Thanks to Kevin and Krupa for bringing this song to life with me; it really does take a village. We will continue to make noise until the grandkids are heard." 
The winner of the Prix de la chanson SOCAN is On fouette, written by Teddy Laguerre, Shawn Volcy, Marc Casseus, Vladimi Methelus; performed by Tizzo, feat. Shreez.
The other nine songs nominated in the English category were:
   "Bad Biology" – written by Elizabeth Ball, Kathleen Monks, Benjamin Reinhartz, James Anthony Rowlinson; performed by Dilly Dally.    "Chances" – written by Kevin Celestin, Shanice Mohamed, Anthony Pierre; performed by Kaytranada feat.  Shay Lia; published by Casablanca Media Publishing Inc.

   "Elephant Man" – written by Sam Lucia, Geoff Millar; performed by So Loki; published by Owake Records.

   "Hang Ups" – written by Scott Helman, Thomas Salter, Gordie Sampson, Simon Wilcox; performed by Scott Helman; published by EMI April Music Canada, SONY ATV Music Publishing Canada.

   "Payback" – written by Sarah Hagen, Maxwell Pankiw, Isaiah Steinberg; performed by Bad Child.    "She's The One" – written by Chloé Soldevila, Miles Dupire-Gagnon, Gabriel Lambert, Zachary Irving;  performed by Anemone.

    "Soundboi" – written by Dominique Dias, John Samuels; performed by Just John + Dom Dias.

  "Tortoise" – written by Clairmont Humphrey II; performed by Clairmont the Second.

   "Whatever Comes To Mind" – written by Seth Nyquist, Adrian Cook; performed by MorMor.
The 2018 winner of the SOCAN Songwriting Prize was Partner for "Play the Field" written by band members Josée Caron and Lucy Niles. Additional winners are available to view on the SOCAN Songwriting Prize website.
Editor's note: The live performance video originated on the Radio.com website as part of a feature entitled Grandson Goes Inside the Lyrics of "Blood // Water" and Beyond.