FYI
Music News Digest, Sept. 29, 2022
Hubert Lenoir heads the ADISQ nominations list, Gustavo Dudamel (pictured) wins the prestigious Glenn Gould Prize, a new Legacy award celebrates Black Canadian talent and Massey and Roy Thomson halls launch an online concert series. Also in the news are the CASMAs, Juno submissions, Aaron Goodvin, BreakOut West, Keith Correa, Artists for Action, Metric, Gord Bamford, The Brown Hawkins Stanley Tour, Keith O'Rourke, BNL, Rusty and Maja, Barbra Lica,  By Divine Right, JS Williams, and Ernesto Cervini.
Sep 27, 2022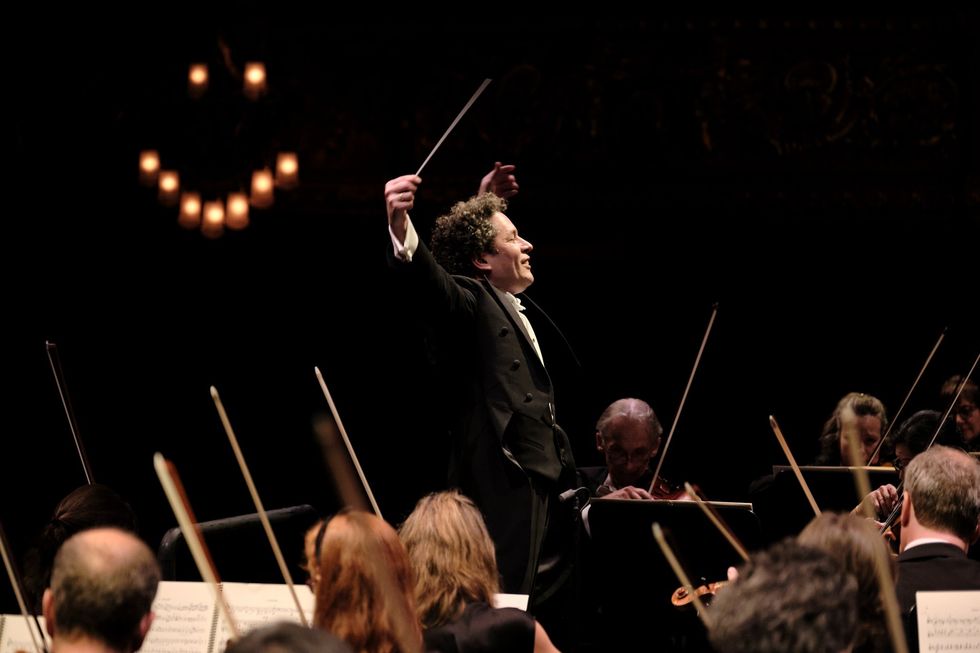 By Kerry Doole
Awards
---
Nominations for the ADISQ Galas were announced Sept. 21. Leading the list is Hubert Lenoir with 11, followed by Lisa LeBlanc, Les Cowboys Fringants, 2Frères, Cœur de pirate, Jay Scøtt, Patrick Watson, Roxane Bruneau, and Salebarbes. The winners will be announced at the Gala de l'industrie and the Premier Gala de l'ADISQ on Nov. 2, as well as at the Gala de l'ADISQ on Nov. 6. Full noms list here
– An internationally prestigious award, the Glenn Gould Prize has been presented to acclaimed conductor Gustavo Dudamel. The winner of the $100K prize, named for renowned Canadian pianist Gould, leads orchestras around the world, as music and artistic director of the Los Angeles Philharmonic, and music director of the Opéra National de Paris and Simón Bolívar Symphony Orchestra. The award was announced in Toronto at the Royal Conservatory of Music's Telus Centre for Performance and Learning on Sept. 25, as part of a weekend of events organized by the Glenn Gould Foundation to mark the 90th anniversary of the pianist's birth.
The Prize celebrates artistic excellence, innovation and humanitarianism. Candidates across a broad spectrum of creative disciplines are nominated globally by members of the general public. Originally given every three years but since 2014 biennially, the prize was first awarded in 1987 to Canadian composer R. Murray Schafer. Among the prize's 14 laureates to date are American composer Philip Glass, American soprano Jessye Norman, and Canadian jazz pianist Oscar Peterson. The foundation launched a complementary protégé award in 1993, with the recipient the choice of the main prize winner. In 2008, Abreu named the then 27-year-old Dudamel. He is the first winner of the Glenn Gould Prize to be a previous recipient of the protégé award. In due course, Dudamel, 41, will announce his own choice of winner for that $25K prize. Source: Toronto Star
–  The Legacy Awards bills itself as "the first major Canadian award show to celebrate and showcase Black talent." The inaugural edition of The Black Academy's award show, it was held Sept. 25 at History in Toronto, and broadcast as a  live 90-minute telecast on CBC and CBC Gem. It featured performances, award presentations, and tributes honouring both established and emerging Black Canadian talent. The Black Academy is co-founded by Scarborough natives Shamier Anderson (John Wick: Chapter 4) and Stephan James (If Beale Street Could Talk). An impressive list of performers included Deborah Cox, Randell Adjei, Melanie Fiona, Sate, Jully Black, Fefe Dobson and Alicia Mighty. Read more here.
–  The Screen Composers Guild of Canada has launched an annual celebration of composer's excellence in scoring original music for the screen. Its Canadian Screen Music Awards (CASMA) are open to all Canadian and permanent resident composers with winners chosen by the SCGC's roster of judges. The CASMA Awards were recently held at the El Mocambo and live-streamed (see below). The CASMAs comprise nine awards for screen composing with a tenth special award also presented for distinguished services to the industry. This is dedicated to the person or company that has shown outstanding support for the Canadian screen composer sector. See the full list of winners here.
–  The Canadian Academy of Recording Arts and Sciences (CARAS) has announced that the 2023 Juno Awards Submissions Presented by TD are now open until Oct. 28, at junosubmissions.ca. All artists and creators meeting the eligibility criteria are encouraged to apply. National music release dates must fall between the eligibility period of  Sept. 1, 2021, and Nov. 4, 2022. Oct. 14 is the deadline for discounted early-bird submissions.
Industry news
– The Corporation of Massey Hall & Roy Thomson Hall has announced the launch of Massey Hall+, an on-demand and ticketing live streaming service for the two Toronto entertainment venues. Programming available on the app includes pre-recorded Live at Massey Hall film series, documentaries, acoustic sessions, Roy Thomson Hall lobby performances, emerging artist profiles, and some music education programming. Initial free offerings include performances by Buffy Sainte Marie, Patrick Watson, Shakura Saida, Kaia Kater, and Andy Shauf.
– Sakamoto Music has signed chart-topping Canadian country star Aaron Goodvin to the label, distributed by Warner Music Canada. A new version of the song You Ain't, featuring MeghanPatrick on guest vocals, has just been released to DSPs and Canadian country radio. Of the new label signing, Goodvin says, "I first started doing shows with [Sakamoto President and Operating Partner] Paul Biro years before I was ever signed to the Sakamoto booking roster, and we have overcome so many challenges together through the past 8 or 9 years. When the opportunity came to progress and become a part of Sakamoto Music, it was a no-brainer for me. They are my people, and I'm so excited to see what happens next."
– CIMA is partnering with BreakOut West this year for its first inbound trade mission of Nordic delegates to Canada. The 10 invited delegates will travel from Nordic territories to participate in the conference and meet with Canadian industry participants through meetings, one on one pitch sessions, networking receptions, panels, information sessions and more. CIMA will be supporting two sessions during the conference: International Market Deep Dive: Denmark (on Oct. 1, with info here) and One-on-one Pitch Sessions (Sept. 30). More info here.
– Live shows and touring now seem to be back to pre-pandemic levels, while the amount of new Canadian albums being released appears to be at near record levels. Last Friday (Sept. 23), FYI counted 28 new CanCon albums and EPs as coming out that day, one of the highest daily totals we have noted. Perhaps this is the fruit of lockdown-fuelled writing and recording?
– The recent passing of Keith Correa (aka The Original Kid Rock) saddened many on the Toronto scene. A Celebration of Life event will be held tonight (Sept. 29) at The Phoenix Concert Theatre, featuring The Carpet Frogs, with proceeds going to Unison. Tix here.
– Billed as an international folk supergroup, Artists for Action comprises 16 artists from six countries on four continents, and has just released Which Side Are You On?. Originally penned as a union song by Florence Reece in 1931, Artists for Action's version takes aim at the rise of far-right politics and the resurgence of fascism around the globe, the most glaring example of which is Russia's brutal war against Ukraine. Canadian artists featured are Ray Bonneville, Bruce Cockburn, Maria Dunn, Bob Jensen (producer of the project), James Keelaghan,  Lucy MacNeil, Heather Rankin, and Jon Weaver. 
– On Oct. 4, (2 pm ET), CMW presents an encore presentation of this year's Fireside Chat with Metric. The top-selling modern rock band discusses its new partnership with independent label services company Thirty Tigers and more, with Bob Lefsetz interviewing. Register here (free).
– Presented by Who Knew, The Smartest People In The Room is a virtual session featuring industry veterans John Parikhal and David Hazan, held today (Sept. 29) at 2 pm EST.  More info here and here. Register (free) here
Artists news
– It was an appetizing lunch of burgers 'n Rush beer as Anthem Entertainment held court to preview five new Gord Bamford songs in their swanky downtown digs last Thursday (Sept. 22). Australian-Canadian country star Bamford himself was present to make the intros, and the ones he rolled out over the loudspeakers - Fire It Up, Haunted Hometown, Hair and the Honky Tonk Dog, Canadian Dirt, and One Heartbeat From Heaven all sounded like keepers to gathered radio and retail personnel. The sessions were produced in Calgary with Johnny Gasparek, whose pedigree includes mentorship from the veteran uber-producer Robert John "Mutt" Lange, and a few of the songs were co-written by Phil Barton. 
Bamford was an amiable host and bantered with the crowd, but the new music probably won't see the light of day until 2023, as he's already released an 18-track album this calendar year called Diamonds In A Whiskey Glass that featured a duet with country music queen Terri Clark called I Ain't Drunk. But, according to what these ears heard, he shouldn't wait too long. As for the burgers, attendees had a choice between veggie, veggie with a gluten-free bun, chicken and double hamburger, fries or chips, and cookies for dessert. And if there's any justice in this world, Bamford will get more than his just desserts with the fine music he's churning out these days (Nick Krewen).
– The Brown Hawkins Stanley Tour teams the potent talents of The Lowest Of The Low principals Ron Hawkins and Stephen Stanley with Bourbon Tabernacle Choir/Fenner-Brown alumnus Hugh Christopher Brown. Ontario and Quebec dates begin tonight (Sept. 29) in Owen Sound Heartwood Concert Hall, with stops in Peterborough, Wolfe Island, Chelsea, Hamilton, Fergus, Buffalo, and Toronto. Itinerary and ticket info are here. Highly recommended.
–  Noted Western Canadian jazz composer/saxophonist/bandleader Keith O'Rourke releases Imperfect Perfectionist, his sophomore release tomorrow (Sept. 30), on Chronograph Records, and launches it with a performance the day after at the King Eddy in Calgary as a part of the 2022 Breakout West Chronograph Records showcase. O'Rourke's trio album features bassist/producer Kodi Hutchinson and drummer Sanah Kadoura. O'Rourke's cited influences include Sonny Rollins and Gerry Mulligan. Check out this FYI exclusive look at O'Rourke here.
– Barenaked Ladies have just announced their Hometown Holidays with Barenaked Ladies tour across Canada. It launches in Vancouver on Dec. 1, and wraps up at Toronto's Massey Hall on Dec. 22. Expect holiday fan favourites from the Barenaked for the Holidays album, as well as a few other chestnuts and surprises. Check the itinerary here.
– Two popular veterans of the Toronto indie music scene, Rusty McCarthy and Maja Bannerman recently teamed up as a duo, Rusty & Maja, and released a CD, Part Kitchen Party, Part Cabaret. They can finally launch it in person via an Oct. 2 matinee show (2-5 pm) at Toronto's Monarch Tavern. Info here.
– Toronto pop-jazz singer/songwriter/producer Barbra Lica releases a new EP,  Imposter Syndrome, on Oct. 7(Cookie Cat Records). She'll celebrate a little early on Oct 2 at the Supermarket as part of the Kensington Market Jazz Festival. The EP represents a two-year production collaboration with such noted artists as James Bryan (Prozzäk, Philosopher Kings), Nicolas Tateishi (Sam Drysdale), Christine Bougie (Bahamas), Drew Jurecka (Dua Lipa, Jully Black), and Joel Visentin.
– Otto Motto, a new album from indie rock veterans By Divine Right, came out on Sept. 23 (via Fortune Stellar Records), and is available on double vinyl too. Ontario dates (and one Montreal gig) begin in Windsor on Sept. 30, followed by shows in Sarnia, London, Sudbury, Gravenhurst, Waterloo, Owen Sound, Elora, Mills Hardware, Hamilton, Montreal, Ottawa, Kingston, and Toronto. Itinerary here
– As a film composer, Montreal guitarist/musician JS Williams has worked on shorts, feature films and ads, and in 2019 he was nominated for best original song at the Academy Screen Awards for the film Sashinka. He has a new album, Twelve Circles, The Break, The Cast, set for release on Oct. 21, and it features Elisapie, Alejandra Ribera, Sara Latendresse, and Katie Moore. Here's a taste.
––Acclaimed Juno-winning Toronto jazz drummer, composer, and bandleader Ernesto Cervini releases a new album, Joy, on Oct. 7, on his label, TPR. All the music on Joy was inspired by Canadian author Louise Penny's bestselling Gamache, Three Pines detective series. The disc features an A-list of players and, for the first time, guest vocalists (Alex Samaras, Amy Cervini, Felicity Williams, and Emilie-Claire Barlow). Cervini and an A-list musical cast perform the album on Nov. 2 at the Alliance Française de Toronto.