FYI
Music News Digest, Sept. 28, 2023
Sep 27, 2023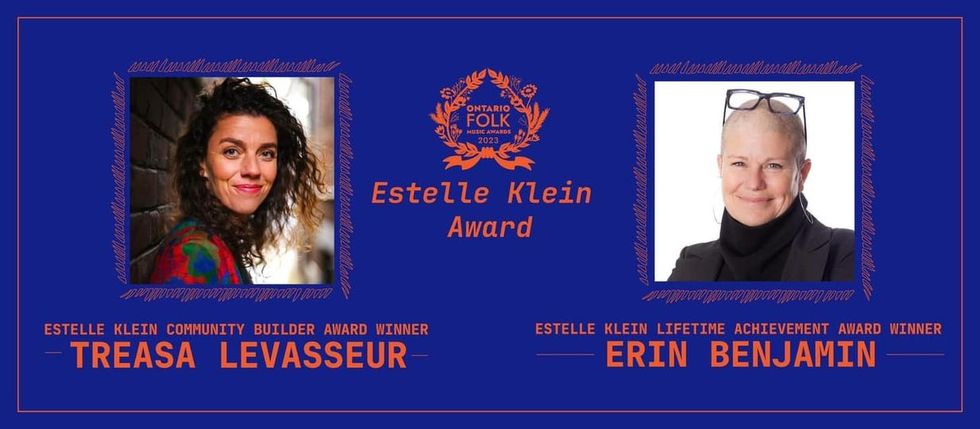 By Kerry Doole
Awards news
---
Presented by Craig Senyk Initiatives, the 8th Annual YYC Music Awards Gala was held at the Grey Eagle Casino Event Centre on Sept. 24. Honouring Calgary and area musicians and industry leaders in 27 categories, the evening also included award presenters from the music community, and beyond. Two new categories were presented this year: The inaugural Music Educator of the Year Award went to Jennele Coulson from Eric Harvie School, and Cool Choir took home the first Community Ensemble of the Year Award and the People's Choice Award.
The night's big winners were The Royal Foundry, going home with the Alternative Recording of the Year, Single and Group of the Year awards. Kyle McKearney won Country Recording of the Year and Solo Artist of the Year trophies, and Sinzere won two awards for Music Video of the Year and Rap Recording of the Year. The evening featured live performances from Brother Bicker Band, Esteban Herrera & Gisela Romero, Jennie Harluk, Sinzere, SYRYN and an After Party with performances by EDM Recording of the Year nominee, Ginsong, with last year's EDM Recording of the Year winner, Titus1. Check the full list of winners here. 
– The OMAs (formerly Oshawa Music Awards), presented by Durham Tourism, announced its 2023 award winners at an event at Oshawa's Regent Theatre on Sept. 24, capping off Oshawa's inaugural Convergence Music + Art Festival. The show, hosted by CBC's Ryan Chung, included performances by some of Durham Region's best talents and by Lifetime Achievement/Hall of Fame recipient Oshawa's Dave Ritter of The Strumbellas. Winners were named in 11 categories, including two Fans' Choice winners voted for by the public. Alexa Goldie was a double winner for Artist of the Year and Record of the Year (for Come Home). See the winners list here.
– Also held on Sept. 24 were the second annual Legacy Awards, a celebration of Black Canadian talent. Hosted by Keshia Chante, the event honoured singer Jully Black, filmmaker Director X, actress Tonya Williams, Congolese-Canadian pop artist Lu Kala, the Reelworld Foundation, and more. The 90-minute show aired on Sept. 24 on CBC and CBC Gem. Source: CP
– Folk Music Ontario has announced Erin Benjamin and Treasa Levasseur as the 2023 Estelle Klein Award Recipients. Honouring the work of an individual or group that has made significant contributions to Ontario's folk music community, the Estelle Klein Award is now awarded in two categories: The Community Builder Award (Levasseur), and The Lifetime Achievement Award (Benjamin). Following the Folk Music Ontario Conference, they will be honoured at the 29th annual Ontario Folk Music Awards in London, ON, on Oct. 15. Benjamin is the first and only President & CEO of the Canadian Live Music Association (CLMA), while Levasseur is a Juno-nominated singer/songwriter community music facilitator, program administrator and arts educator who worked for six years each at FMO and Folk Alliance International. Congrats to both deserving recipients.
Festivals news 
– Produced by star singer/songwriter/philanthropist Molly Johnson, the 8th Annual Kensington Market Jazz Festival is ready to roll this weekend (Sept. 29-Oct. 1) in the heart of Toronto's downtown. "This year, the motto is 'Better, Not Bigger,'" says Johnson in a press release. "There's an intimate charm and a unique sense of connection that make the Kensington Market Jazz Festival an exceptional experience."  KMJF is an artist-driven, volunteer-fuelled festival that has received financial support from the City of Toronto, the Ontario Arts Council, Slaight Music and other private donors. Launching the fest on Friday at 7 p.m. is a free Street Parade led by Shuffle Demons and members of Heavyweights. Paid shows (cash at the door) feature Elizabeth Shepherd, Hilario Duran, Robi Botos, Colleen Allen, Laura Hubert, Marc Jordan and Lou Pomanti, Lighthouse, Billy Newton-Davis, Jay Douglas, Barbra Lica, Lori Cullen & Aaron Davis, Micah Barnes, and Heather Bambrick. See the full performance schedule here.
Industry news
–Taking place in Moncton, New Brunswick, the Semaine MNB Week  2023 is three days of showcases, conferences and awards, running Oct. 19-21.  A $50 Passport grants access 
to conference sessions and to showcases, with a $25 FAN passport good for all showcases. It is $20 for a ticket to the Prix MNB Awards at Centre Culturel Aberdeen, on Oct. 19. Full schedule + registration here 
–  The full 2023 lineup of the always popular Women's Blues Revue (presented by Massey Hall & Toronto Blues Society) has now been announced. Performing at MH on Nov. 17 will be Sandra Bouza, Divine Brown, Dawn Taylor Watson, Charlotte McAfee-Brunner, Garnetta Cromwell and Laura Hubert. The All-Star Women's Blues Revue Band will back all vocalists, and this year features Elena Kapeleris (bandleader), Carrie Chesnutt, Marie Goudy, Alison Young, Emily Burgess, Lily Sazz, Morgan Doctor and Angelique Francis. For tix, call 416-872-4255 or visit masseyhall.com
Artists news
– Award-winning veteran Canadian country star Gord Bamford has now resumed a national trek entitled Canadian Dirt Tour Part 2. His upcoming Ontario shows include a date at Toronto's Horseshoe Tavern on Oct. 17, followed by Nov. shows in the Maritimes and more Ontario gigs, then Western dates. See the full itinerary here. Of note: Through the Gord Bamford Foundation, he has raised an astounding $5.4M for Canadian children and youth.
– Earlier this month, masterful Toronto folk singer-songwriter-guitarist Noah Zacharin released his ninth solo album, Points Of Light, and launched it with a hometown Dakota Tavern show on Sept. 14. Now notching rave reviews, the album features such A-list guests as Marc Ribot, Kevin Breit, Kevin Turcotte, and Denis Keldie. Here's a snippet of album focus track Red Red Bird.
–  Great news for Toronto-area fans of acclaimed singer/songwriter Justin Rutledge is word that he and his band will be performing every Wed. in Oct. ( 6-8 p.m.) at The Cameron House in Toronto, the venue he honed his chops in many years back. Pwyc and pick up the 10th anniversary of Rutledge's Valleyheart on vinyl. Recommended.
–  Earlier this month, veteran blues-rock duo Wide Mouth Mason (Shaun Verreault and Safwan Javed) reissued two of their earlier albums, the self-titled debut and  Where I Started, on vinyl via We Are Busy Bodies' new subsidiary label, Record Record Label, alongside a brand new album, Late Night Walking. WMM begins a national tour on Oct. 21 at Bridgeworks in Hamilton, followed by more Ontario shows, then dates in western Canada. Check the itinerary here.