FYI
Music News Digest, Sept. 23, 2019
Our Lady Peace (pictured) is certified CIMA Road Gold, SOCAN presents multiple No. 1 Song Awards, and Leonard Cohen is celebrated with stamps and a new album. Also in the news are the Secret Path album, Juno judging, Lara Fabian, Boi-1da, Shipyards Festival, Larry LeBlanc, and farewell Harold Mabern.
Sep 23, 2019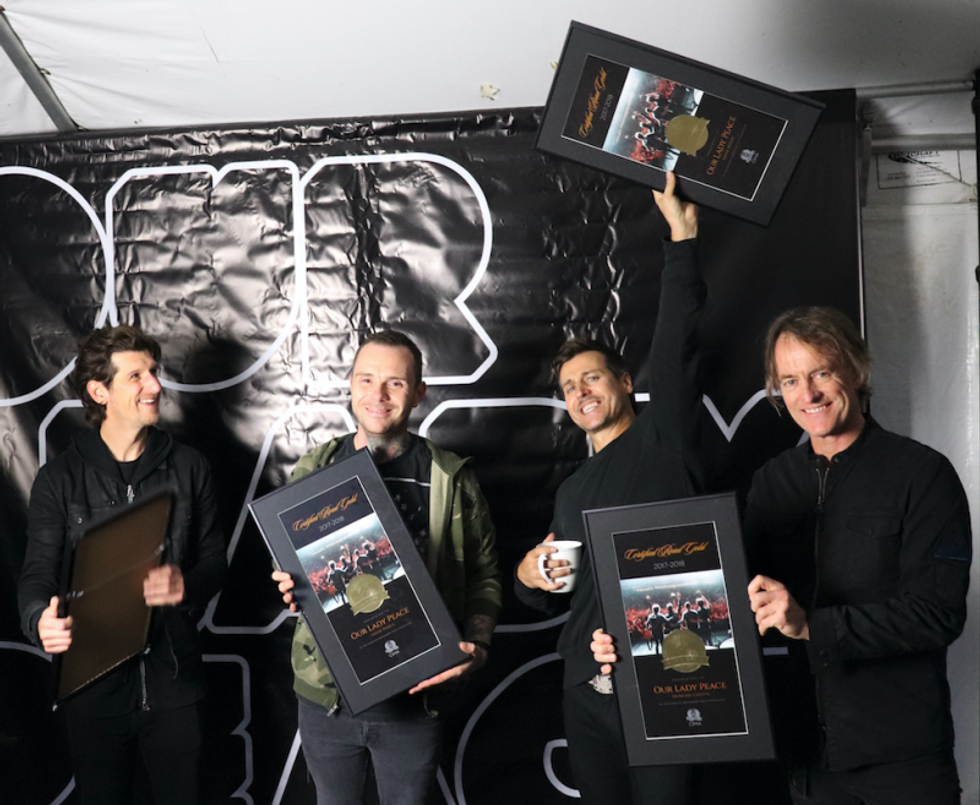 By Kerry Doole
Our Lady Peace has received the Canadian Independent Music Association (CIMA) Road Gold certification, a prestigious honour that celebrates and acknowledges Canada's hard-working touring artists and bands that exceed 25,000 ticket sales in a year. OLP earned Road Gold in recognition of their Our Lady Peace & Matthew Good Canadian Tour and Clumsy 20th Anniversary Tour back in 2017-2018. The band was given its Road Gold award backstage at its recent Budweiser Stage show in Toronto.
---
– SOCAN recently presented No. 1 Song Awards to the co-writers of three chart-topping songs, in one four-day timespan: The James Barker Band's Keep It Simple, Tim Hicks' What A Song Should Do, and Shad's The Fool Pt. 1. SOCAN reps presented the No. 1 Award for Keep It Simple to co-writers Gavin Slate, Travis Wood, and Todd Clark at a restaurant in Nashville, during the city's Americanafest. The next day, at another Music City resto, the No. 1 Award for What A Song Should Do was given to co-writers Emma-Lee and Karen Kosowski. Finally, the Award for The Fool Pt. 1 to co-writer Phoenix Pagliacci was presented at a brunch event in Toronto. Co-writers Shad and Ricardo del Mundo Jr. will be awarded at a later date.
– On Oct. 19 at Roy Thomson Hall in Toronto, Gord Downie's groundbreaking Secret Path album will be reprised with an all-star list of performers. That group comprises Sam Roberts, Buffy Sainte-Marie, Tom Wilson, Tanya Tagaq, July Talk, William Prince, and Whitehorse, accompanied by the band that performed the album in full three years ago: Kevin Hearn (Barenaked Ladies) Kevin Drew (Broken Social Scene), Josh Finlayson (Skydiggers),  Dave Hamelin (The Stills) and Charles Spearing (Do Make Say Think).
The event benefits the Downie Wenjack Fund. Tix on sale here. Each ticket sold for $500 will also provide a seat for an Indigenous youth or DWF Legacy School student who could otherwise not afford to attend the show.
– The Juno Awards are looking for 340 judges, 10 each for 34 of the craft and technical award categories. To qualify as a judge, you must be a Canadian actively working in the Canadian music industry. Judges are demographically diverse and are spread out across the country. They also are representative of all Canadian music industry sectors. The judging process is confidential, independent and unbiased. Applications are now open until  Nov. 22 here 
– A posthumous Leonard Cohen album, Thanks For The Dance, is being released on Sony on Nov. 22. Recorded in Montreal, LA, and Berlin, the release features nine previously unreleased Cohen compositions, including The Goal (below). Cohen's son Adam produced the album, and an A-list of collaborators includes Beck, Jennifer Warnes, Damien Rice, Feist, Daniel Lanois, members of The National and Arcade Fire, Patrick Watson and noted Montreal engineer Howard Bilerman.
A press statement states that "seven months after his father passed, Adam Cohen retreated to a converted garage in his backyard down the street from Leonard's house, to work with his father again, to stay in the company of his voice. From their previous collaboration on You Want It Darker there remained bare musical sketches, at times little more than vocals. Leonard had asked his son to bring these works to completion." Sources:Variety, CBC
– In other Cohen news, three new stamps from Canada Post celebrate his life and work with portraits displaying him in different stages of his life. The likenesses were revealed at an event held in the Glass Court of the Montreal Museum of Fine Arts on Friday. The Cohen stamps will number four million and will only be available for two years. Musical luminaries previously honoured by Canada Post include Oscar Peterson, Joni Mitchell, Oliver Jones, Robert Charlebois, Ginette Reno and Bruce Cockburn. Source: The Globe and Mail 
– 2019 is a milestone year for Canadian-Belgian pop singer Lara Fabian, the voice behind the global hit Je T'aime, as it marks her 50th birthday and 30th year in music. She has released a  14th album, Papillon, and is embarking on a 50 World Tour that has just added a stop in Dubai and features three shows in Quebec in April 2020. Fabian has sold an estimated 20M records on the global stage. 
– The 15th annual Songs of Hope fundraising event honoured songwriters at producer Alex Da Kid's Sherman Oaks, CA, compound on Thursday night. Clive Davis presented Legend in Songwriting awards to Drake collaborator Boi-1da and Diane Warren, with other winners including The Dream, Marc Shaiman, Snoop Dogg, and Hayley Kiyoko. Source: Variety
– The Shipyards Festival on the North Vancouver waterfront is a new and free music event set for Sept. 28. Headlining the show is The Harpoonist & the Axe Murderer, with other featured performers including the Boom Booms, Mike Edel, John Welsh & Los Valientes, Kutapira, Sleepy Gonzales, and Adam Woodall.
– Veteran Toronto music journalist and author Larry LeBlanc was nominated for the Best Music Business Journalist category of the third International Music Journalism Awards (IMJA) at this year's Reeperbahn Festival Conference in Hamburg, Germany. He has been a senior writer at CelebrityAccess since 2009, contributing the influential music industry profile series, In The Hot Seat. LeBlanc was the recipient of the 2013 Walt Grealis Special Achievement Award, recognizing individuals who have made an impact on the Canadian music industry. See the IMJA winners here
RIP
Harold Mabern, a jazz pianist, composer, and educator from Memphis, TN, who went on to become one of the world's premier hard bop musicians, died on Sept. 17 of a heart attack, age 83.
While Mabern was a highly respected bandleader who gigged frequently (and released more than 30 albums) under his name, he also continued working as a sideman until the end of his career. Over 60 years, his résumé included playing with Harry "Sweets" Edison, Lionel Hampton, Miles Davis, J.J. Johnson, Lee Morgan, Jackie McLean, Wes Montgomery, and Sarah Vaughan, among many others. JazzTimes has a comprehensive obituary